A Visit with the Darkside ;)
Number of Views: 265
I was reading the local paper Monday morning when I happened upon a notice that Mitt Romney was holding an "Ask Mitt Anything" meeting in Tampa that same day at 5:30 (like 5 minutes from our house). We've been swamped getting all of our stuff moved into our house in Tampa, getting ready for the classes we'll be teaching soon, and getting ready for a short trip to California. But we didn't want to pass up on a chance to see Mitt Romney spout his anti-working class ideas in person. Even though I knew there was absolutely no way I'd ever vote for him before I went (e.g., he opposes civil liberties for people he doesn't like – like habeas corpus – and is anti-choice), if there was even a smidgen of truth to the idea that you could literally ask him anything I had a few questions I thought would be fun to ask. So, we headed to La Teresina Restaurant in Tampa around 5:00 pm to see if we could get a seat. It was pretty full, and the local media were there in full force, but we got a decent seat. I came with three questions prepared:
-Why does Mitt think atheists and agnostics are unfit to be President of the US? (see his quote here)
-Why does he not value civil liberties like habeas corpus? (he wants to double the size of Guantanamo Bay Cuba, where habeas corpus is not a right and people are unethically, immorally, and unjustly imprisoned without the right to challenge their imprisonment)
-And how would he reconcile his law of consecration temple covenant (which basically says that he will put Mormonism first, always) with his duty to uphold the Constitution if elected President? (this is the question the media doesn't seem knowledgeable enough to ask him)
Not surprisingly, I was not afforded the opportunity to grill him. The meeting was supposed to start at 5:30. He arrived around 6:00. There were four or five questions asked in the short 45 minute meeting, all of which seemed basically canned. One guy even asked, "How can my wife and I help you in your campaign?" It was pretty pathetic, frankly. Everything he said, regardless of how inane, was accompanied by waves of applause and people waving signs. They even tried to put a sticker on me as I arrived to indicate I supported Mitt – that didn't last. I took it off before I even got inside the main room to find my seat.
So, why don't I support Mitt? It's not that he isn't a personable guy. To get this far in a presidential campaign you have to be personable. He seems nice enough. He's also good looking and looks very healthy for a 60 year-old. What do I have against him?
Here are a few of the positions Mitt staked out:
-He wants to increase the size of the military by 100,000 troops and increase military funding, claiming there are lots of "bad people" out there. He didn't say where the money would come from nor why we need that many troops, but he insisted on this (probably because Tampa is a military town; MacDill AFB is just south of the city)
-He wants to make George W. Bush's tax cuts permanent, get rid of taxes paid by the middle-class on investment income, and abolish the estate tax (which he, of course, referred to as the "death tax").
-He wants any convicted sex offender to serve a very harsh sentence and then be tagged with a GPS tracking system for life (honestly, I'm not making that up).
-He wants to continue the war in Iraq indefinitely.
-He has no idea what to do about Israel and Palestine (someone asked him that), but he knows the words 'Hamas,' 'Fatah,' and 'independent state.'
-He wants to strengthen families by magically reversing the growing trend of women having children outside of wedlock (little statistical tidbit for you – about 30% of births in the U.S. today are to unmarried women, but many of them are cohabiting with essentially permanent partners; this pales in comparison to the percentages in Western Europe, and I and most other demographers don't really see it as a problem).
-He wants to "give people control" over their social security retirement by instituting personal retirement accounts. This one is pretty obvious for someone like Mitt who made his millions running an investment firm – investment companies would make trillions of dollars off such a deal, while leaving the average American hung out to dry making poor investments while the wealthy get wealthier.
Basically, I don't agree with pretty much anything he said. His positions are so contrary to the needs of everyone but the upper middle class and the wealthy that it would be a terrible shame for the working class and the poor to have this man as President. He didn't mention the poor once. Not once. He didn't suggest anything that would help the poor. Another fascinating element of this meeting was the fact that there were virtually no racial or ethnic minorities there. I know there was one Hispanic person there because he was a "dignitary," a current state representative, Trey Traviesa. But I don't recall seeing a single black person nor another Hispanic person (and virtually no Asians, either). That's pretty remarkable considering the meeting was in a Mexican restaurant in Tampa, where the Hispanic population is increasing by leaps and bounds. You can't throw a wiffle ball into the wind in Tampa without someone saying "Hola!" to you and offering you authentic Hispanic cuisine (both of my neighbors are Hispanic and and the person who lives across the street is Asian). Yet, no minorities. Hmmm… I wonder why? Maybe because Mitt Romney is the perfect presidential candidate for the super rich and, like George W. Bush, doesn't care about poor people.
Mitt also didn't have anything nice to say about the Democratic Presidential candidates. He verbally insulted Hillary, Obama, and John Edwards on multiple occasions, resorting to ad hominems and insults rather than reasoned and intelligent commentary on their positions and ideas. I was appalled.
In short, here's my current take on Mitt Romney for President: Mitt is slick and attractive and wealthy. His policies would favor white, wealthy people. If that sounds like something that interests you, go for it. But if you are interested in equality, opportunity, and new ideas (see Debi's comments below), Mitt's not your man.
In the interest of offering a slightly different take on the meeting, I grilled Debi about her experience. Here are her thoughts:
What do cabbage, cauliflower, Mitt Romney, and George W. Bush have in common? According to Mark Twain, "a cauliflower is nothing but a cabbage with a college education" (meaning it has been cultivated). The same is true of Mitt Romney and George W. Bush – Mitt Romney basically thinks everything that George W. Bush does (i.e., he has the same DNA, like the cauliflower), but Mitt Romney can string these terrible ideas together in a way that makes them sound slick and well-rehearsed, unlike George Bush's broken, stuttering sentences. In short, Mitt Romney is a cultivated George W. Bush.

One of the first things he said was, "I'll get rid of the death tax." At that minute I knew where his priorities lay… Mitt Romney is a multi-millionaire who wants to pass his money to his kids. He repeated this assertion a number of times. Make no bones about it, Mitt Romney is a big-money Republican.

Additionally, Mitt wants to implement the same social security personal retirement accounts as George W. Bush. It really is the same ideas with just slightly prettier and more eloquent packaging.
Update 9/17/2007:
I forgot to include the pictures I took with my crappy cellphone camera. This first one is of the setting before Mitt arrived. It turned out clear, so I thought I'd post it.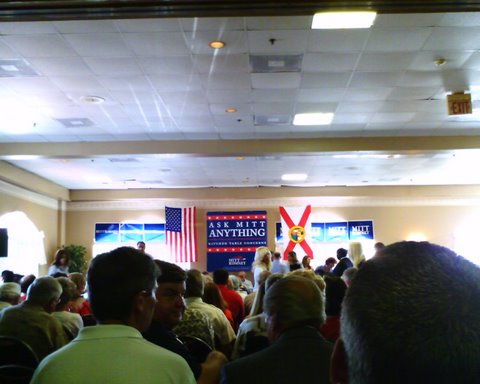 This one is of Mitt. Like I said, my cellphone camera sucks.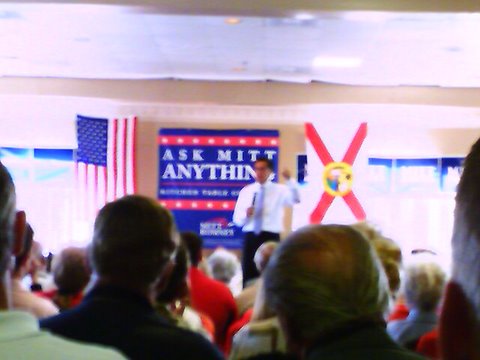 Tags: general news, politics