The study started today and, rather than ease into things, I was given a few slices of cow right out of the gate: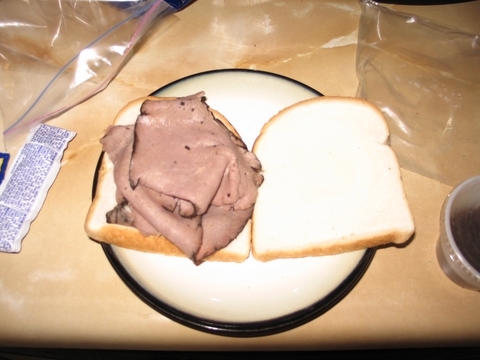 I admit I was a little anxious about eating it – it's been 7 years! Anyway, I bit into it and found that meat isn't really that good. I can think of tons of vegetarian food I'd rather eat. Also, it's about 4 hours later and I think the damn stuff is still sitting in the bottom of my stomach. Of course, that could also be the medication I have to take (bile acid), but I can't say for sure. Anyway, this study has already done one thing for my vegetarianism – convinced me that I'm really not missing much. A mildly upset stomach isn't too big a deal. I'm not dead nor vomiting, so I guess my body can still handle meat… Kind of…
Oh, and here's a breakdown of the 3-day rotating menu I get to follow for the next 18 days:
Menu 1:
apple juice
skim milk
cinnamon raisin bagel
cream cheese
frosted flakes cereal
Lunch
roast beef sandwich with au jus (the picture above)
dijon mustard
peaches
pretzels
rice krispie treat
Dinner
chicken broccoli rice casserole
bread
green beans
dinner roll
salad with dressing
Menu 2:
orange juice
skim milk
plain bagel
cream cheese
froot loops cereal
Lunch
chicken BBQ sandwich
applesauce
chex mix
fig newtons
Dinner
sliced turkey
mashed potatoes with gravy
corn
bread
dinner roll
salad with dressing
Menu 3:
grape juice
skim milk
bread for toast
jelly
corn pops cereal
Lunch
turkey salad in pita bread
pears
tortilla chips
picante sauce
snackwell's cookies
Dinner
roast beef
rotini noodles with gravy
broccoli
bread
dinner roll
salad with dressing
Fun!