We flew in to LA the day before, August 7th, flying out of Orlando (flights were very cheap from Orlando). We spent the evening visiting with Scott, Shalynn, and their new baby boy, Anderson. We then picked up Steve later that night. So, the 8th was our first full day.
And there we were, in Los Angeles, looking for fun stuff to do when I noticed on Frommer's website that you can hike up to the Hollywood sign. I haven't spent that much time in LA as an adult and haven't done much in the area. In fact, I had never even taken a picture of the Hollywood sign. But I, like pretty much everyone else in the world, recognized it. Since I enjoy hiking, I figured hiking to the actual sign would be fun… or at least memorable. Debi and her younger brother Steve agreed, so we decided to give it a go.
Frommer's website includes some directions, but I wanted to be sure, so I searched around for a couple more guides with Steve's help. We came up with a few possible locations for the trailhead, which was a disturbing sign in and of itself as it seemed there wasn't a consensus as to where the trail actually began. We should have realized that was foreshadowing the experience, but in our excitement we pressed on.
We first headed to Griffith park as one website claimed the trailhead was just opposite Red Oak
Dr. Just opposite Red Oak Dr. in Griffith Park there are a number of trail heads, but none of them gave any indication that they went to the Hollywood Sign and they all seemed to head the wrong direction. This option was a bust. We asked a few people around there if they knew where a trailhead was for the Hollywood Sign, but to no avail. Apparently LA natives don't climb to the sign, which I should have recognized as clue number two that this probably wasn't a great idea.
Steve called Scott at this point to see if he could find some better directions online. Meanwhile, I remembered the set of directions on the Frommer's website. That one suggested we follow Canyon Drive to the end and then follow Brush Canyon Trail. We were using a GPS system for navigation and weren't sure where Canyon Drive was, but I headed back down to Franklin Ave and followed that west until I found it. We followed Canyon Drive all the way up to the end only to find a private camp called Camp Hollywoodland. That seemed like it might hold some potential as a place to start hiking at it was the right direction and the sign originally said "Hollywoodland," but the entrance was guarded by a number of 'no trespassing' signs, which would soon become a common sight.
We did see one, unmarked, trailhead but were a little skeptical as it also seemed to head in the opposite direction of the Hollywood sign. Before we set out on the path we saw a couple walking down. Debi asked them where it led and they said to a cave. Last time I checked
the Hollywood sign wasn't in a cave. At this point I was beginning to think that Frommer's just asked someone where they thought the trailhead was without verifying it. I was getting frustrated by the whole experience.
Without any other options, we asked that same couple if they knew where the trailhead was to get to the Hollywood Sign. One of them seemed to actually have a clue and suggested we follow N Beachwood Dr. until it ends and then go from there. One source Scott consulted suggested that might be where the trailhead was, so we gave it a try. Without any other options, we dropped back down to Franklin Ave and headed west to Beachwood – attempt #3.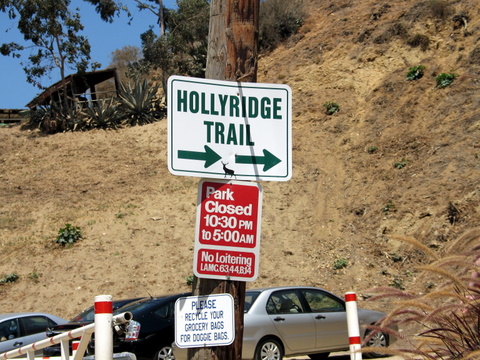 The third time was, in fact, the charm (kind of; turns out you could probably hike this from a lot of places, if you still think it's worth it after you finish reading this). We were still skeptical that this was the place as there were a number of signs indicating that the road at the end of Beachwood led to a private horse ranch. We drove up past the end of Beachwood Dr. anyway and found a small sign indicating this was a location where you could join the Hollyridge Trail. There was parking there for about ten cars. The trail sounded right and there were a lot of tourist-types there, so we figured we may be on the right track. We coated ourselves with sunscreen then headed up the trail.
About 200 yards in there was a pretty good view of the Hollywood Sign and this was, in fact, as far as most people seemed to be hiking. There were a lot of people there taking pictures like this one of Steve: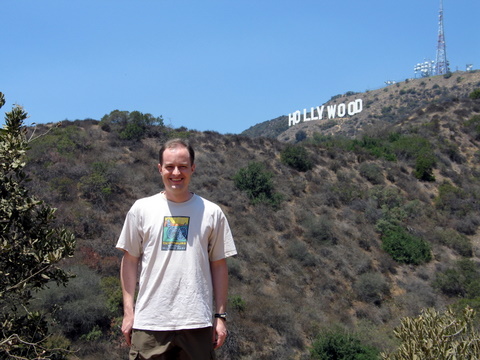 We snapped a few photos then continued up the trail. Steve read somewhere the trail split, so we were watching for that, and came to a few forks. Here's basically what we found. There is a horse ranch just a bit further up the road from the trail head. The horse ranch has a small side trail that leads up to the Hollyridge Trail and they use it too. The Hollyridge trail intersects with Mulholland Hwy, which is a bizarre, narrow dirt road at times and also a paved road at times. We followed Mulholland Hwy, as this map indicates, until it intersected with Mt. Lee Dr. We didn't know it at the time, but Mt. Lee Dr. actually goes all the way up to the cellphone towers above the Hollywood sign, which you can see in the photo of Steve above.
We continued on Mulholland Hwy, which was paved from here until we ran into the houses. Yes, you read that right, houses. We hiked past a water tower and turned a corner to run into a guy talking on his cell phone next to some fairly nice houses. We were confused. Here we were hiking to see what was supposed to be an amazing view and there were houses here… Lots of them!!! Just then, the mailman pulled up and delivered the mail to these homes. That basically ruined the whole hike for us – there was a mailman delivering mail where we had just spent the last hour hiking to reach. Confused, we followed Mulholland Hwy into the yards of the houses (I'm really not making this up, see the next picture) and followed it until we hit some more signs.
Here are the yards: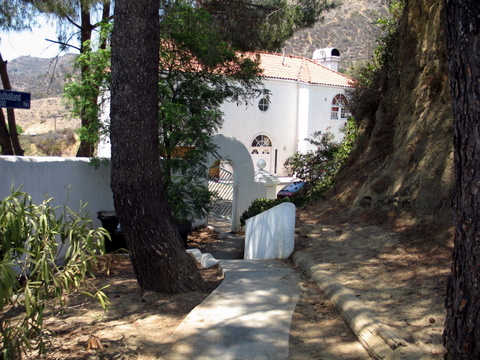 Here are Debi and Steve walking through them: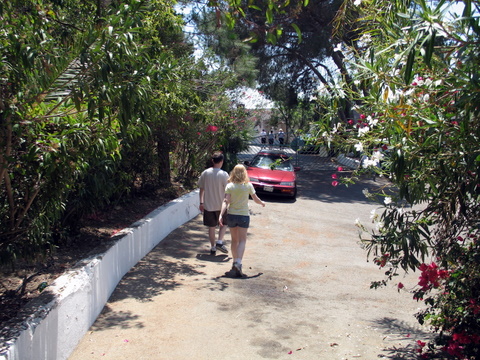 In the above photo you can see the cars. We literally were walking right past houses. We eventually got to these signs: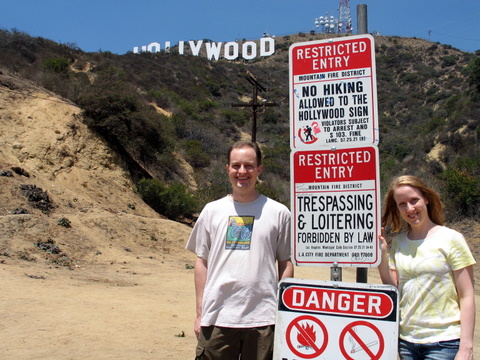 In case you can't read it, they say "RESTRICTED ENTRY; MOUNTAIN FIRE DISTRICT; NO HIKING ALLOWED TO THE HOLLYWOOD SIGN; VIOLATORS SUBJECT TO ARREST AND $103 FINE; LAMC. 57.25.21 (B); TRESPASSING & LOITERING FORBIDDEN BY LAW."
We couldn't quite figure out why the fine was exactly $103, but so be it. This is as far as you can hike. And here is the view from this spot: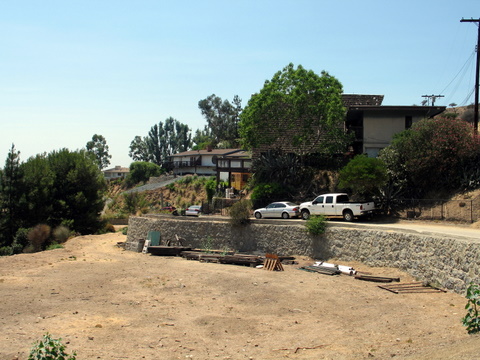 Yep, those are houses and vehicles not 50 feet from the end of the hike. LAME!!!! As luck would have it, we also found some used paraphernalia next to the sign, including a used tampon. That was a fitting cap to a bizarre hike. Frommer's should actually send someone on this hike before they recommend it. Yes, you get a nice view of the sign and even some good views of downtown LA and the Griffith Observatory, but you can't actually hike to the Hollywood Sign. In fact, in a short side trip we found nine video cameras that are accompanied by a loudspeaker that seem poised to tell people hiking to the sign to get the hell off the mountain:

These are right next to the water tower and the loudspeaker is pointed right at the sign. Not all was lost on this hike, though, as we did get some decent pictures by the sign: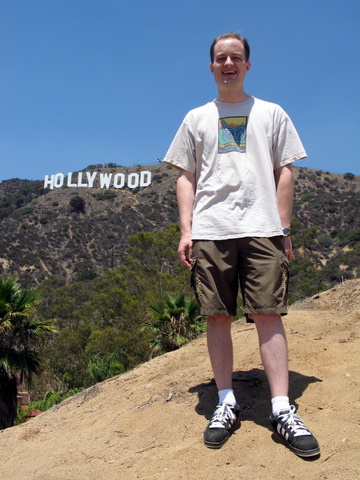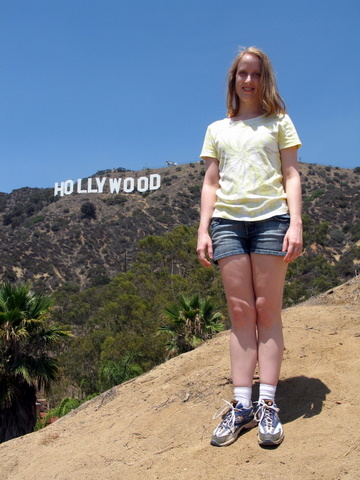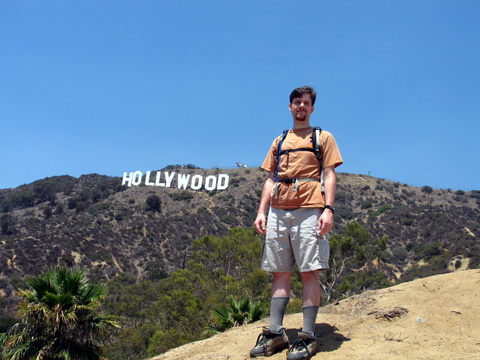 The benefit to getting this close, I guess, is that you can stand in front of all the cellphone towers right next to the sign and block them out. Otherwise, this hike is pretty stupid, as the picture below symbolically illustrates: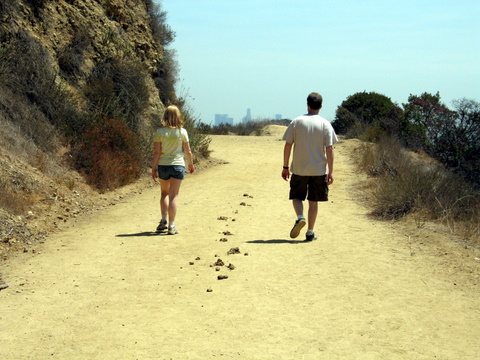 Looking at things with the help of the hybrid view on Google Maps I now see that you could hike Brush Canyon Trail, which begins at the end of Canyon Dr., up to Mulholland Hwy, but it looked like it was blocked off when we were there. And if you were really interested in punishment you could probably start from the trail head near Red Oak Dr., follow that up to Mt. Hollywood Dr (which leads to the Griffith Observatory), then follow that to Mulholland Fire Rd., which connects back up with Mulholland Hwy. That would result in probably a 10 to 15 mile hike just to see the view from the back of someone's house, which you can probably drive to anyway. In short, don't waste your time – this is a pretty lame hike (though the company was good).
Later that night we hooked up with Scott and headed to the Hollywood Bowl (taking a bus, as parking was insane) to see a Jazz concert. I'm not a huge fan of Jazz, but I recognized some of the names being thrown around and the ambiance of the enormous Hollywood Bowl amphitheater was cool. We saw a tribute to Benny Carter, hosted by Quincy Jones. It was very good, even if I didn't recognize all of the assuredly famous people playing. We took Subway sandwiches and blankets and had a good time – I even got some guy kicked out for smoking like a chimney. Anyway, it was a nice way to cap off our first day in LA.
—————-
Now playing: U2 – Stay (Faraway, So Close!)
via FoxyTunes