We decided we needed a little get away to relax before classes start again (on the 22nd). The problem with taking a vacation when you live on the coast in Florida is that where you live is basically a vacation spot. I know that's an pathetic quandary, "Oh, poor me, I can't decide where I want to vacation because I'm already in a vacation destination." Even so, we decided to leave town (a little bit) so we wouldn't have access to email and wouldn't be tempted to work. It's the first time in a while that I've been "cut off" from email… and it was nice. We didn't take a single full-size computers (we did take our handhelds, which are PDAs, but we kept them off most of the time.) So, here's the first day of our winter break vacation…
We left Tampa fairly early with the intention of driving straight to Longboat Key to bike along the island. There aren't very many places that appear as biker friendly as is Longboat Key, at least on their website. According to the website linked above, Longboat Key has a bike lane along the entire length of the island along the main road. It's 12 miles, which is a bit long for us as we are leisure riders, but we thought we'd ride around to see what we could see.
Garmin (that's the name of our GPS) took us to Anna Maria Island to get to Longboat Key (there isn't a road that connects Longboat Key to the mainland directly). As we headed toward the southern end of Anna Maria we saw Coquina Beach and were very impressed. It's a public beach with tons of free parking, a paved bike path completely separated from the road that runs the length of the public beach (about a mile or so), and easy beach access. The place looked almost empty except for a few other bikers with their bike-rack toting cars. We thought, "If the island north of Longboat Key is this nice, what must Longboat Key be like?" Well, it's nicer in one sense – Longboat Key is more exclusive in terms of housing, but beach access wise and bike paths, it doesn't even compare. The bike trail on Longboat Key is just the shoulder of the road (with a line separating it from where the cars drive). We drove down most of Longboat Key before deciding to turn back and park at Coquina Beach.
We unpacked the bikes and headed north, first, covering all of Coquina Beach. We then turned around and crossed the bridge to Longboat Key. We rode a few miles along Longboat Key until we got hungry. We then looked for a restaurant. We finally found a small one tucked into a shopping area called A Moveable Feast. Kind of a weird name, but the food and service were good.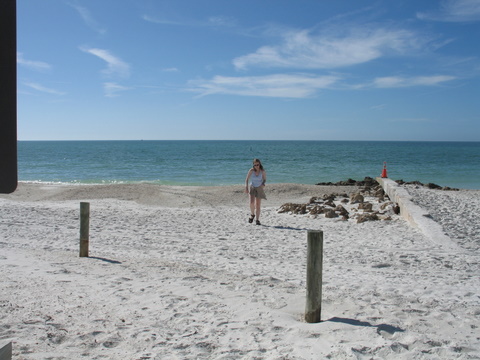 (Here's Debi coming back after hunting shells.)
After lunch we hopped back on the bikes and headed back to Coquina Beach. We put the bikes back on the car and unloaded some chairs and books so we could lounge on the beach. We didn't have an umbrella (on our list of things to purchase next time we go to the beach), but we found some shade on the north side of a lifeguard station (as a public beach there are lifeguards on duty). We set up camp and I proceeded to read (and people watch – people are so fascinating) while Debi collected shells. We spent a couple hours there before deciding to head to our campsite. We decided we didn't need a fancy hotel to see Sarasota, we wanted to save a couple of bucks, and we wanted to see the state park anyway, so we camped at Myakka River State Park. We got to our site just before the sun set (it's about 30 minutes from Sarasota). That gave us enough time to set up our tent and sleeping bags and get a fire going. It's a beautiful state park.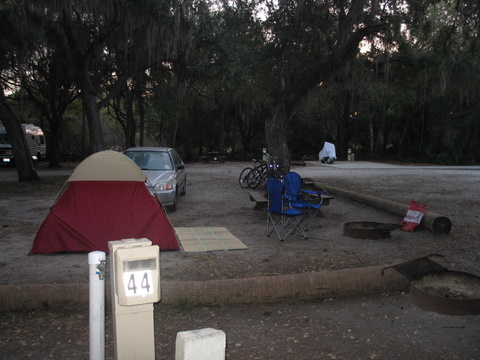 (Here's our campsite. We had the smallest tent in the place; you could fit three or four of ours into other peoples' tents!)
(A note on campsite selection. If you decided to camp at Myakka in the Big Flats campground, choose one of the outer spots, not one of the inner spots. For some reason they decided to compress the sites into as small of space as possible and the inner spots have no privacy whatsoever.)
Tune in next time to see what a $57 million home looks like…
—————-
Now playing: The Shins – We Will Become Silhouettes
via FoxyTunes
addendum: Beach Ethnography – Coquina Beach – 01/10/2008
a plane flies by – remarkable technology
a couple passes on a Sea-Doo – remarkable technology
2 friends float up to the sky, parasailing – remarkable technology
an elderly couple sits, quietly; dressed in a button down shirt, shorts, and tennis shoes, the male has seen many years of work; dressed in a faded yellow blouse, denim capris, and sandals, she has seen a few too many pies; both wear sunglasses and seem content not to talk to each other but to sit, quietly, looking – the classic American couple
another couple, middle-aged, stop by and comment about the man's tender feet – most humans are kind and respond well to strangers and kind words
birds flutter past, some skimming the water – remarkable technology
two young men, early twenties, beach-tanned and shirtless, walk coolly by
a single woman, white tank and matching shorts, baseball cap and shoe-less, meanders past
it's a calm day at the beach