After two days of checking out Sarasota, we decided we'd spend all of this day in the State Park. We went for an early ride to the canopy walk, which is basically two towers with a suspended wood walkway between them: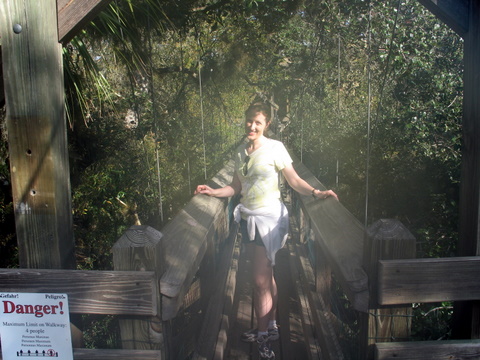 (here's Debi on the walkway)
The best part about the canopy walk is that they have informational signs all around it and there is a nice nature trail you can follow. We walked the trail with some fellow campers (he's a corrections officer) and had an enjoyable discussion about stratification and crime (okay, he and I enjoyed it; Debi and his son probably didn't enjoy it as much as we did). On the trail we saw a wild boar (which you can barely make out in this photo). It stopped on the trail about 30 feet ahead of us, but it took me a minute to get my camera out and by that time it was almost gone.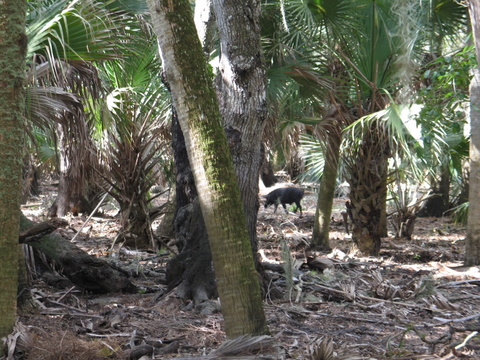 From the nature trail we biked up to the north entrance of the park. We stopped to munch on some oranges, then left the paved roads. The park itself is amazing for how bike friendly it is. Almost everyone there had bikes and they basically owned the roads – people on bikes were everywhere. There are also some unpaved roads you can ride on and I figured there would be a lot of people on those as well. But when we took one (Fox's High Road), we were kind of surprised. In the hour or so we were biking the unpaved road (it was about 5 miles), we saw one other person, and he was walking. This is the most isolated I've felt in Florida so far. And the vistas were actually quite spectacular. I felt like I was on the African savanna. The riding was a bit tougher, mostly because of sand, but it was fun and more challenging than the completely flat, paved roads.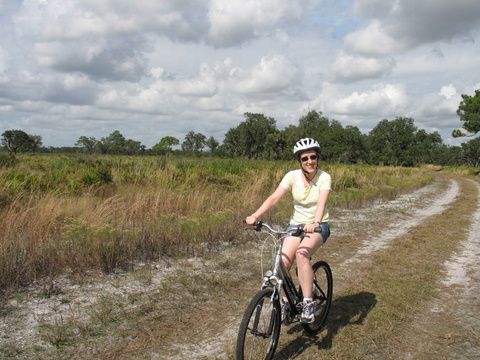 After we finished our "off-roading," we headed back to camp to shower and relax a bit. We got to know some more neighbors and they invited us to roast marshmallows with them later. That sounded like fun but we opted to go to a presentation on the Weird History of Florida by Eliot Kleinberg first. I had mixed feelings about the presentation. First, I thought it was cool that the park was doing something like this, especially for the snowbirds who spend months in the park. But Mr. Kleinberg's presentation soured the event. He mentioned a few of the wacky news stories he's famous for writing about, then proceeded to rant and rave (quite literally yelling) about how Florida has problems and the way to solve it is for non-Floridians to start considering themselves Floridians. This didn't seem like the right time or place to rant about this, even though it is a good point. Oh well…
It started raining during the presentation, which made us a little nervous as our tent is more "water resistant" than waterproof, but when we got back we found it relatively dry inside. When the rain stopped we hopped over to our neighbor's site and spent the evening chatting with them. It was a lot of fun.
The next morning we woke up, broke camp, and went shopping (Debi's delayed birthday and solstice present), then came home. Overall, it was a great trip. We saw some amazing stuff and had a great time. I can envision us going back to Myakka in the future, but, more importantly, I think we've figured out a relatively inexpensive way to visit Florida – camping. The best part about it is that you can do it year round (though it's probably pretty rough during the summer). So, look for more camping adventures from us in the future.