I picked up a few items when I lived in Costa Rica that have proven to be remarkably durable. Alas, one of those items died a few days ago – my infamous (to Debi at least) pink flipflops. I bought these the first week or so I was in Costa Rica (which would have been around March of 1996). Due to the ever-present danger of strange infections one could catch in showers, I showered with these flipflops for the two years I was in Costa Rica. I've since worn these flipflops irregularly over the intervening 10 years. As you can see, they are well-worn and have paint on them (I wore them all around the house when I didn't want to put anything else on). You can't see it in the photo, but one of the straps finally broke (right near where it goes through the bottom of the shoe, making them unusable. Here's the best part about these flipflops: I bought them for 250 colones. Rather than make you figure out the conversion rate for colones in Costa Rica in 1996, I'll let you in on how much they cost me….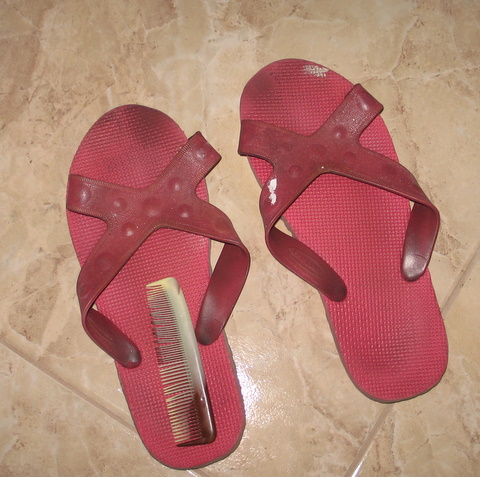 You ready? $0.75! Yep, 75 cents for flipflops that lasted 12 years!
You'll also notice in the picture a comb. That, too, is a relic from Costa Rica that I bought about the same time – March or April of 1996 in Cartago. I've used that comb almost every day since. It's still going strong. When they finally freeze my body in storage to be reawakened in the year 2,357 when they can cure my cancer and bring me back from the dead (okay, that sounds funny when I write it like that), I hope to have that comb waiting for me with my personal affects. Debi gives me crap about it all the time, but not as much crap as I give her – she has almost lost it several times, and whenever she borrows it I freak out until she brings it back. Oh, and the cost of the comb? About $0.50 (around 125 colones or so).  Ergo, the best 375 colones ever!
The picture below shows me in Limon wearing them while calling in the numbers for my district at the time.