Summit Date
August 2nd, 2008; around 12:00 pm
Party
Ryan Cragun, Mark Woolley, Tom Triplett
Trip Report
We chose New Mexico this year as we were unable to get a permit to hike Mt. Whitney in California. We left Salt Lake on August 1st, headed for Taos Ski Valley. We planned on camping in one of the campgrounds on the way up to the Ski resort, but neither Tom or I felt very well, so we opted for a hotel in Taos instead. We stopped in Moab for lunch at Slick Rock Cafe, then had a light dinner in Taos. It was a good thing we stayed in a hotel as Tom repeated his performance from last year and spent about an hour vomiting in the middle of the night. But, unlike last year, he actually felt better after vomiting (food poisoning from Olive Garden?). We left for the trailhead from Taos around 6:30.
We started hiking around 7:30 and summitted around 12:00 pm. We followed the longer but less steep route from the lower parking lot. The hike itself isn't particularly grueling in its steepness, but it is very, very long. The first half is in the tree line and is actually the steepest part of the trail. Once you clear the tree line you're about half the way to the top. Above the treeline you follow a number of switchbacks to a ridge then have to pass a couple of false summits, one actual summit (a nearby peak), and then finally get to the actual summit. The actual summit has a nice view of the surrounding area and the Taos Ski resort below. However, it was like a plague on the top with all the flies, which made being on the summit less enjoyable than many of the mountains we've climbed. I'm not sure why there are so many there, but you can see the flies in this photo of Mark on the summit: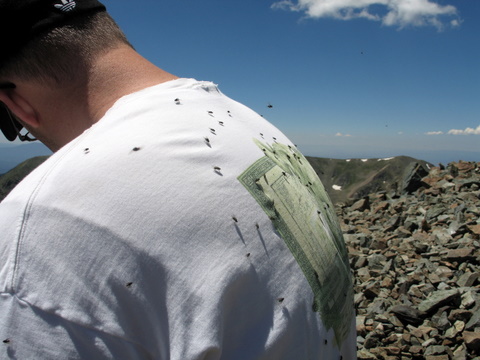 We spent about 45 minutes on the summit, snacking and resting (and brushing our teeth). There were probably another 15 to 20 people who summitted while we were there. Another 20 or so beat us up the mountain and were headed back down before we summitted (many were trail runners who made us feel really, really old). Here's Tom on the summit with some crazy counselor from the Philmont Scout Ranch: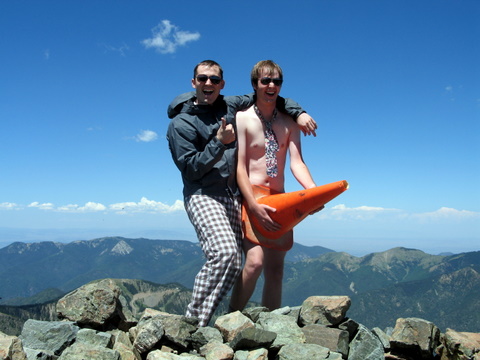 And here are Mark and Tom on the summit by the marker: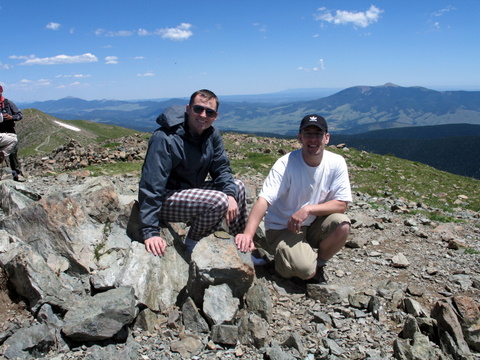 On the way back down we took a shortcut across a meadow just below the ridge that probably saved us 1/2 an hour on the way down. Just above the treeline I started feeling really, really sick. Tom and Mark took my pack at that point and I was finally able to continue on, but still didn't feel very good. It may have been exhaustion and lack of food, but whatever it was, it hit at a terrible time as I still had more than half the mountain to descend. We got back to the trailhead around 4:00 pm.
Rather than look for a campsite, we drove down toward Taos, filled up the car, got a drink, used the restroom, and headed back toward Salt Lake City. Getting off the mountain at that time gave us the idea that we might want to catch a movie that night (even though we were exhausted), then find a cheap motel/hotel for the night. We stopped in Pagosa Springs where the new Batman movie, Dark Knight, was playing. We got our tickets then went to Farrago Market Cafe for dinner. We caught the movie (which was pretty good), then started looking for a hotel. To our surprise, we couldn't find anything for less than around $250, which was way more than we were willing to pay. We thought we'd have more luck in a larger city, like Durango, so we headed there, but had about the same results. Turns out, this time of year is the busy time in this area – we couldn't find anything. By that time we realized that if we just drove straight through to Salt Lake City, we'd get back around 6:30 am. So, we decided to try to pretend like we're young and started driving. Mark and Tom drove for about an hour while I slept. They then pulled off and I took over for about 3 hours, driving us from outside Monticello to Price. Mark took over from there and we made it back home around 6:30.
Panorama
Directions
Here's a map from Taos to the trail head: