I've been busy reading and reviewing books, but I thought I should do a quick recap of a few holiday activities.  On December 20th we went to a play with some friends who recently moved in across the street.  The play was "A Dickens' Christmas Carol: A Traveling Travesty in Two Tumultuous Acts" by the Carrollwood Players.  I saw it in the local paper and we thought it might be fun.  It was entertaining, though not superb.  Basically it's a send-up of A Christmas Carol using about 5 actors to play all the parts.  This means they have to change roles in the middle of scenes, which causes quite a ruckus.  Additionally, the female lead is supposed to be sick, but she arrives late (literally, she stormed into the theater about 15 minutes into the play) and then fights with her understudy the rest of the play for her roles.  It had some brilliant parts, but the mayhem started to grow a bit old by the end.
On Christmas Eve we went to the house of some other friends and enjoyed a lovely dinner and conversation then watched The Life of Brian, which is our Christmas Eve tradition.  On Christmas Day a colleague invited us to her house for dinner.  We met several other people there and had a great time chatting and eating.
Oh, and while all these activities were taking place we were preparing to have our foundation fixed.  When we bought the house we knew there were some issues with the under-structure of the house.  We finally got around to having it fixed, but, in preparation, we tore out the old chimney (for the oil heater) that was sheetrocked into the wall.  Everything was going fine until I got down to below where the heater used to sit.  Underneath that was a couple buckets full of super-fine soot.  Not thinking, I just started cleaning that out of the chimney (we were pulling the bricks out).  By the time we were done the house was covered with a fine layer of black soot, and so were we: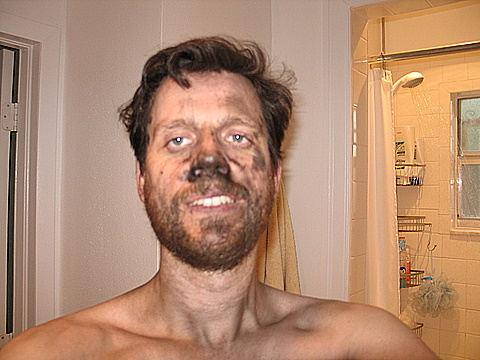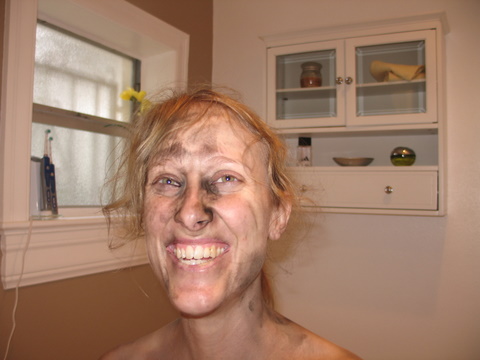 Oh chimney sweeps, how I feel for you!  That stuff is nasty!