I arrived at Gatwick airport around 8:00 am, relatively unrested (thanks to my talkative neighbor).  I quickly made my way through customs, picked up my bag, exchanged some currency, then found the stop for the direct bus to Oxford.  I missed a bus by about 15 minutes, which meant I had to wait another 45 for the next one, but it eventually came.  The bus worked its way around London and through some of the English country side, allowing me to see some scenic vistas: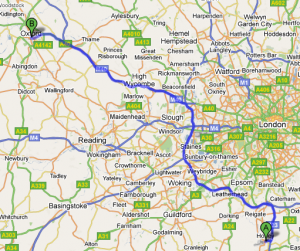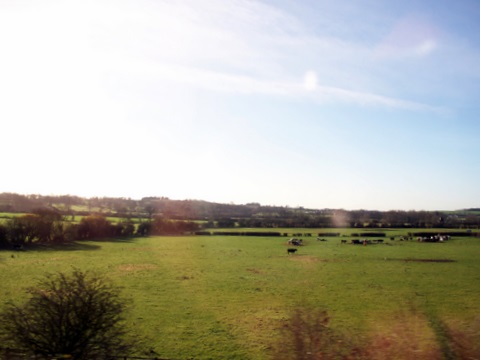 I arrived in Oxford around noon and took a cab to the college where I was staying, Wolfson.  The conference was in the same building where I was staying (in a guest room), but I couldn't check in until 2:00 pm.  So I left my luggage there and walked back into Oxford (about a mile) to see what I could see.  Oxford is bigger than I thought it would be with a number of stores and shopping areas.  The main attractions are the various colleges and museums.  I didn't have a lot of time as I was supposed to meet the conference organizers and some of the other conference attendees for dinner in the evening and needed a nap, but I spent a few hours walking around with my camera at the ready.
I walked through the Oxford College Park, then headed toward downtown Oxford.  As I was walking along Park Street I noticed a very large building.  At first I thought it was a chapel (which it included), but then it seemed to continue on for an entire city block.  I couldn't imagine that the building was really that large, but I walked around it and it really is almost an entire block. Turns out it is a college – Keble College.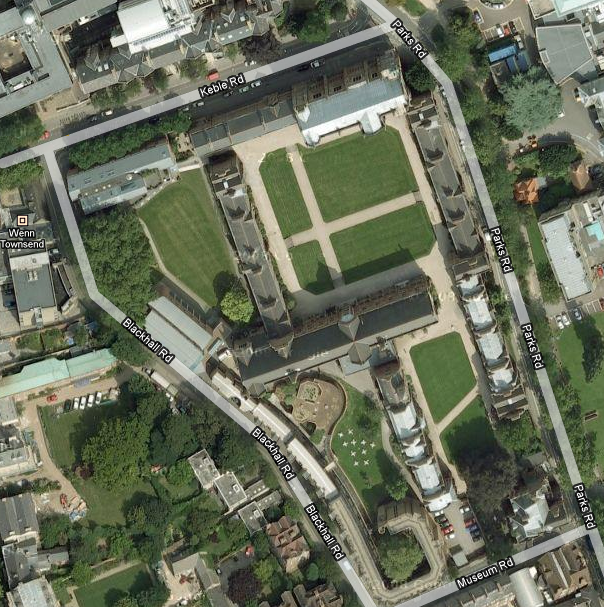 As I looped back to my starting position at the northeast corner I noticed a door in the otherwise impassable facade.  It was pretty cool – it looked like it was straight out of a medieval keep – the wooden door fit the arch, but a rectangular door opened inside the bigger wooden door.  People were walking in and out of it and there wasn't a sign saying I couldn't enter, so I walked inside.  It opened onto an immense, immaculately groomed courtyard: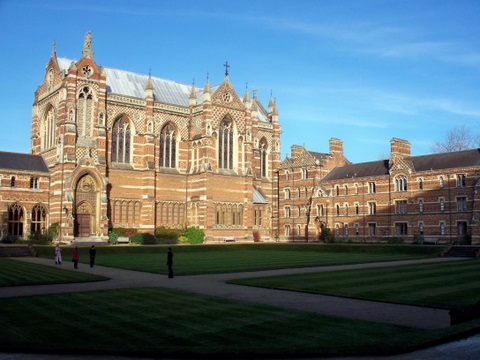 The street-facing side of the building wasn't kept up as nice as this side.  The interior-facing side was really remarkable.  Here's a shot of the inside of the door (the arch you see on the right of the photo):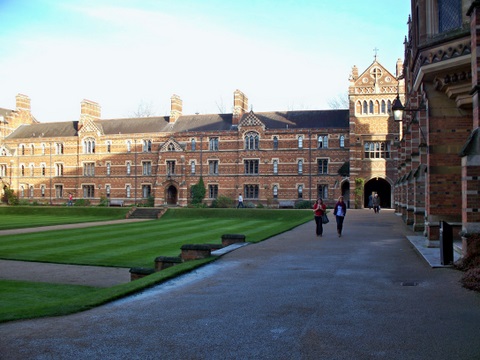 Right across the street from Keble College is the Pitt Rivers Museum.  I debated whether I should go here or to the Museum of the History of Science and opted for the later (a decision I later regretted), but I took a photo of the Pitt Rivers Museum just because it was such a cool building: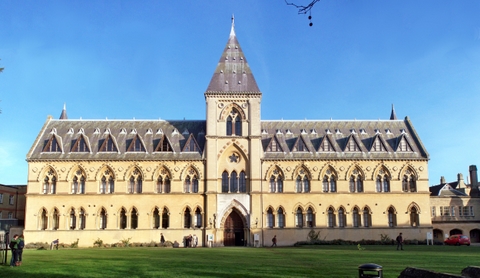 From here I walked down to Broad Street then over to Cornmarket Street, which is the main shopping center.  I wanted to see two other colleges while in Oxford – Christ Church (famed for its architecture and being the location for filming some of Harry Potter) and Nuffield College, which is where one of my former students got his Master's Degree.  Christ Church is certainly impressive, but I didn't want to spend the money for the tour, so I just walked around the grounds for a bit then left, snapping this shot on the way: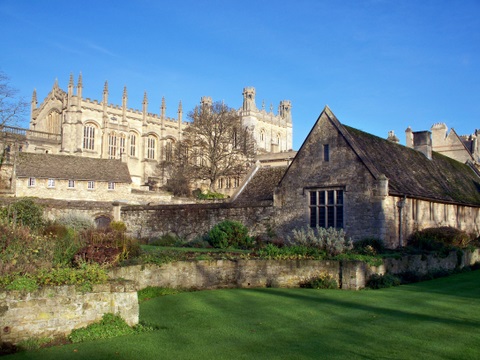 From Christ Church I worked my way over to Nuffield College.  I didn't know if there would be anything to see there but I thought it would be fun to visit the former stomping grounds of one of my students.  While not nearly the size of Keble College, Nuffield had the same basic layout – an exterior facade and a courtyard interior.  I slipped in one of the doors and saw this: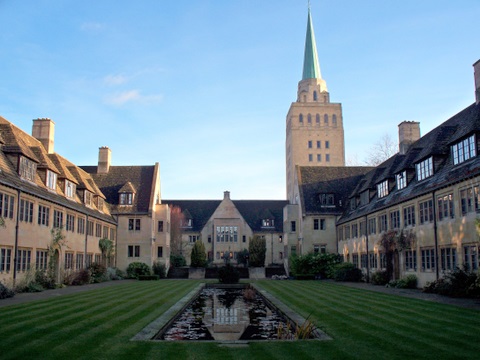 From here I walked back up to Broad Street and visited the Museum of the History of Science, which wasn't very impressive.  Per the tour guide, the pièce de résistance was a piece of chalkboard Einstein wrote on while at Oxford calculating the age of the universe (he estimated between 10 and 100 billion years).  I thought about stopping at the Eagle and Child Pub, famous for being the meeting place of Tolkien and other Oxford authors, but was too tired by this point so I headed back to Wolfson to check into my room.
It was at this point that I realized just how far north of the equator England is.  It was 3:30 or so in the afternoon and it was getting dark outside.  By the time I checked into my room, around 4:00 pm, it was dark.  I've never suffered from seasonal affective disorder, but I'm not sure I would be able to say that in England.  As soon as I checked into my room I laid down and crashed.  I woke up around 6:00 then headed out to a different pub, The Royal Oak, to meet up with some of the other conference attendees.  We stayed there talking shop and chatting until about 10:00 when we decided we should probably get some sleep for the conference the next day.