With just a couple days to see London, Steve and I tried to pack a lot in. So, even though we were up late (until about 2:00 am as I didn't get to London until pretty late), we got up fairly early. We followed a self-guided walking tour I found here to see the London icons.  For our first stop, we popped out of the Tube station right next to Big Ben.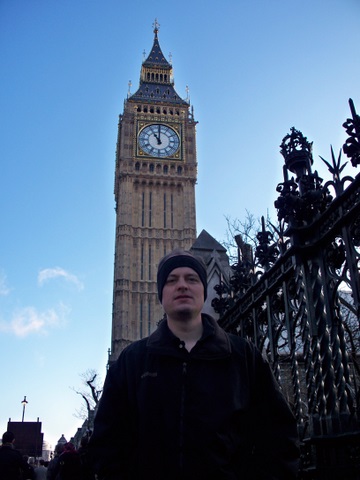 As I don't really have much of an ego, I'll note all of the things I didn't know as I describe our adventures.  Turns out, Big Ben is attached to the Houses of Parliament.  I didn't know that.  It makes sense now, especially once you see how ornate the Houses of Parliament are.  The photo below shows some more of the Houses of Parliament along the river: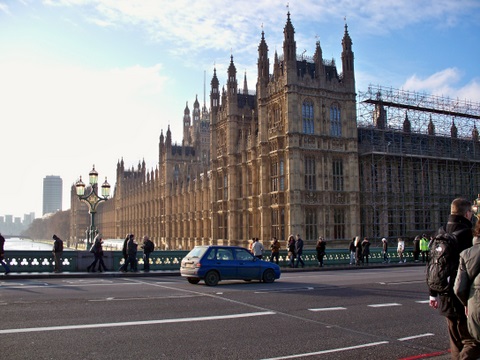 Big Ben is just to the right of this photo.  Here's another shot of the Houses of Parliament: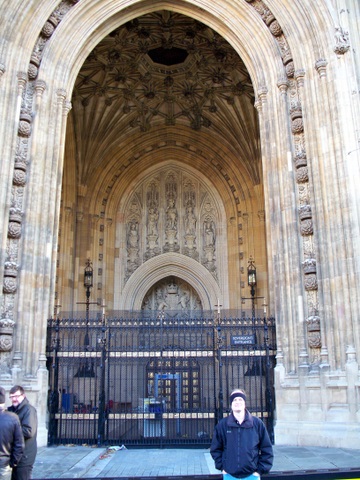 This is at the far end of the building, opposite Big Ben.  In the high resolution photo you can see the remarkable detail in the building.  As Steve and I discussed as we walked by these buildings, these have to basically be designed to impress the leaders of foreign countries.  Leader of foreign country on visiting the Houses of Parliament, "Hey, look at how much wealth they have.  They can build enormous, ornate buildings."  Yeah, they are pretty intimidating.
We walked around the Houses of Parliament and into a park where we had a good view of the River Thames and the London Eye.  We opted not to ride the Eye (the big ferris wheel) as it's pricey and a lot of people said it wasn't particularly worth the cost.  But we took photos of it anyway:
The London Eye is kiddie corner across the Thames from Big Ben.  We walked by Westminster Abbey, but decided to come back a different day as the line to get in was pretty long and it costs money (we were trying to see London for cheap, so we wanted to see what we could for free first, but we had to visit Westminster Abbey, as I will explain in that post).  We also skipped past Churchhill's WWII bunker, which isn't far from here as it was pricey and instead headed to Downing Street, where you can peak through the bars to catch a glimpse of the home of the Prime Minister.  Apparently whoever does the decorating was in the holiday mood – there is a Christmas tree outside the Prime Minister's house:
In the middle of Whitehall street opposite the gate to Downing Street there was a protest against the Iranian government going on.  Not sure what the point was as they were yelling in Farsi, but it seemed interesting.
A block or so away from Downing Street is another tourist attraction – the Horseguard House.  This is one of those quaint English traditions, kind of like the monarchy, that seems to be kept around just to entertain people.  And, well, it was entertaining.  Sitting on a couple of horses in a courtyard are some soldiers.  Another couple are standing around.  These are the guards who aren't supposed to move.  What a terrible job!  It seems as though they are basically just there for tourists to stand next to, which we promptly did: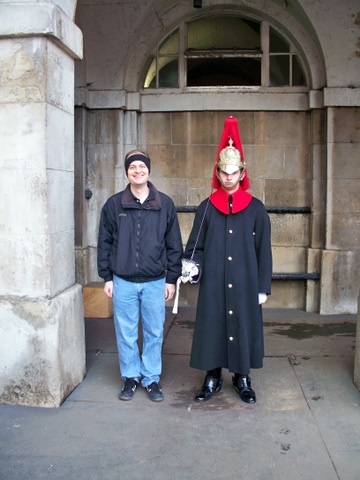 I got a picture by one of the guards, but it was impossible to get one alone as there were too many tourists. So, meet Tourist A, who is also in the picture though she appears to be running from the horse: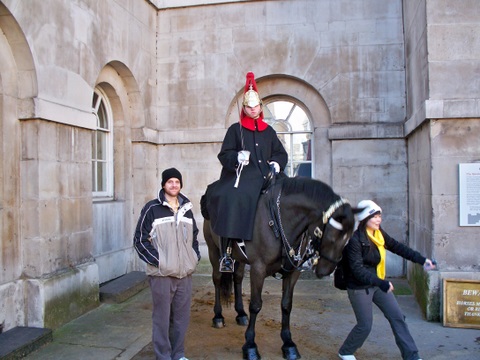 Just behind the Horseguard House is St. James Park, which buttresses Buckingham Palace.  We stopped at a nice little cafe in the park for lunch, then snapped a shot of Steve with all the birds, which the tour directions said would be there: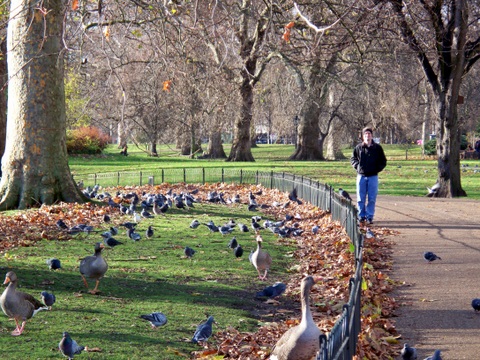 After a nice walk through the park, we ended up at Buckingham Palace.  There are no tours in December (there are some tours during specific times of the year), so we just looked at the palace from the outside. As we approached it, some young people in their twenties approached us and asked us to support their cause.  They were working for some pro-environment, anti-global warming group and were taking pictures of people in front of Buckingham Palace with a little dry erase board that said how old we'd be in 2050 and what we want to save from global warming.  It sounded harmless enough, so we helped them out.  I'll be 74 in 2050 and I want to save coral reefs: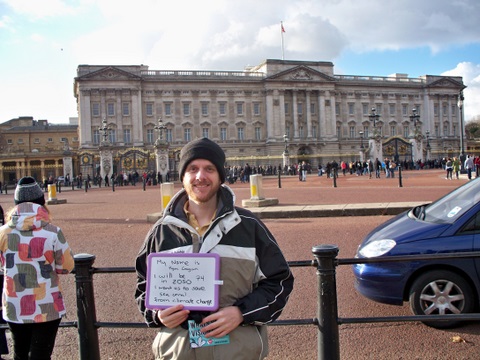 Steve wants to save humans: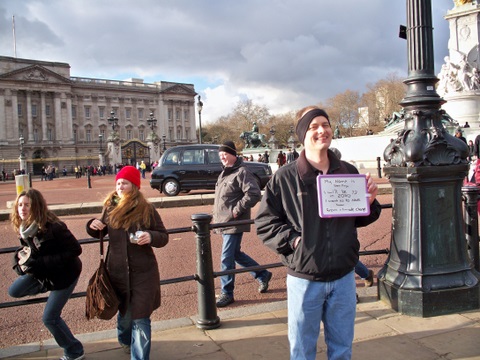 We took a couple more pictures at the palace, but didn't stay too long (it started to rain on us while we were there).  All the gates around the palace have gold paint on them (you can see this in the picture above).  I took a picture of Steve at one entrance and he snapped one of me trying to steal some of the gold: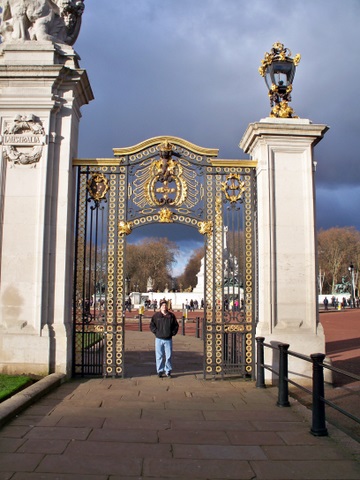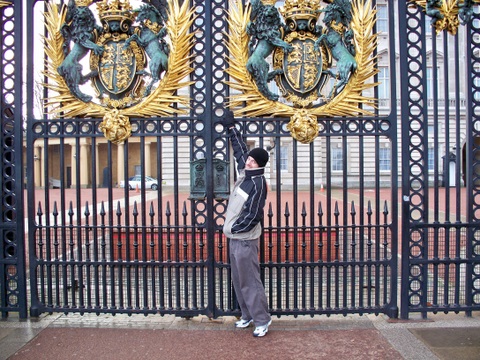 From the palace we walked down the Mall to Admiral Gate, which is a large monument leading onto the Mall.  It was cool, though I don't think it has any real function: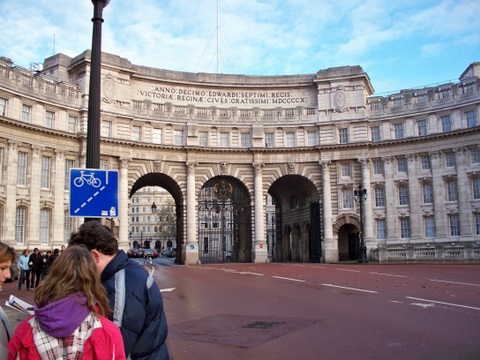 Around the corner from the gate is Trafalgar Square.  Trafalgar Square is one of the most famous squares in London and happens to be of personal interest as there is a monument in the square to a relative of mine – Horatio Nelson, also known as Lord Nelson, the famed British admiral.  I don't know all the details, but supposedly one of my ancestors was one of Lord Nelson's mistresses.  Woohoo!  I'm a descendant of the bastard offspring of a famed British admiral!  Now that is a claim to fame!  Anyway, I snapped a couple of photos of my illegitimate ancestor: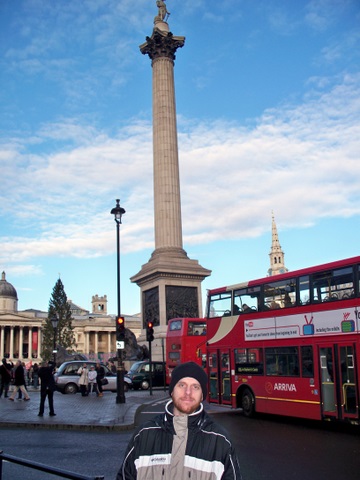 Here's a close-up of the monument, which towers over the square: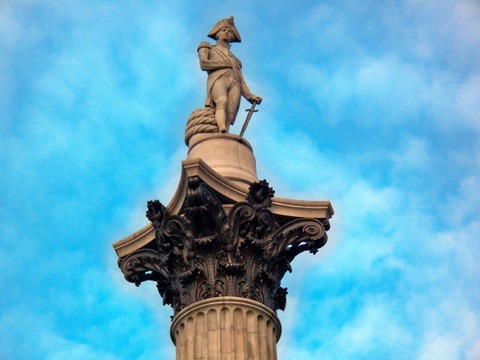 At the base of the monument was another protest – a bunch of people had set up tents and were camping out to protest, well, something.  Frankly, I think they were homeless and just wanted a place to stay.  They claimed to be opposed to global warming, but then started a fire burning crates.  They were also anti-capitalism, as the picture below shows: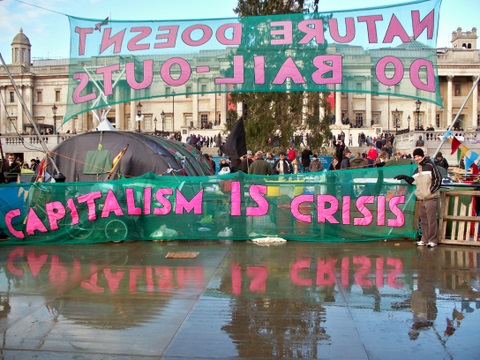 The primary attraction at Trafalgar Square is The National Gallery, which makes up one side of the square (you can see it behind the banner in the photo above).  It's free, so we went in and spent a few hours here.  Basically it is a large art museum with a remarkable collection.  The art starts in the 13th Century or so and runs through the 19th and early 20th Centuries.  There are a number of famous pieces here, including work by Raphael, Van Gogh, Michaelangelo, Rubens, and many others.  I'm not much of an art connoisseur, but I still enjoyed it.  This was the view as we left the Gallery: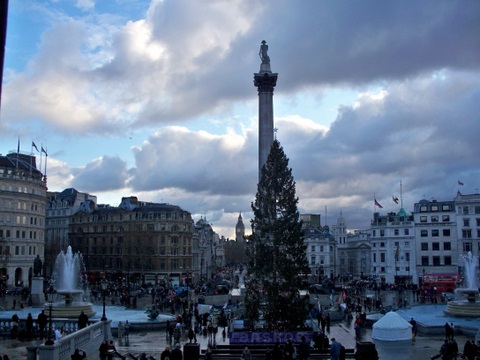 From here we headed around the corner to check out The National Portrait Gallery, but realized it was too big to see in the hour or so we had until they closed.  So, we decided to come back another time.  As we exited the Portrait Gallery, we saw a bunch of people dressed up as Santa Claus walking past.  When the first group walked past we thought, "Hmmm… Odd, but it's close to Christmas.  Big deal."  But just behind them followed some more Santas.  And then more.  We eventually decided to ditch our tour and see what was up with the Santas.  So we followed them around the corner to Leicester Square, which isn't far from Trafalgar Square.  When we got there it was filled with Santas: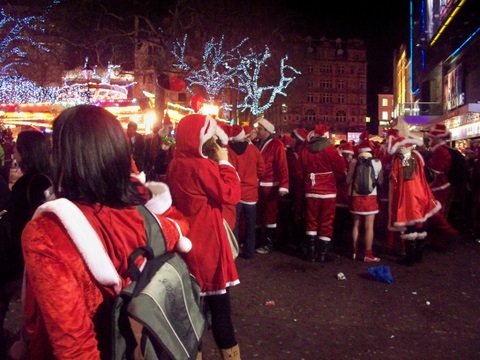 I had to know what was going on, so I asked someone.  She was nice and told us that it was Santacon, an annual, impromptu celebration where everyone dresses up like Santa.  I just looked it up and it sounds like a lot of fun (follow the link and read the description; pretty groovy!).  Lacking Santa suits, we didn't follow the party, but it was fun to see.
Lacking anything else to do, but not yet feeling tired, we decided to see one more London icon – Harrod's department store.  It took a while to figure out where it was, but we finally found it and then regretted having done so.  It's an enormous store, but ridiculously expensive.  Knowing I wasn't going to buy anything for me or Debi, we headed to the kids section to look at clothes for Toren.  They had some cute stuff, but you won't believe the cost.  How much would you spend on this coat: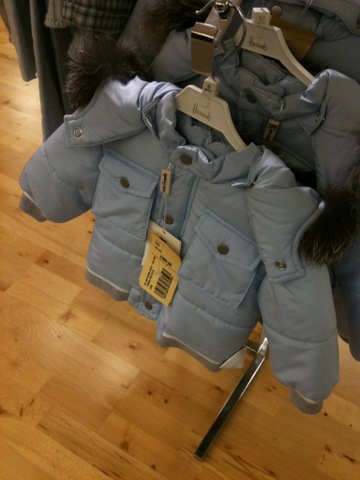 I might be willing to drop $15 or even $20 on a coat for Toren.  The price on the tag: £209.00, which translates into: $332.96.  T-shirts for babies were tagged at about $90.00.  Laughing, we left.
We stopped at a tapas place by our hotel for dinner then called it a night.
Here's a map of our travels for the day: