We didn't do much this day except drive down the keys to Key West, which is a pretty cool drive.  We stopped for lunch on Big Pine so Debi could participate in a conference call, then continued to our hotel.  However, while there we did see some Key Deer: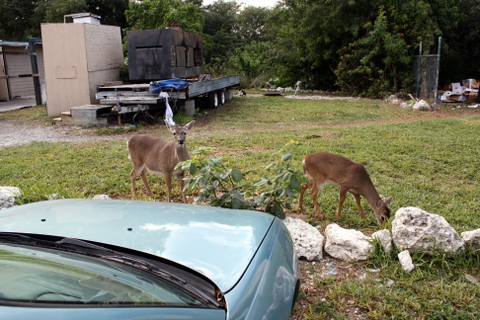 We tried to do the same Priceline.com last minute deal thing with hotels in Key West, but no luck.  We paid about $115 per night for our hotel, a Days Inn, but couldn't get anything better for less than $200.  Key West is clearly over-priced.  Outside of Key West our hotel room would have gone for about $60/night, given the quality.
We got into Key West in the late afternoon, drove Mario to his hotel (a nicer one closer to downtown), then spent the rest of the afternoon getting settled into our room… We're learning that takes time with a child.  We then walked to a local Mexican restaurant for dinner in the chilly weather.