Checking the weather, this looked like our best bet for a day at the beach as the temperature was in the upper 60s and it was sunny.  So we headed to Bahia Honda State Park, on the recommendation of a friend.  We had our regular beach stuff (chairs, umbrella, towel, etc.), but we also brought our bikes and our snorkeling gear.  Our friend said there was a boat from Bahia Honda that takes you out to a reef where you can snorkel.  There are two trips each day, so we originally figured one of us would go in the morning and the other in the afternoon; the other could play with Toren on the beach.  The cold weather changed that plan as Debi didn't think she could handle the cold water.
Right when we got there, as I set up the beach stuff and watched Toren, Debi dawned her wetsuit and snorkeling gear and ventured into the water.  Two minutes later she was back, chilled to the bone.  Debi's snorkeling in the Florida Keys will have to wait for a summer visit!
Despite the fact that I also get cold, I decided I was going to brave the snorkeling trip, so I signed up for the 1:30 trip and left Debi and Toren to play on the beach while I visited the reef.  Here they are playing before I left: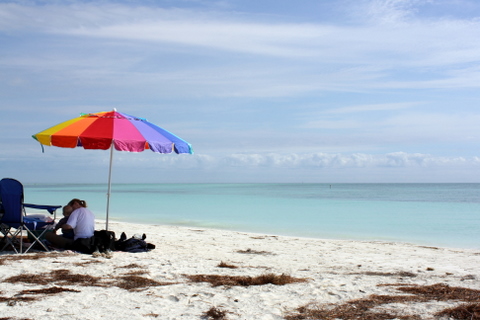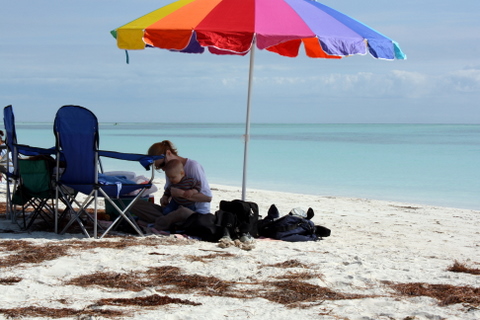 Despite the cold, it was definitely worth it.  We have snorkeled in Hawaii and went Scuba diving in Cancun.  The reef here was almost as good as Hawaii's – not quite as clear, not quite as colorful, but still plenty to see, with lots of tropical fish, coral, sponges, and fans. There were also a lot of barracuda, ranging in size from about a feet to almost 3 feet.  There were also schools of jelly fish floating around, but they are a kind that doesn't sting, which meant you could get right up next to them and just watch them, which is always cool with jellyfish.  Lastly, I saw a good 5 to 6 foot long reef shark.  It looked like a bottom feeder and was cruising along the bottom of the reef about 20 feet below me, so I didn't freak out (otherwise I probably would have), but it was still very cool to see.  I followed it for about 5 minutes before it lost me in the reefs.  We were given an hour and a half to snorkel at the reef.  I was the first one in and almost the last one out, but the cold did me in.  At around the hour and fifteen minutes mark I was too cold to enjoy myself any more.  If you get a chance to visit the Keys and like snorkeling, this should definitely be on your itinerary!
My boat got back around 4:30, which meant our day was pretty much up at that point, so we drove back to our hotel, picking up dinner on the way.  It didn't take Toren long to do what both Debi and I wanted to do after a long day at the beach: