In case you missed it, President Obama came to my university, University of Tampa, last week.  He spoke mostly about the funding for high speed rail, but then took questions from the audience.
Faculty at my University were reserved a certain number of seats, we just had to ask for a ticket.  I asked for a ticket: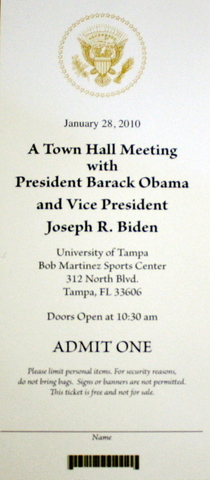 The Secret Service shut down a number of streets around my university and we were told that certain faculty parking lots would be blocked off.  So, I decided to ride my bike into work (takes about 20 minutes; I should do it more often, but I'm too lazy).  Anyway, there was a very long line to get into the gym where the Town Hall Meeting was to be held.  Since I had a ticket, I didn't think getting in would be an issue.  Um, yeah, I was wrong.  Apparently some of the students at UT decided that, rather than wait in line the day before (there were not enough for all of them), they would simply photocopy tickets.  As a result, about 400 people were turned away from the event, despite having valid tickets.  I was one of them.
I ended up watching the meeting in one of the rooms on campus where they were broadcasting it live.  I guess it's a good thing I went to see him when he was campaigning here in Tampa; now I don't feel too bad for missing this event.