We spent the morning getting everything packed back up and cleaning up the condo.  We were done by about 10:45 and then went to San Samuele, the same place we were dropped off, to get our reserved water taxi (Rosemary arranged that as well).  The water taxi took us up to the port where a bunch of cruise ships were waiting, including ours: Royal Caribbean's Splendour of the Seas.
We had a little issue checking in as everyone but Gary, Brent and I had had a little cold/runny nose over the previous couple of days.  So, before we could board the nurse onboard the ship had to check everyone out, but we were fine.  Once they cleared us we boarded but couldn't go to our staterooms until 1:00.  It was around 12:00 at this point.  So we went up to the buffet and grabbed some lunch, then checked into our state rooms.
After we got settled, I walked around the boat with Toren, Steve, Rosemary, and Suzy while Debi got more food (Toren was too tired to let her eat as much as she wanted).  After she got seconds and I returned from my tour of the ship, Debi put Toren down for a nap.  I went up on deck with Steve and Gary to watch as we left Venice.  We had great views of Venice and its many towers while cruising past.  Here's an example: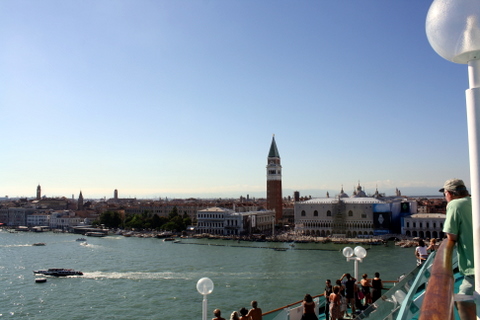 We had a couple hours after we left Venice and were on the open ocean before we had anything planned, so I headed down to the library to do some reading.  The library/game room was my preferred location for reading because no one was ever in there and it has great views.
Our dining time was 6:30 in the nice restaurant (called "The King and I").  One of the great pleasures of cruising for the family is the nice dinners in the restaurant.  We met up just before 6:30 and went to dinner together.  It was, as we expected, very good.  Here is Toren deciding what he'd like for the evening: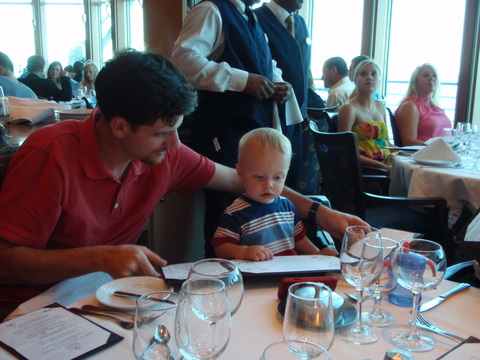 After dinner we put Toren down and then Rosemary graciously offered to sit in our room with him while Debi and I snuck out to do some dancing.  We haven't been ballroom dancing since Toren was born, so we took her up on the offer and danced for about 30 minutes.  The only place with ballroom music was in the Centrum, which doesn't have a good dance floor.  But the band played pretty good Latin music.  After dancing, we went back to our room and went to bed.
Oh, and if anyone is wondering, the cruise was a 7 days Greek Isles cruise.  You'll see where we stopped over the coming days.