This is a post I didn't want to write…
My brother Mark, my brother just older than me in my family, passed away today.  He was 35.  That's way too young.
He had been sick for a long time.  In fact, I'm not sure when his health started declining, but I don't think he was the same healthy Mark since his mission to Mexico (1994-1996).  At least by the time I returned from my mission to Costa Rica (1996-1998) he was often not feeling well.  Details are sparse on my end, but from what I've been able to gather, his health deteriorated quite a bit over the last 4 years.  Countless surgeries, doctor visits, and treatments didn't seem to make a difference.  Whatever was causing his ill health was never really clear.  But the affect on Mark's body was apparent.  Lucky for the rest of us, the affect on his spirit was less noticeable…
The Mark of my childhood was vibrant, stunningly athletic, and quirky.  Mark was probably the most naturally gifted athlete I've ever personally known.  Without effort he could out pace nearly any competitor.  We played on the same soccer team a few times and whenever Mark was on the field, it was always in the same position and under the same pretense.  He was a lightening fast center forward who would leave the defense standing still.  All we had to do was kick the ball over the defense's head and leave the rest to Mark's tenacity and speed.  It was a recipe that worked more often than it didn't.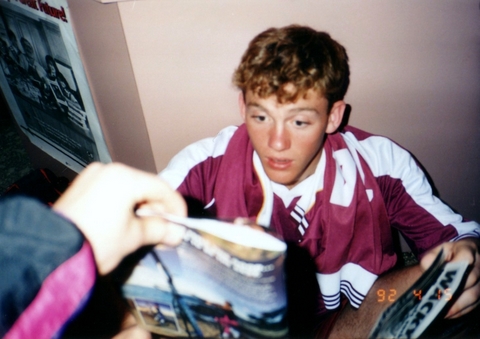 Despite not being very big, Mark was fearless and highly competitive.  I watched him tie Mitch Johnson, who must have weighed close to 50 pounds more than Mark, up in knots, laughing the entire time.  His competitive nature reminds me of another story.  I'm competitive, but I also know when to give up.  Mark never would.  We learned to water ski around the same time at Lake Powell.  I don't remember what year, exactly, but it was in the late 1980s.  I believe Mark got up on two skis before I did, but I picked it up pretty quickly after he did.  The next summer at Lake Powell we started dropping one ski so we could slalom, then learned to start on one ski.  I picked up the technique before Mark did.  To Mark, that was unacceptable.  He was the older brother (and the much better athlete).  He tried and tried, for hours.  I still remember sitting in the "Jeanne Mae" in the channel as the sun was beginning to set while Mark attempted to slalom.  He eventually got up, but how he had any energy left by that time is beyond me.  He wouldn't quit, especially when the odds were against him.
Every sport and every team at Morgan High School wanted Mark because of his athletic ability.  He competed at the state level in wrestling and track and was very successful, but rarely practiced.  I vaguely recall one story he told me of a race he ran at state track.  He somehow mixed up the times he was supposed to run and ended up leaving the track to get something to eat, returning just before his heat.  When he returned, someone told him he was running next.  Without warming up he ran and took second.  I'm not sure why Mark didn't capitalize on his natural talent, but it may have been his free spirit.  In one conversation with him after he told his wrestling coach (who eventually became his father-in-law) that he no longer wanted to be on the wrestling team he told me that he just didn't like people telling him what to do.
Perhaps him being a free spirit is what led to his quirky behavior.  There are a lot of people from Morgan (and other parts of the state of Utah, and perhaps even beyond) who are probably still traumatized from having Mark blow in their nose (if you've never experienced it, be glad).  I'm not sure where that particular activity originated, but there were many victims.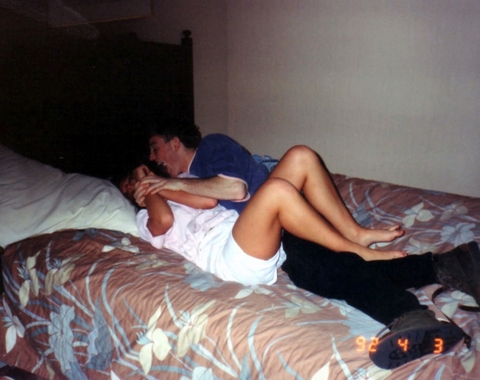 I'm not sure whether it says more about me or more about Mark, but I can honestly say I never really understood him.  He was a remarkable conversationalist and could put people at ease nearly instantaneously.  But he was also withdrawn and loved to make people feel uncomfortable as well.  Perhaps this split personality is related to his position as the middle child (5 of 9).  He caught the tail end of the activities the older children in our family experienced (hunting with my Dad, snowmobiling, etc.) but was also often forced to do things with the younger bunch (e.g., visiting the Christmas decorations in Ogden – not on snowmobiles).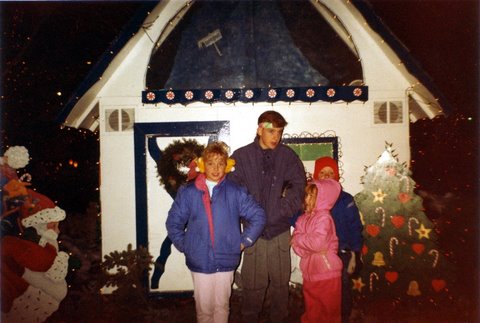 I'm sure Mark would have rather hung out with the four oldest rather than the four youngest, but he was a good sport about it.  Unfortunately, I think him falling right in the middle made it awkward for him to spend time with either group.  He wasn't as geeky as the four youngest (though, like almost all of my siblings, he had a passion for reading and was a voracious reader), but he also didn't seem to share the interests of the four oldest.
Being the closest in age to Mark, he and I didn't always get along.  Some of it was competition between siblings, no doubt.  But some of it was probably just Mark doing his best to put up with me, which is no easy task.  We had our fights, some ending in blows.  But most of that was worked out by the time I reached high school.  By my freshman year, everyone called me "little Cragun," even though I was taller and heavier than Mark by my sophomore year (he could still take me and I knew that, so I didn't egg him on).  I never feared hazing – Mark would have killed anyone who tried, and everyone knew it.  He took me under his wing at times and, while not all of his advice he offered is appropriate for this blog, I can say that it is some of the best advice I ever received.
I have a number of fun, random memories of Mark.  There was the time we almost burned the neighbor's house down by lighting their doghouse on fire… it happened to be under the neighbor's deck when we lit it up.  There was also the time Mark piled about 9 of us into my Dad's Honda Accord and drove us to Park City.  I don't remember why we were going to Park City, but I remember riding in the trunk with Tom Triplett the whole way there.  There was the jump along a dirt road Mark showed me near John Carter's house that became a frequent lunch time activity in our shared Isuzu pickup (I still don't think my Dad knows that's how the windshield kept getting cracked).
There are many more stories I could tell, but I'll end with my last good memory of my older brother.  We went to Utah to visit family in 2008 and timed it just right so we could go to Lake Powell with my family as well.  Mark wasn't at Lake Powell the whole time, and by this time he was already quite ill and had already had a number of surgeries.  As was typically the case, all of our nieces and nephews were ecstatic when he arrived as he was always considered the favorite uncle.  As an avid hiker myself, I scaled a number of the hills around where our boat was anchored, but in the short time he was there, Mark scampered up the mountain like a goat and found a number of cool geographic features I had not found.  He organized a hike up the mountain that led to a narrow chute canyon that ended about 40 feet above the water line.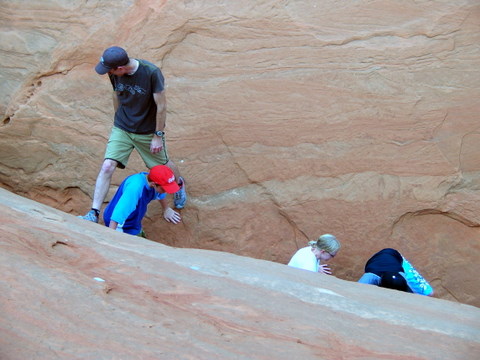 He was fond of activities like this, that pushed boundaries and made people uncomfortable.  I guess he and I have that in common, though I tend to prefer to do it cognitively, while he preferred to do it physically.  He insisted that everyone who worked their way down the chute canyon couldn't turn back – they had to jump.  And with Mark's help, jump they did.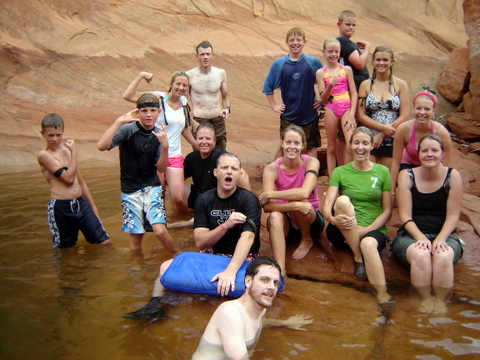 While I'm not much of a believer in the idea that helping people overcome physical hurdles can help them overcome mental hurdles, I do think there is some satisfaction that is derived from such activities.  It can bolster self-esteem.  And it may even inspire.
If Mark was anything, he was inspiration for a lot of people.  His tactics may have been unorthodox, but his intentions were always sincere.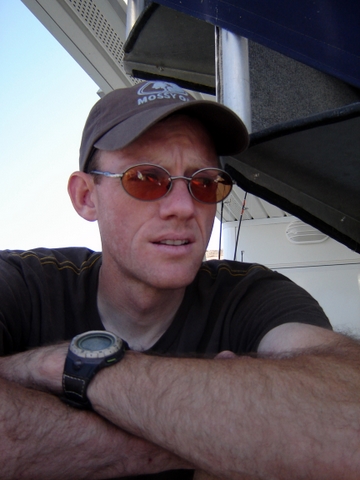 Goodbye, big brother.  You are already missed!
(Note: Feel free to share your memories of Mark in the comments.  I'll make sure Hillari gets them.)