The St. Petersburg Times has a great feature every day called "things-to-do".  I didn't follow it closely before Toren, but now I look pretty closely and have found a couple of winning ideas.  After the mall and Toren's nap, I took him to Largo Central Park to ride the free mini-train, the Largo Central Railroad.  The train rides are open to the public the first full weekend of each month and are free (though they accept donations).  I asked Toren if he wanted to ride a train and he said yes, so we made the trip (about 30 minutes) and rode the train: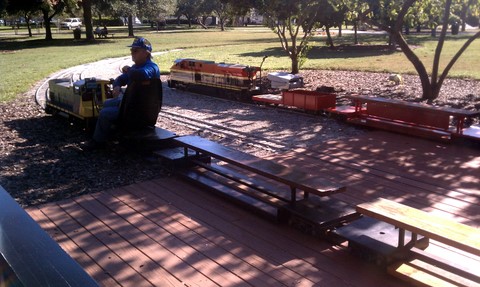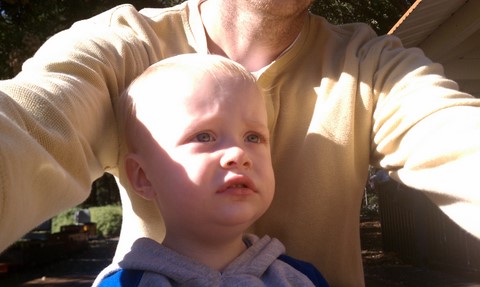 He was actually very funny on the train. He was excited when he saw the trains and would point. But as soon as we got on, he sat down, then didn't budge or say a word for the entire 15 minute ride. I'm not sure if he was scared or nervous or what. But it wasn't like him. I was thinking that I would have to hold him to keep him from trying to jump off. Not a concern…
The train track runs through about 1/3 of the park. There was also a big play area, with lots of toys.  Here's another photo of Toren, this time on one of the toys: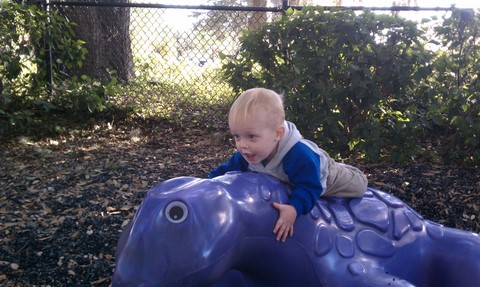 And a video of Toren on one of the big toys:
Even though he isn't very active in this video, it's funny because he can see the path across to the other side, but it was blocked off with a piece of wood. He's trying to figure out how to get past the wood to go across the bridge.