I just returned from a week of volunteering (and hiking) in Zion National Park.  The trip was arranged through the University of Tampa's PEACE office.  Eleven students, one staff member, and myself made up our group (13 total).  Here's a rundown of what we did.
Our first day began before "bright and early" – we met at the University of Tampa at 5:00 am so we could be shuttled to the airport to catch a 7:40 flight to Vegas.  In Vegas we picked up a 15 passenger van then drove to St. George where we stopped at Dixie State College to pick up some tents and a cooler we rented for the week.  From St. George we drove to Hurricane where we stopped to get our food for the week.  That was our final stop before Zion National Park.
We drove in to the park, were greeted by various rangers who knew we were coming, and pulled right up to our campsites (we had three).  The group got to work setting up the tents and then getting dinner ready.
Two of the tents were standard, 5 man dome tents that went up fairly easily (though more on this to follow).  The third, however, was a monstrous 10 man tent.  There were no instructions.  With a little trial and error, I was eventually able to help the rest of the group get it set up: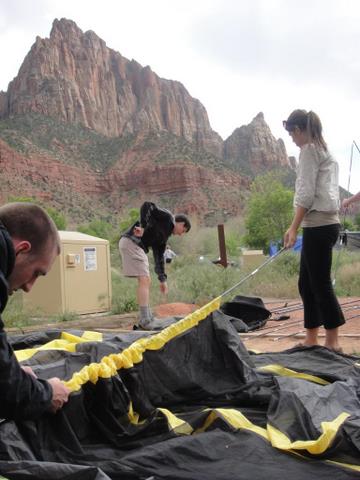 Here's the tent mostly set up (minus the rain cover):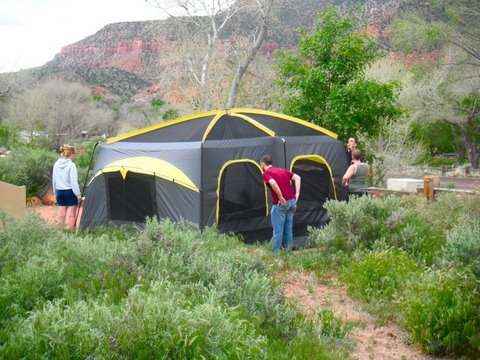 Once camp was set up, we got to making dinner.  Todd, one of the students, and I were in charge of dinner that night.  We had hamburgers, corn on the cob, potatoes, baked beans, and bananas foster (sans the rum) for dessert.  Despite camping, we ate well!
As bedtime neared, it began to rain, beginning a couple of days of less than pleasant weather.  With the rain falling, we retreated to our tents and called it a night.