Monday was our first day of volunteering.  The day dawned wet and cold, which scuttled the original plan (though we ended up doing it a few days later) and instead headed to the east side of the park to pick up trash at various turnouts.  We spent the morning picking up trash, wrapping up around 1:00.  Here I am picking up trash on the slick rock hills: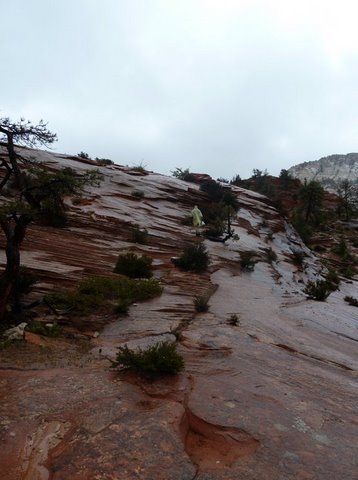 We did manage to work in a little hike up a not very well known canyon thanks to our Volunteer Coordinator, Jessica.  Across from one of the turnouts where we picked up trash was Petroglyph Canyon, which not many people know about.  Since we were already there, Jessica figured out a way up the canyon to see the petroglyphs (the rain made this more difficult than usual).  We eventually made it up the canyon and saw the many petroglyphs on the wall.
After a little more trash collecting, we returned to our campsite to find that the weather had cleared.  It appeared as though we might have a couple of hours without rain, so 8 of us decided to go for a hike.  We chose one near our campsite, the Watchman Trail, and headed out.  It took a little less than two hours (a big chunk of that time was spent at the top of the hike while the students took pictures).  This was also the first time I observed the students' hiking abilities.  Few had done much hiking (though the two other guys, Kevin and Todd, both had).  And, despite some of the female students being runners, it became clear quickly that I was the most experienced and fastest hiker.  As a result, I ended up taking the lead on all of our hikes, in part to push the students to keep them moving.  Kevin, a volunteer for AmeriCorp Vista, typically stayed near the rear to make sure no one fell too far behind.
Here's the group that hiked the trail at the top: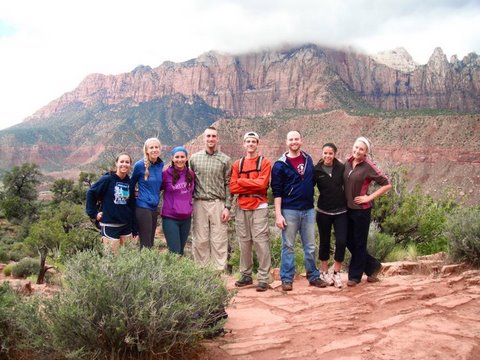 We actually finished this hike with some time to spare before the rain returned, so we also hiked the Archaeology Trail, which was right next to our campsite.  We then returned to camp just in time for it to start raining again.
Despite having a budget for food, we ate well.  Most mornings we had a variety of options: fresh fruit, bagels, pop tarts, oatmeal, hot chocolate, and cold cereal.  Lunches were typically peanut butter and jelly, fruit, chips, and various other items.  While we were scheduled to have chicken for dinner, because of the weather, we had pasta alfredo with broccoli and mushrooms instead.  It was very good.
After the evening's reflection (basically an exercise to help everyone think about the volunteering they did that day), we called it a night.