The project we were supposed to do on Monday that was scrubbed because of the rain was moved to Thursday.  Near the Nature Center in the park are several vegetation "islands" (surrounded by concrete curbs) that the rangers wanted to reclaim from the invasive plant species that had taken them over and replant with native species to show visitors.  The islands had become completely overgrown with invasives, including cheat grass.  Our task was to pull as much of the invasive vegetation as possible; we were hoping to then turn the remaining soil and even plant the native species, but that proved to be more than we were able to accomplish.  Here is the island before we started: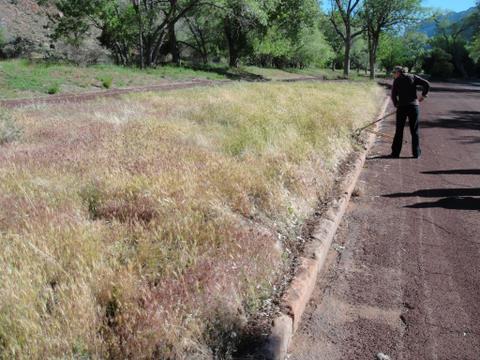 We pulled most of the vegetation by hand.  Here I am blazing a path down the middle of the island, pulling all the plants by hand: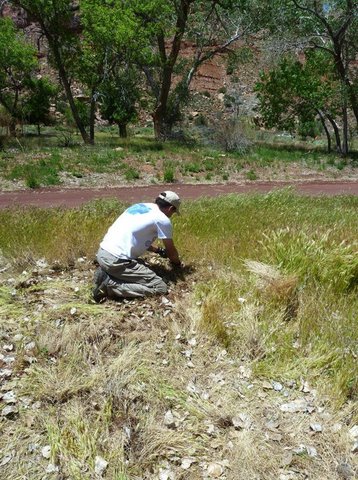 We started around 9:00 am and finished around 3:30 or 4:00.  We were able to clear most of the vegetation (I don't have an after shot; FYI, I didn't take any of these photos, the students did), but didn't get to turning the soil or replanting.  It was the most strenuous project we tackled. After almost 7 hours of pulling weeds, my hands were swollen and sore.  It was pretty tough work, but satisfying knowing we were helping the rangers with a project.  I think we were all a little disappointed, however, that we were not able to do more.
After we finished, we had a couple hours before dinner, so we decided to go on a short hike to see the Emerald Pools.  We hiked to the lower and upper pools (the trail to the middle one was closed).  Here's a shot of the waterfall at the Upper Emerald Pool: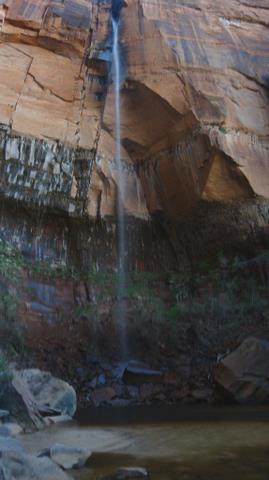 We then headed back to camp and made dinner – chili.  It was quite good and the group devoured it.  We spent the evening by the fire again, then had our reflection exercise and called it a night.