I think our volunteer coordinator, Jessica, felt bad after the previous day's project as our project this day was quite lite – cleaning up tent caterpillars from the Visitor's Center.  Tent caterpillars (which become brown moths) are particularly pervasive in the park this year.  The also are messy.  They spread their webbing everywhere, particularly on the informational signs at the Visitor's Center.  They also cocooned in every nook and cranny they could find.  Our goal – clean all of the webbing and cocoons out.
Here's a shot of their tents in the trees: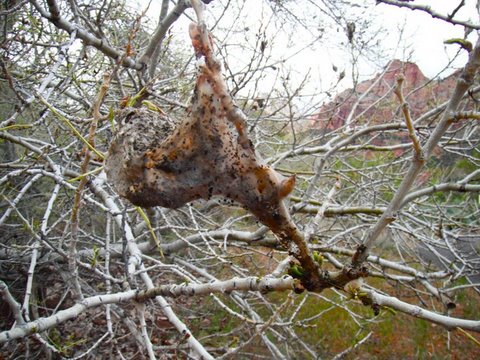 In the close to three hours we spent on the Visitor's Center, we must have killed thousands upon thousands of cocooned caterpillars.  The Visitor's Center did look nicer afterward, with the webbing gone and many of the cocoons gone as well.
We wrapped up just before lunch.  This was our last day of volunteering.  Jessica, our volunteer coordinator, kindly gave us t-shirts and pins for helping out.  We then said our goodbyes and headed back to camp for lunch.
With the entire afternoon available for hiking, we opted for a more strenuous hike – Hidden Canyon – that Jessica had recommended.  We hiked it relatively quickly, then most of the group hiked up to Weeping Rock.  Here are a couple of photos of the Hidden Canyon: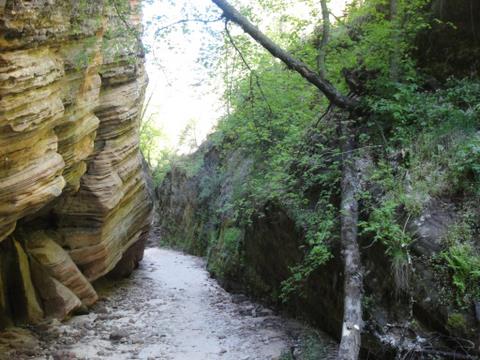 Like the more famous Angel's Landing hike, there are some spots on this hike that have sheer drops.  There are chains in the cliff face for support: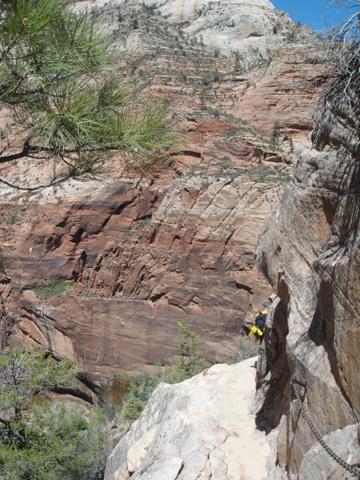 After Weeping Rock, we headed to the Lodge where most of us treated ourselves to an ice cream cone, a real treat after 5 days of camping.
After our ice cream, we did one more hike – the River Walk, which takes you to the mouth of the Narrows.  The Narrows hike was closed due to the height of the river, which was really high given the amount of rain the park had received (and snow that was still melting).  Here's a shot from the River Walk: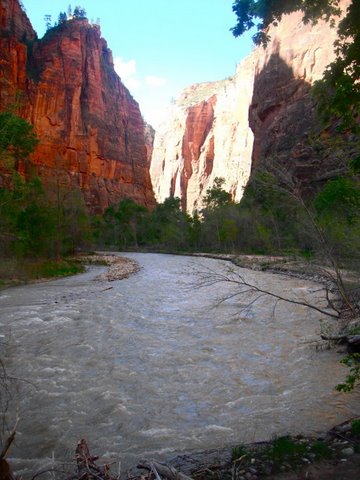 After the River Walk hike, we returned to camp and made our final dinner over the fire – hot dogs, baked potatoes, and macaroni and cheese (on the grill).  We had pudding for desert.
We chatted around the campfire, meeting some guys from England who were on vacation in the park, then had our final evening reflection in The Castle.