This was our last day in the Park.  We got up quite early, broke camp, then headed up to the trailhead of Angel's Landing, which is one of the more famous hikes in the park.  It's famous because it runs along a razorback for about 1/2 a mile to the top.  To help secure hikers, there are chains, like the Hidden Canyon hike, but there are a lot more of them as there are parts that are quite exposed.  It's also a pretty long hike, 5 miles round trip with about a 1,500 foot elevation gain.
I set a good pace and got the group up to just below the razorback in about 45 minutes.  We then ran into a small problem on the razorback as one of the students, who had earlier told us she was afraid of heights, froze up on the razorback.  I eventually coaxed her back down to just below the razorbacks where she waited for the rest of us to summit.  We did about 30 minutes later, then headed back down.  Here I am brushing my teeth on the summit: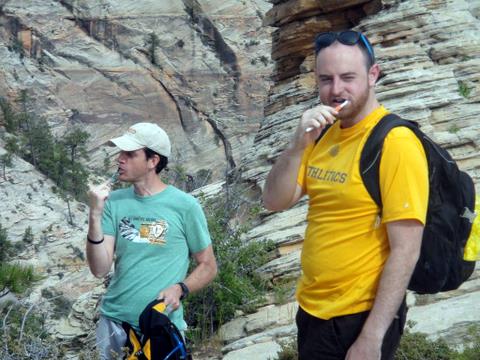 We made pretty good time on the way back down, stopping to pick up the one student who didn't make it on the way.  We completed the hike in about 3 hours and 45 minutes.
From there, we headed back to the van, loaded up, and started our journey back to Vegas.  We stopped in Springdale for some souvenirs, then again in St. George to drop off the tents.  We arrived at our hotel in Vegas around 2:30, which was before the check in time, so our rooms weren't ready.  But a short wait later, they were and we were all able to finally shower.
The students were excited for a night on the town in Vegas.  We ended up eating at the Hard Rock Cafe, then walking along "the strip" and even through some casinos.  We saw the fountain show at Bellagio and some of the students rode the roller coaster at New York New York.  By 11:00, most of the group was so tired from the hike and very long day that they were ready to fall asleep walking.  So, we headed back to our hotel, slept for about 4 and a 1/2 hours, then got up in time to catch our 7:40 flight back to Tampa.  We arrived home around 4:00 pm without incident.
It was a good trip.  Aside from the rain and cold at the beginning, the trip was a lot of fun and very gratifying.  As I said during one of the reflection exercises, as an avid hiker, I have taken advantage of many state and national parks.  Having the chance to give back to the parks, regardless of how, is a nice feeling.