I can't really speak for everyone else on the trip, but I think it's probably safe to say that most of us had relatively low expectations of Busch Gardens in Tampa.  We had just visited four of the world's most famous amusement parks – Disney's Animal Kingdom and Magic Kingdom, Universal Studios, and Sea World – and really were not expecting very much from Busch Gardens.  Debi and I, despite having lived in Tampa now for 4 years, had never been to Busch Gardens, though our friends had and they seemed to think it was fine.  So, with low expectations, we bundled everyone into the cars and headed out.
Turns out, Busch Gardens is pretty cool and a very nice contrast to the Orlando theme parks.  While it was busy (and we now know it's busier on the weekends), it wasn't even close to as busy as were the Disney parks or Sea World.  Also, there is a kid's area at Busch Gardens with a Sesame Street theme that has everything all together: splash pads, wading pools, kids rides, food, family bathrooms, etc.  I think most everyone thought Busch Gardens was the highlight of the trip as everyone really seemed to enjoy it.
Rosemary booked a lunch experience with Sesame Street characters.  The lunch, while simple, was actually perfect – it was a buffet with food items kids will eat: macaroni and cheese, chicken fingers, vegetables, rolls, etc. and it was good enough that all of the adults liked it as well.  While you're eating, Sesame Street characters come into the pavilion and put on a little show then walk around for photos.  Toren, once again, freaked out when the characters got close, even though he actually knows who Elmo is (he has watched a number of Sesame Street episodes).  He wouldn't shake their hands, touch them, or even look at them for the most part.  He just huddled next to me, waiting for them to leave: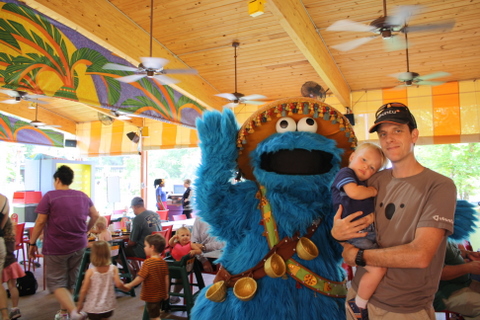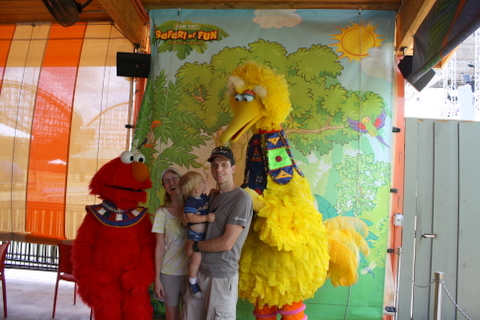 The other kids seemed to enjoy themselves.
Debi had to leave for class after lunch, and Toren had had enough of the characters, so we skipped out early and headed for the splash pads.  Not realizing they had splash pads, we didn't bring a swimsuit for Toren, but we always have swim diapers in his diaper bag, so I threw on a swim diaper and let him have at it:
He had a great time in the splash pad.  He even made some, well, let's say really close friends.  Close enough that one boy pinched his butt and a little girl decided to check out his… um… package (funniest video ever):
https://www.youtube.com/watch?v=Xd8DOHtBa3I
After a good hour and a half of playing in the water, Toren was ready for something different.  So we got him dressed and went on the rides.  Here he is on the merry-go-round:
Then he went for a ride on the swings.  Two videos of that:
There were so few people at Busch Gardens that the kids basically got to ride the rides over and over.  Occasionally they would be the only ones on the rides.  It was great.
Debi met back up with us after her class and we stopped at Subway by our house on the way back to the beach then called it a night.