We were back at AUS this day for another lecture.  This time it was Dr. O. Ishaq Tijani on gender and culture in the gulf from a literary perspective.  Also present was Basima Muhammad Yunus, an Emirati writer.  They talked about female oppression and how women authors in the Gulf use their stories to challenge that oppression.  However, the culture is still so oppressive toward women that if they speak out too strongly, they can get in serious trouble.  They also noted that Emiratis are not big readers, like people in the West, and suggested this is likely an educational development issue as more developed Middle Eastern countries and cities (e.g., Lebanon, Egypt) have more pronounced literary cultures.  I asked Basima Yunus if she could survive off her writing and she laughed.  The only publishers in the UAE are the governments of the Emirates.  If they approve what you've written, they will publish it and maybe give you a small advance, but that's it.  Living as a writer is impossible.  Novels can be banned and have been.  And there are topics that are off-limits, like rape.  Basima Yunus also said that she didn't consider herself a feminist, which I thought was interesting.  (On a side note, Dr. Tijani spoke about female empowerment but it was later noted by someone at AUS that his wife wears the niqab and has 9 kids.  I know someone women don't consider the hijab or niqab oppressive, but I thought that was an interesting sidebar.)
After the lecture we had lunch on campus and then were done with CIEE stuff for the day.  K. has a tradition of buying hats for his nephews and culturally representative dolls for his nieces when he visits new countries.  He had been having trouble finding dolls that were dressed in culturally appropriate attire – most were dolls imported from China.  But he found out about one doll that is considered to be modestly figured (smaller breasts than Barbie) and modestly dressed and therefore suitable for the Muslim world – Fulla.  He heard the French Wal-Mart equivalent, Carrefour, carried them, and there was a Carrefour at the Mall of the Emirates, so we made a quick trip there to look for the dolls.  We found them and hurried back to our hotel so we could be picked up for our evening adventure.
Apparently it's a fairly popular thing to do in Dubai to go out in the desert, go "dune bashing," and have dinner and a show.  I didn't know about it until I got there and the other members of my group mentioned it.  It sounded really cheesy and touristy, but I was willing to give it a whirl.  A guy showed up in an SUV at our hotel at 4:00 and loaded a few of us into his vehicle then called another SUV to come get the rest of our group.  I ended up sitting next to a young woman from Italy who, luckily, spoke English.  She was returning from a trip to Australia with her parents and they decided to stay for a few days in Dubai just because they could.  She and her parents were headed out to the desert with the rest of us tourists.  We chatted at length, mostly about Italy.  I got her views on Italian health care (free, but slow; she was quite positive about it probably because she is studying to become a medical doctor).  I also asked her about Berlusconi.  She said she didn't like him as a person; he's a scumbag.  But she admitted that he had reduced property taxes and done some things to help Italians.  She was very nice and I was very grateful that she knew English because I don't know Italian!
We drove out toward the desert, stopping at a gas station to wait for the other SUV on the way.  We eventually stopped at a transition spot where we got out of the SUVs that picked us up and got into different SUVs that were going to talk us dune bashing.  The sun set as we transitioned from one vehicle to the other and I snapped a quick photo of the sunset in the UAE desert: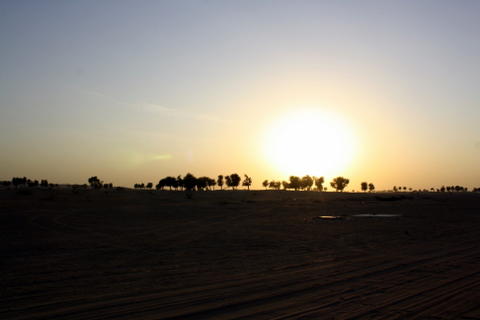 Dune bashing basically consists of driving around the sand dunes, climbing up and over dunes and dropping off others.  It was very reminiscent of riding ATVs and motorcycles in the sand dunes in Utah, but in an SUV.  It was actually a lot of fun, but would have been even more fun had I been the driver.  Here's a video illustrating what it's like from youtube (not mine).  I was amazed at the stability and traction of the vehicles and the fact that they didn't get stuck in that sand.  I'm not sure what they do to the vehicles so they manuever so well in the sand, but I was impressed.  I did snap a picture of my view in the SUV: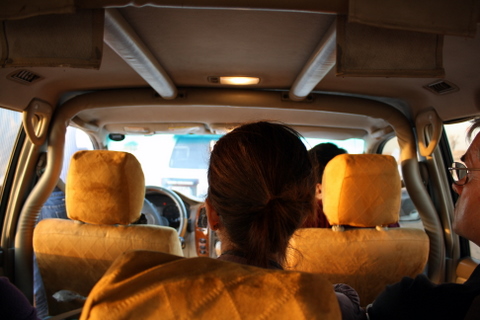 The dune bashing ended at a large camp in the desert.  Here's a photo of the entrance: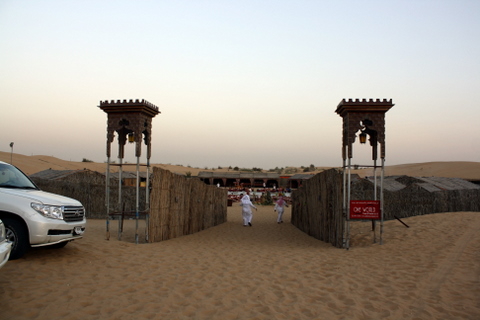 That sounds more exotic than it really was.  If you climbed up the tallest dune near the camp (just to the right of the picture above), you could see two other camps less than a mile away.  Oh, and the freeway was about half a mile behind our camp.  The camp was strategically placed so it was surrounded by sand dunes, blocking out the noise from the freeway and other camps, which made it seem like you were alone in the desert, but you really were not.
At the camp there were a variety of things you could do.  They had ATVs that you could ride, but it cost a lot to ride them and, having ridden plenty of ATVs in my lifetime, I didn't think it was worth it (though I may have to go get an ATV fix out in Utah this summer now).  They had free camel rides, which I wanted to do but missed because the line was too long.  They also had dune surfing – well, kind of.  They had a couple of thoroughly trashed snowboards that you could kind of strap onto your feet and then try to get to go down the sand dunes.  As a snowboarder I figured I'd give it a try.  It didn't work very well.  First, the dunes were too small.  And second, the board sucked.  But K. got a picture of me trying it anyway: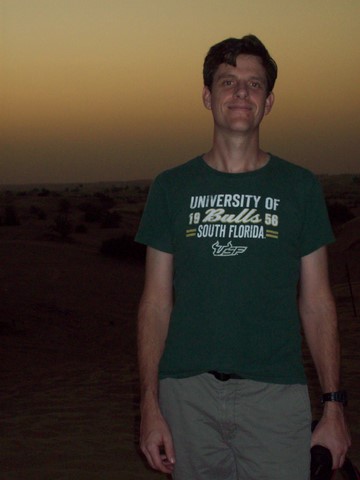 Inside the camp they had additional activities.  They had souvenir shops, a place to put on traditional UAE clothes and get pictures, a place to get Henna tattoos, and a place to smoke hookah.  Those activities were in the little tents surrounding a center stage and tables, which you can see in this photo: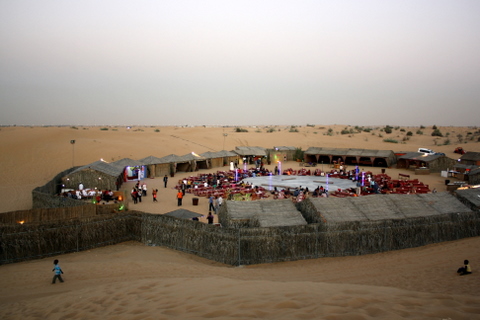 Oh, and one more photo from the inside. This was the first thing you saw when you walked in: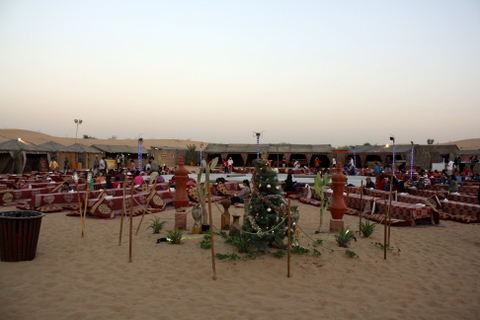 Yep, that's a Christmas Tree… In a desert safari camp… In Dubai.  Go figure.
Anyway, dinner and non-alcoholic drinks were included in the package (which was about $40.00).  Also included was a show.  They had a male dervish dancer who was pretty good.  They had a female fire dancer who was also pretty good and did double duty as the bartender.  Not surprisingly, she wasn't Emirati – she was Russian.  So, too, was the main show of the evening, a rather pathetic belly dancer.  She danced for a while, but wasn't very good and was, um, a bit portly.  We ate during the shows, but as soon as the belly dancer wrapped up, we were quickly ushered out the camp and the whole thing closed down around 8:30.  We later heard that there is a law that the camps have to close down by 9:00, which is why they rushed out of there so quickly.  We got back into the dune bashing SUV and it transported us to the freeway, where we got back in the other SUV and headed back to our hotel.  And that was our trip into the desert!