I spent July 3rd through the 6th in London at an academic conference.  With my airfare covered by my university, and having made two prior trips to England for conferences, I thought it might be fun to extend this trip by a few days to see more of the United Kingdom.  I asked Debi if it was okay, then thought about places I could go.  I hadn't been very far north in the UK, so Scotland came to mind.  When I ran this idea past one of my colleagues, Barry Kosmin, he suggested I go hiking in the Scottish Highlands, in the Cuillin Hills, in particular, since he knows I'm an avid hiker.  Once I remembered that Scotland is famous for the Highlands, I got really excited.  I love hiking.
Day one of my Scotland Adventure started very early, as I had to catch the first train from the station near my hotel – Blackheath – to catch an early train to Glasgow so I could pick up my rental van with time to do some hiking.  I made the trains with just a few hiccups, and arrived in Scotland around 12:30.  I picked up the campervan without any problems, threw my stuff in the back, and set the GPS unit to take me to Glencoe.
Despite having several serious mountains to climb by myself, I was more concerned about driving in the UK than hiking.  I've driven in Costa Rica, where the rules of the road are, let's say, "flexible," but I've never driven on the other side of the road and on the other side of the car.  My first experience with it was rather unsettling.  And it didn't help that the GPS unit they gave me was outdated, leading me to take several wrong turns before I got on the freeway.  The first 10 minutes or so were kind of scary.  But once I got on the freeway and out of Glasgow, it wasn't that bad.  Learning to drive on the other side of the road (the left rather than the right) was much easier outside the city, where there were far fewer vehicles.  The only problem with driving outside the city is that the roads in the UK are very narrow and often just single lane roads with small turnouts for passing, which can be a little harrowing as well.
With an extensive itinerary, I forced myself to get comfortable driving and made my way to Glencoe.  Glencoe is a small town on Loch Leven, most famous for the MacDonald massacre.  I was told by several people that Glencoe was the most beautiful place they had ever been, so I decided to stop there; it was on my way, anyway.  I also found a hike to do in Glencoe – The Pap of Glencoe.  If you're like me, you'll probably be thinking, "Pap, that sounds familiar.  What's a pap?"  Glad you asked.  "Pap" comes from the Middle English "pappe" or the Latin "papilla" and means nipple.  The Pap of Glencoe is a mountain that looks like a giant breast with a nipple on top.  I've climbed a lot of mountains, but never one topped with a nipple.  And how many people can say they've climbed a "pap"?  Plus, it was supposed to offer great views.  Here's someone else's photo of the Pap (I didn't get a good one of the Pap itself):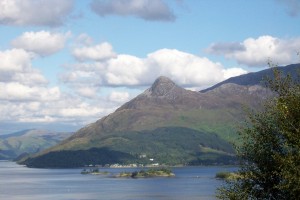 So, my destination in Glencoe was the trailhead for the Pap.  Just as the turn off for the road to the trailhead appeared, my campervan started to act funny.  A light on the dashboard came on, it started beeping, and the van started applying the brakes for me.  I had no idea what was happening.  The light that came on looked like this: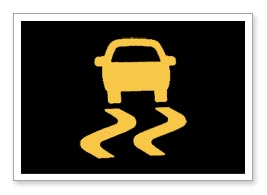 I had no idea what the warning was.  I thought it might mean that my brakes were going out.  I pulled over, got out, and checked what I could, but everything looked fine.  I got back in (without turning off the van), and tried going again, but it came back on.  I did that three or four times before, out of frustration, I turned the van off.  I was getting ready to call the rental company when I decided I'd just try one more time.  I turned the van back on, the light was off, and I was able to drive to the trail head for the Pap of Glencoe.  That was, fortunately, the only time the light came on.  I later realized that this was the anti-lock brake system.  I've seen warning lights for those on my cars: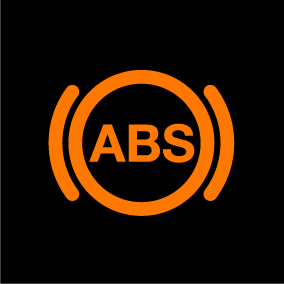 Had I seen this warning light, I would have known what it was.  But the other was, well, foreign to me, and I was worried my van was having problems and my trip was going to be cut short.
Anyway, I made it to the trailhead and decided I'd deal with any vehicle issues after I finished at least one hike.  I stopped at what I thought was the trailhead, geared up quickly, then headed out.  I purchased a new handheld hiking GPS unit from Garmin specifically for this trip (and my next highpointing trip) because it retains its signal around the world and can run on batteries for days.  Alas, I didn't spend enough time getting familiar with it.  Despite having downloaded the route to the unit and the unit accurately displaying the route's waypoints, I quickly got off the trail.  The waypoints on the unit didn't appear to follow a trail, and there was a readily apparent trail from the trailhead.  I was able to get my GPS unit to record my route, which is good because I want proof of my idiocy and the difficult route I took up the mountain.  I uploaded my route to Google Maps:
Despite my off-trail mishaps, I made decent time. I found a great vantage point of Loch Leven and Glencoe on my side adventure, which is a good thing because, by the time I reached the Pap, a storm was blowing in. Here's a panoramic shot of Glencoe and Loch Leven:

Once I cut off the wrong trail, the terrain to get back to the actual trail was tough.  It's a good thing I'm fairly fit at the moment or I never would have made it.  To complicate things, a gentle rain started to fall just after this point and my heels started to hurt.  I was breaking in new boots (even though I'd worn them quite a bit before this) and something wasn't right.  Turns out I was building up some pretty nasty blisters.
I eventually made it back to the trail and was considering not going to the summit given the weather and the condition of my feet, but I was less than a mile from the top and had a trail at that point, plus I didn't want to let a mountain defeat me when it was really that close.  So, about 30 minutes after I regained the trail, I summitted: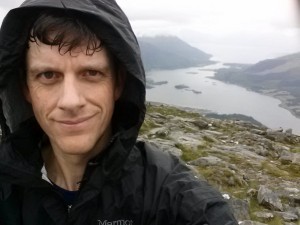 I didn't stay long.  The clouds made it so there wasn't a very good view, I was cold, tired, worried about my blisters, and still had to find my campground for the evening.  I was probably on the summit for 5 minutes is all, snapping photos and eating a couple handfuls of yogurt covered raisins, before I dropped off the summit and made my way back down the trail.  The descent, on the trail, was much easier, but I did realize just how rugged this terrain was.  Yeah, I'm used to climbing massive mountains here in the US, but the "hills" of Scotland aren't to be trifled with – they are serious climbs.
My round trip time was about 2 1/2 hours.  I got back to the van, peeled off my boots, and saw some pretty nasty blisters on my heels.  My new boots, while they held up great in the rain and rough terrain, destroyed my heels.  Anyway, I drove up the road to Fort William, stopped for a quick dinner and some supplies, then headed up to the Glen Nevis campground.  Exhausted and in pain, I showered then went to bed.