After the prior day's travails, I slept in pretty late for me – 9:00 am.  I was debating whether or not I should hike Ben Nevis, the tallest mountain in the UK, given the poor condition of my heels, but this was the primary mountain I came to climb. Physically, I wasn't sore from the previous day's hike.  The only concern was my heels.  I had bought some medical supplies at the grocery store the night before, so I bandaged up my heels the best I could, geared up, and headed out.
There are two trailheads for Ben Nevis.  One is where people can pull up in their cars.  The second is across from the Youth Hostel in Glen Nevis.  Since I was in the campground, I walked up to the Youth Hostel, and started the trail from there.  I started hiking at 10:30 and made pretty good time, despite having to pass many people who were never going to make it to the summit.  As I have seen on some of the more popular mountains I've hiked, there are lots of really unprepared people trying to climb these things.  Families with three kids, all under 8; elderly people in tennis shoes with no hiking experience; young people in tank tops carrying a gallon of water in their hand; etc.  The trail is two miles up to the first ridge, and the climbing is pretty steep.  Once you make the ridge, you get a nice view of a lake:

The first ridge is about half way – about 2.25 miles of the 4.5 mile hike.  The day I climbed Ben Nevis, I was in the clouds from here on.  There was a nice waterfall just past the lake: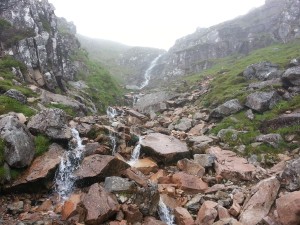 Here I am just after making the ridge: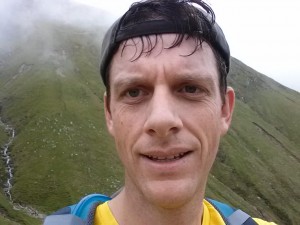 From here it's another 2.25 miles of climbing.  The vegetation stops just past the waterfall and it's a rock tumble the rest of the way.  The trail is clear, but rocky for the most part.  I summitted around 12:45 or 1:00.  Here I am on the summit: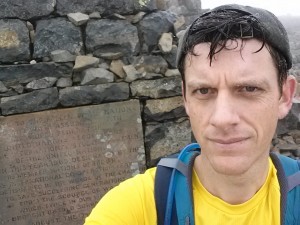 The wind was blowing pretty hard at the summit and the fog and light rain combined to wet then ice my hair.  The summit was actually packed with people.  There was a Muslim youth group climbing the mountain that day and they must have had at least 50 people in their party.  Several of them would periodically throw their arms up and say something in Arabic; I'm guessing it was some sort of praise of Allah.
Given how cold it was and the fact that there was no view, I didn't stay long.  I shot this quick panorama, ate my customary orange and a granola bar, then began my descent:

The summit is actually pretty interesting since there are 2,000 foot cliffs on one side.  On a clear data, they would have been cool to see.  All I got to see was this: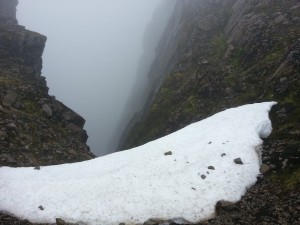 This is near where I ate my orange.  I was probably five feet or so away from a 2,000 foot cliff.  There was also a little snow here and there.
The descent went quick and I was back to my campervan at 3:00; the whole hike was 4.5 hours.  You can see the route here:
After I got off the mountain, I took a shower and inspected my heels.  They didn't appear to be any worse for the hiking, which was good, but they were still quite raw.  I met some of my neighbors at that point.  It was actually kind of funny when one of them asked me if I had climbed Ben Nevis.  I said yes and she responded, "Oh, you must have gotten up really early."  I laughed and told her I started at 10:30, which she didn't believe.  I snapped a few photos of the mountains near the campground later that evening and saw people still descended Ben Nevis as late as 9:00 pm (it stays light until about 11:00 pm in Scotland and the sun comes up just after 4:00 am).  Here's a foothill of Ben Nevis, which is about twice as tall as this: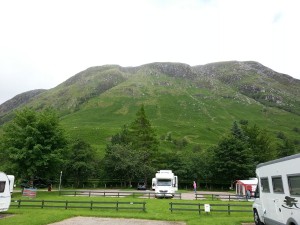 After I cleaned up, I headed into Fort William for an early dinner, then came back to the campground where I spent the night.