So, after all my whining about my heels, how bad were they, really?  Glad you asked: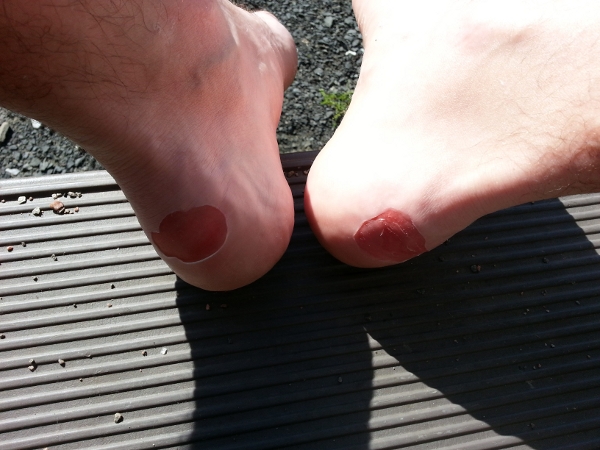 Really, they did hurt.
Anyway, with my hiking complete, it was off to visit some castles.  I had originally only planned to visit one castle, Stirling Castle, one of the more famous castles in Scotland.  But with an extra day of touring on my hands, I had to come up with another plan.  The person from whom I rented the van told me about a castle not far from the bridge to the Isle of Sky in Dornie, so I headed there first.  Scotland really is quite amazing when it comes to castles.  You'll be driving along observing the luscious green scenery and then, boom, there's a castle.  Sometimes they are derelict and largely collapsed.  Other times they look great.  As I drove into Dornie the Eilean Donan Castle, seat of Clan Macrae, popped up right on the water: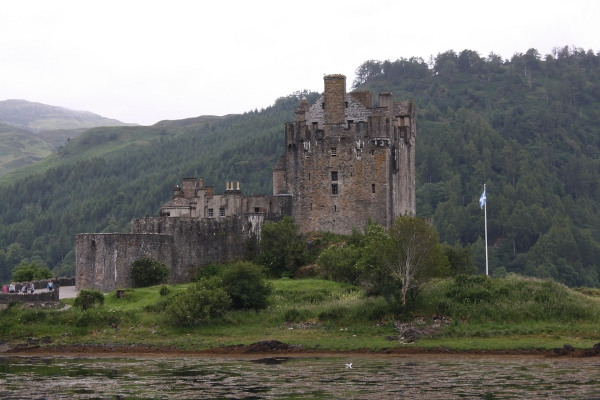 It really is quite stunning to just see a castle pop up through the trees.  I pulled into the parking area, which was teeming with people, and grabbed my camera to go see what I could see.  Tickets weren't too expensive, but since I paid, I was going to take my time.  I walked around the whole castle, then went inside and read all about it.  The castle has a pretty interesting history.  The castle was originally built in the 13th century but destroyed in the 18th.  It was rebuilt in the 20th and actually has a number of early 20th century comforts, like running water and electricity.  Even so, it's a pretty cool looking castle.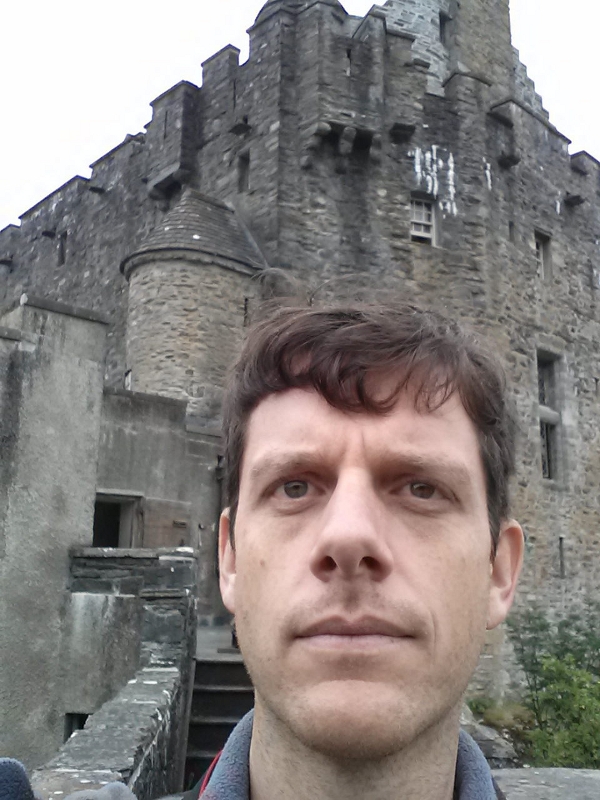 While reading the history, I happened upon a passage describing how two clans – the MacKenzies and the MacLeods – had fought over the local islands.  When I saw that the MacLeods had fought over the area, I got excited.  Since Connor MacLeod is the central figure in The Highlander series (which is completely fictitious, of course, but who cares), I thought it would be cool if I could visit a MacLeod castle.  The passage included the name of the town where the MacLeods were from – Dunvegan.  After I finished my tour of the Eilean Donan castle, I headed back to my van, pulled out the GPS, and typed in Dunvegan, thinking it would have to be close.  Um, yeah, not so much.  In fact, unbeknownst to me, Dunvegan was back near where I had just spent the night – almost 50 miles away on the Isle of Skye.  Had I gone there first, it would have taken me 20 minutes from my campsite.  From Dornie, it was an hour and a half.  But, I had time.  And I thought a visit to the seat of Clan MacLeod would really make my brother Danny jealous, since he is infatuated with the Highlander movies to the point of naming his only son after the main character.  So, I started up the van and headed back to the Isle of Skye.
I arrived in Dunvegan around 3:30 and found Dunvegan Castle, seat of Clan MacLeod, shortly thereafter as it is the main attraction in this desolate part of Scotland.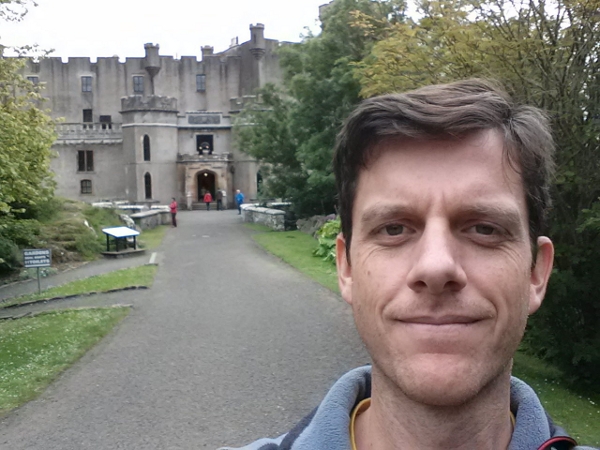 This castle has been standing for a lot longer than Eilean Donan, but has been substantially updated and modified over the years.  The tour takes you through most of the castle, but the head of Clan MacLeod and the clan still have some private rooms in the castle.  FYI, Clan MacLeod no longer has any real political power; they are just a clan from the old clan system.  Here's the front of the castle (it used to be the rear since everyone arrived by boat):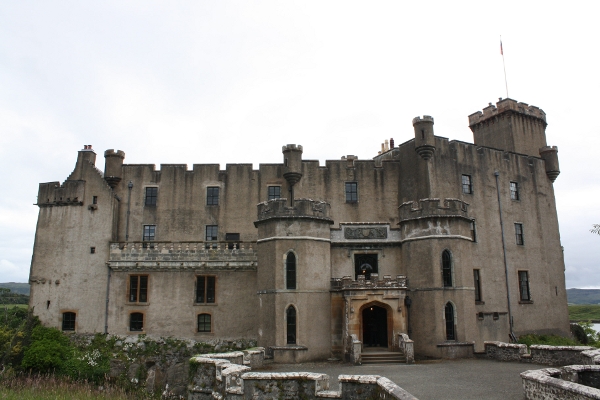 You're not allowed to take photos inside, but it has been largely redone, with the exception of the dungeon, which was pretty cruel – it was a hole in the floor that flooded when the tide came in.  They'd drop prisoners from a higher floor into the dungeon, injuring them on the way, then let the tide wash them out to see.  Nice!
The view from the back of the castle is pretty commanding and you can see quite far.  In this panorama you can see two plateaus, which are called the MacLeod tables, where the MacLeod clan used to hold feasts and rituals:

My tour of the castle lasted until about 5:00.  I was getting spotty internet access in Dunvegan and checked my email, mostly because I wanted to post a photo of me in front of Castle Dunvegan to make my brother Danny jealous.  I happened to catch an email from a reporter from the BBC who wanted to do an interview over Skype – that night.  I had done an interview with a reporter from my hotel in London, but the internet access there was great.  In Dunvegan, yeah, not so much.  I asked several people at the castle and they told me my best bet would be to go to the mainland to find reliable internet access.  I made a mad dash back the 50 miles or so to Kyle of Lochalsh, which is on the mainland, and found internet access in a hotel there, but it was spotty and I kept breaking up, so we rescheduled the interview for when I got home.  Since I used their internet access, I felt obligated to eat at the hotel, where I had a lovely dinner.  The appetizers: fried haggis and blood pudding in a sweet gravy.  With the sweet gravy, not so bad: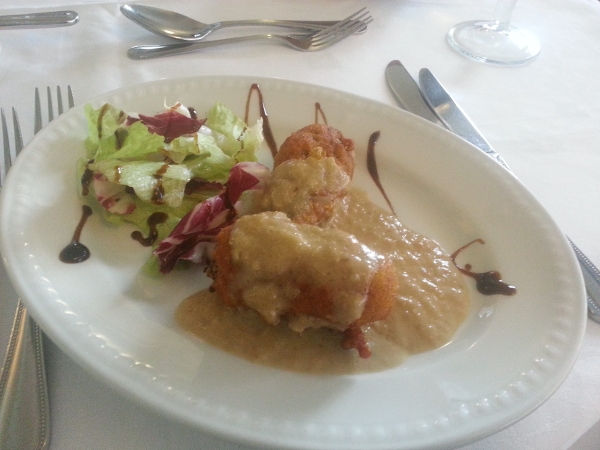 I was also told that I should try sticky toffee pudding while in Scotland, so I made it a real meal and ordered that for dessert: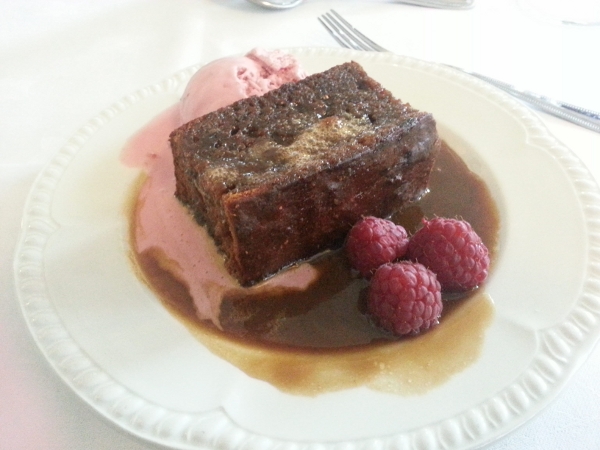 Now that's a Scottish dish I can get behind – rich cake soaked in a toffee-like caramel sauce served with raspberries.  What's not to like?
Stuffed until I was about to pop, I got back in my van and headed out.  I wasn't actually sure where I was going, but my tentative plan was to visit Loch Ness the next day in the morning, then drive to Stirling to see the castle there, then find a campground near Glasgow to turn the van in the next morning.  I started driving, but got tired before reaching any campgrounds and ended up pulling off onto an access road in the middle of nowhere and spending the night in the van there.  It was a little disconcerting to think that I was in the middle of nowhere in Scotland just pulled off to the side of the road in a campervan, but I actually saw a number of vans pulled off in similar locations.  It's legal, but a little odd.  Anyway, that ended day 4 of the Scottish Adventure.