When we decided to visit my sister, there were just a few things we wanted to do.  We obviously wanted to visit them, but in addition to that, we wanted to visit Stanford University, eat at The Giant Artichoke (she blogged about that, which is how I knew about it), and visit companies in Silicon Valley (I'm a geek and I admit it proudly).  My brother-in-law, Mario, kindly set up a driving tour of the major companies.  I snapped some crappy photos of most of the ones we drove past, including: Netflix, Ebay, and Yahoo.  He tried to arrange an actual tour of Google, but apparently you have to know someone (getting a paycheck from google for videos on youtube apparently doesn't qualify!!!).  But we stopped and walked around the campus anyway.  Here I am by the Android statues: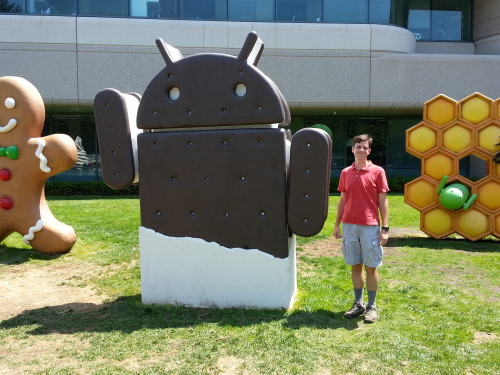 Mario also took us on a nice little hike up a local hill with a great overlook of the entire valley.  Here's a nice panorama shot of Silicon Valley:

That pretty much wrapped up our time in the San Jose area.  We drove back to Utah the next day.  My sister and brother-in-law were great hosts and it was a lot of fun visiting them.