I was invited to go with UT students on another service trip.  This time we went to Puerto Rico to live, work, and learn on an eco-farm called Plenitud.  The farm is run using permaculture principles which, in a nutshell, boil down to utilizing sustainable agricultural principles based on natural ecosystems.  For instance, permaculture principles would encourage using natural fertilizers and natural fertilizing processes when possible; they would encourage sculpting land to conserve water; etc.  It's something I knew very little about. Plus I got to go to Puerto Rico, a US territory (I'd never been to a territory before).  I was going to accompany 11 students, originally (more on the number later).
We met around 7:00 am on May 13th at the University and were shuttled to the airport.  Two students didn't make it to the university, but both eventually made it to the airport in time to go with us.  The flight to Puerto Rico is quick and I only managed to get a little reading done (I took a big, academic book with me to read).  After we arrived we piled onto a shuttle to pick up our rental van – a monstrous 15-person van that I would be driving on Puerto Rican roads for the next 10 days!
Once everything was in and arranged, we were off, driving from San Juan across the island to Arecibo, then heading south into the highlands to where the farm is located, near Las Marias.  The farm is located where the star is on this map: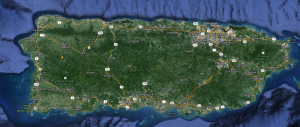 We arrived just after noon and were not going to get to the farm until later that evening.  So, we decided to stop for lunch.  Always up for an adventure, we ended up pulling off the freeway into a small town and finding a local restaurant that had probably never seen so many people from the continental US – most of whom spoke broken Spanish at best – at once.  But the students were cool with it.  Here's the shop: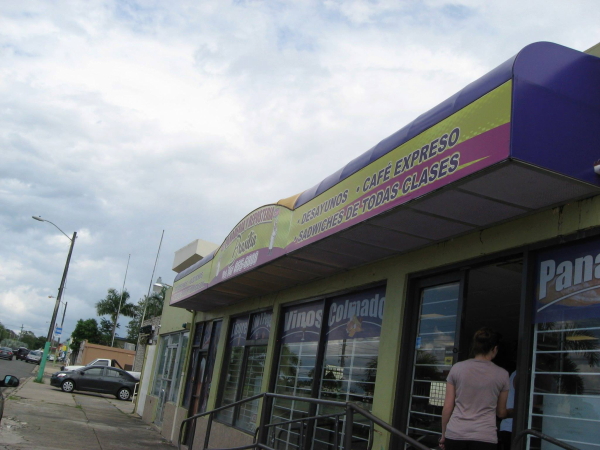 The food was good and filling.  Once we hit Arecibo we turned off the freeway and headed onto smaller roads, which made driving the monstrous van loads of fun.  But seeing Arecibo did trigger a thought – that's where the massive (as in, visible from space – Arecibo observatory is.  I made a mental note about that in case we ended up having some free time later on during the trip.
The drive really was only supposed to take a couple of hours, but we didn't end up getting to the farm until about 6:00 pm.  The farm is really off the beaten path, down some very small backroads.  Here it is marked on Google Maps:

View Larger Map
The staff at Plenitud were pretty cool.  A couple, Paula and Owen, primarily run it.  The farm itself is owned by Paula's father, who is a dentist.  They have a couple of additional staff who work either full-time or mostly full-time, including Tyler and Cristina.  They also have some part-time staff, including Kari and Neca.  And they had one other volunteer working there, Sam.
They had a delicious dinner waiting for us when we arrived.  We then put our stuff in our tents – yep, we were sleeping in tents for the next 10 days – and played a few ice breaker games to get to know each other.
On the tents… There were three large tents set up to accommodate the students.  They were big, 6 person tents.  The tents were under awnings, which is a good idea with how hard the rain falls there.  As the staff walked us around the tents, they pointed out a 2-person tent that was set off by itself a bit and asked if I'd like that tent as the advisor so I had some extra privacy.  I didn't really care, but I took them up on the offer.  However, one of the male students, I'll call him "Business Student (who shouldn't be on the trip)" or "BS" for short, had brought his own tent.  It was a two-man tent like the one I was staying in.  He insisted that he couldn't sleep in a tent with other people. He also noted that he'd never been camping before. Since there wasn't anywhere else for him to put his tent, he ended up putting it up under the awning by my tent.  You can see my tent, well, sort of see my tent, in this photo.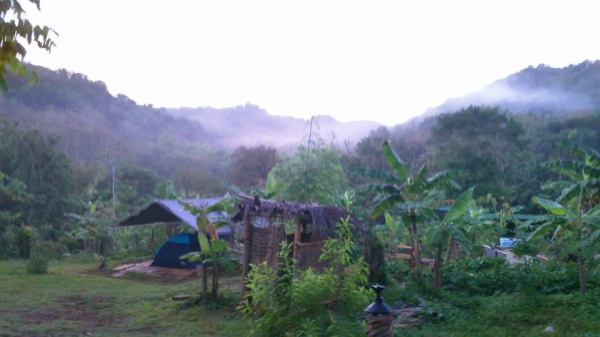 It's actually a grey tent behind the blue and aqua one.  The blue and aqua tent is BS's.  The little structure blocking the view of my tent was the "arboloo".  I'm not sure if that name is completely made up, but it actually makes sense.  It's an out house (thus the "loo" portion) that, once the hole is filled with feces, is moved and a tree ("arbol" is tree in Spanish) is planted over the hole as the feces makes for good fertilizer.  It didn't get a lot of use, as there were toilets with running water at the main structure, but it's a cool name: arboloo.
After the ice breaker games, we went to bed.  As soon as I crawled into my tent, I noticed… THE SOUND!  If you've never camped in a rainforest before, take a second to just listen to this video:
You can't see anything, but turn your volume up.  The chorus of animal sounds was really quite stunning.  We were isolated enough from modern society that you couldn't really hear cars or sirens or anything modern.  All you could hear was nature. And it was loud.
Anyway, just as I was getting to sleep, around 11:00 or so, the most blood-curdling, movie-perfect scream sung out over the entire farm.  It woke everyone up.  Everyone!  I was about to get up to see what was going on, but I heard two of the staff, Tyler and Sam, call out from outside the tent where the scream emanated asking if everything was okay.  Inside the tent, a couple of female students were laughing.  Apparently one of the students rolls around in her sleep a lot.  She warned the other students about it, but they didn't take her all that seriously.  Thirty minutes after they had all fallen asleep, the rolling student did what she had warned them and rolled over.  In the process, her hand landed on the face of another student who then proceeded to release a scream that would put a Siren to shame.  Everyone was fine, and the rolling student was carefully sequestered with bags between her and the other students the rest of the trip.