We spent the entire day with my sister.  While we waited for her husband and older boys to get home, Toren played on the swings with his cousin Brent:
Her older boys and her husband came home in the morning and in the early afternoon we went out to Great Country Farms, which has a number of things to do, including slides, various rides, mazes, bouncy mats, etc.  We spent most of the afternoon out there letting the kids run around and play.  Toren and I even got to ride in my brother-in-law's Jeep.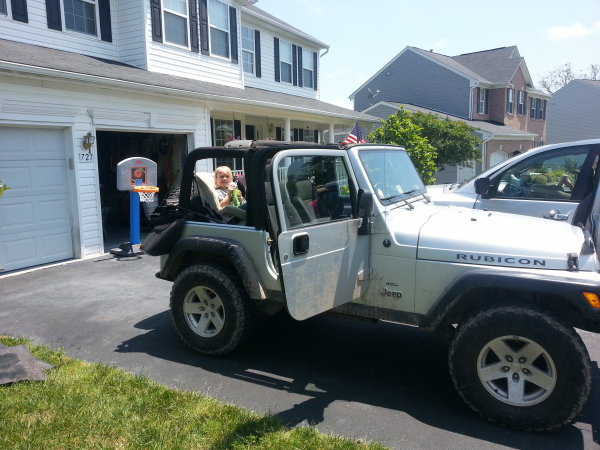 Here's a clip of Toren riding a little scooter at Great Country Farms:
That evening we went out for dinner and then for ice cream afterward.  We ended up eating the ice cream at the local LDS Church which is right next to the ice cream shop and all of the boys ended up chasing me around for a good 45 minutes or so.  It was a lot of fun.  On our way back to the house, Kevin and I with a couple of his boys took his Jeep four-wheeling and nearly got it stuck, but it was fun to see just what that thing can do.  With such a busy day, the kids were pretty well wiped out when we got home that night, so they all went to bed.
daily mileage: 30; total mileage: 1,090
states visited: no new ones; total state count: 6 (plus 1 district)