We slept in again, given the long drive the night before. We got up, packed up, ate another continental breakfast, and headed to Steve's place in Brooklyn.  Even though our hotel was just 5 or 6 miles from his place, it took us 30 minutes to get there.  Luckily we found a place to park near his apartment pretty quickly.  As luck would have it, it was another rainy day.  We'd had only one day without rain – the day in Virginia we went to the farm – during the entire trip.  Even so, we thought we'd go into Manhattan to see something.  We originally planned to go to the Transit Museum, but it was closed on Monday, so we ended up going to FAO Schwarz in Manhattan and letting Toren hang out there.  He seemed to enjoy it.  He loved the Lego section: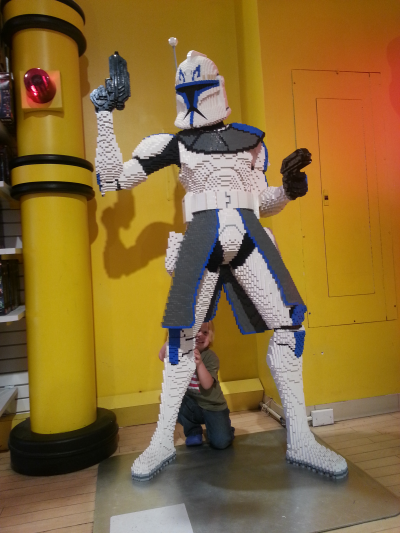 Got a chance to play the big floor piano with Debi:
And was even involved in a magic trick:
We then got waffles at Wafles and Dinges, a food cart near Central Park, where we were introduced to Speculoos (or Belgian cookie butter).  If you haven't had it, you really need to try it.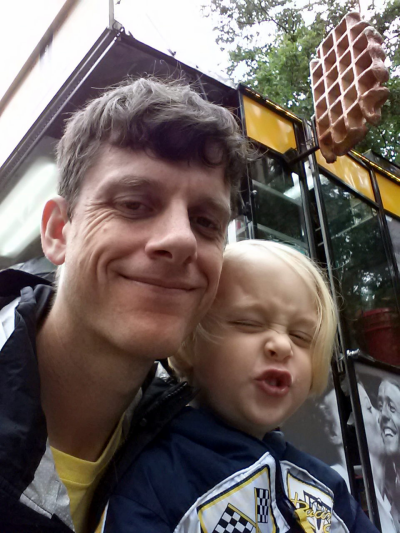 Debi liked it so much she eventually bought 6 jars of it to take with us at Trader Joe's before we left Brooklyn.
We then walked through Central Park (well, a small corner of it), before heading back to Brooklyn for lunch.  We got poutine at an excellent deli.  That was another new dish I'd never tried.  Wow was it delicious, and ridiculously rich and full of calories (as the video suggests).  We stopped back at Steve's place for a bit while Debi picked up her Speculoos, then decided we'd head north to try to beat the rush hour traffic out of NYC.  Hah.  That's just funny.  If you're in NYC, it's always rush hour traffic.
It took us a few hours to get out of NYC.  We then drove north to Poughkeepsie where we found a beautiful hotel for the night that was situated right over a waterfall.  We arrived early enough for all of us to go to the exercise room and do a little exercise (Toren ran on the treadmill for a bit then lifted weights, then watched his tablet while Debi and I exercised).  That did it for day 6.
daily mileage: 100; total mileage: 1,550
states visited: no new ones; total state count: 9 (plus 1 district)