Summit Date
June 12, 2013; around 11:00 am
Party
Ryan Cragun
Trip Report
Had the weather been cooperating, Debi and Toren would have done this hike with me.  But with the entire mountain shrouded in clouds and wind gusts making it hard to keep your feet, I opted to go it alone.  I'm sure, on a nice day, the views from the top would be amazing, but this was not a nice day.  And since my wife and son were waiting for me, I didn't make this a big hike.  We paid the fee to drive to the top of the mountain and parked.  I then followed the Long Trail from the parking area to the summit.  I met one other person on the trail, a highpointer as well.  The trail is well-marked with blazes on rocks.  It was quite pleasant, despite the weather.  I was completely covered in rain gear, so I wasn't wet, and the cooler temperature kept me from sweating.  It took me about 1 hour and 15 minutes to make it to the summit and back, moving fast, without a pack or water.
Right as I reached the summit, I reached into my coat for my phone and my phone slipped out of the pocket, dropped onto the summit, and into a pool of water.  It was the only camera I had and it was completely submerged!!!  I grabbed it quickly and dried it off, then hoped it wasn't ruined.  I hit the on switch and it turned on.  I managed to snap a couple pictures of me surrounded by clouds and being pummeled by the wind, then turned off the phone, figuring I should dry it out before I used it anymore.
After that, I cruised back to the parking area and got in my car.  I'd like to do this one again, on a nice day.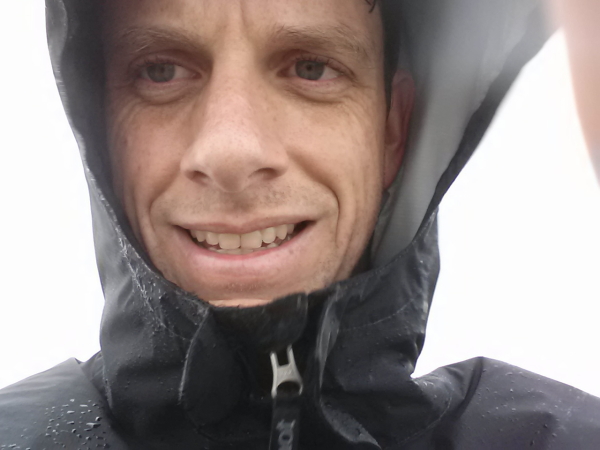 Various websites indicate there are a variety of ways up the summit.  The Long Trail was the ideal one given the weather, but would be pretty easy on a nice day.
Directions from Stowe, VT

View Larger Map
My hike from the parking area