Summit Date
June 14, 2013; around 12:30 pm
Party
Ryan Cragun and Rick Eason
Trip Report
The number of people allowed to climb Mount Katahdin is restricted, so you have to get there early.  Plus, it's a serious hike, so you'll want all day to do it anyway.  We got up around 4:00 and left by about 4:30 so we could be on the trail by around 6:30 or 7:00 and make sure we got a permit to climb the mount.  Even by the time we arrived, the parking lot was filling up and we certainly were not the first people up the mountain.
My hiking companion had ascended Katahdin over 40 times and was intimately familiar with the various routes.  Basically, from the trailhead, everyone has to hike up the same route until you've gone two to three miles.  There is one trail that splits off the main trail (this is the spur to Hamlin Ridge, which we took on the descent), otherwise, the main trail continues to Chimney Pond:

From here, you can choose one of the several routes up the mountain, depending on what you want in your hike.  There are shorter and easier trails or longer and more adventurous ones.  Rick suggested we take the Dudley Trail, which is largely scrambling over boulders with a fairly steep ascent.  This is the trail you have to take if you want to cross the razorback from Baxter Peak to Mount Katahdin.  It was fairly rugged, but I quite enjoyed it going up the mountain (it would have been pretty tough on my bad knee going down).  Plus, I always like razorbacks, and there were only a few spots on this one that were very harrowing.  The trail is well-marked with blue blazes: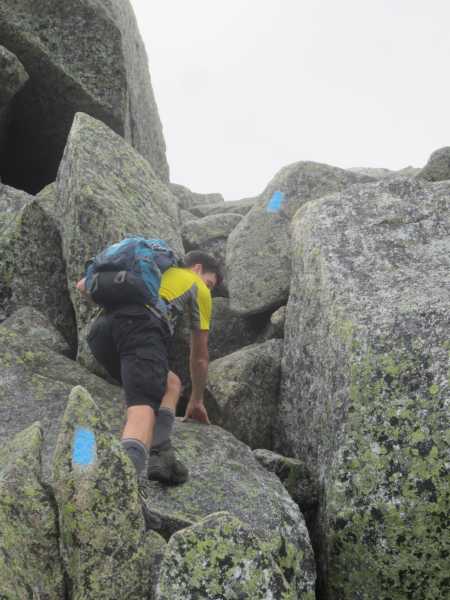 And you can get a photo like this if you dare climb this boulder jutting out of the mountain: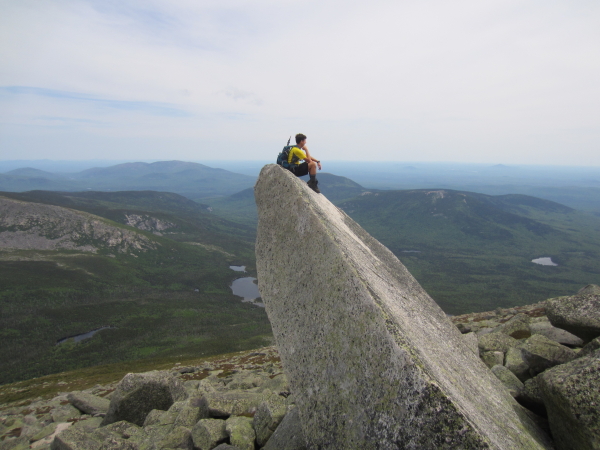 Here's a photo on the razorback: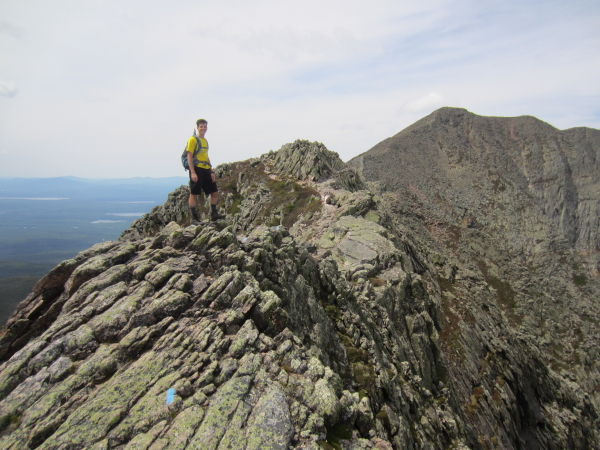 Once you traverse the razorback, it's a relatively short hike to the summit: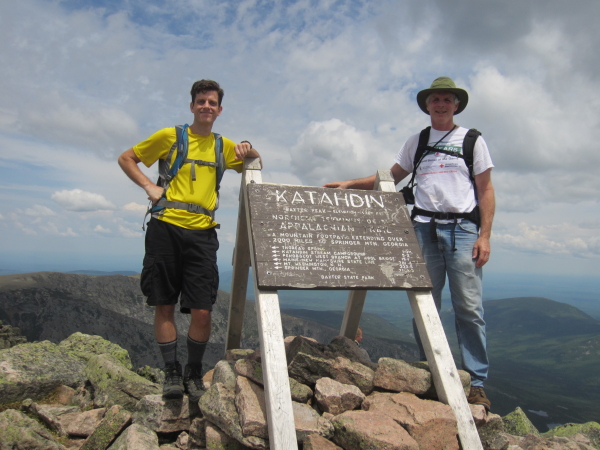 We spent about thirty minutes on the summit, then headed out, hoping to beat any afternoon storms.  To mix things up, we took the Hamlin Ridge Trail down, which added some distance but offered different views.
Unfortunately, we didn't beat the rain and got rained on just as we were headed off the Hamlin Ridge.  It wasn't a lot of rain, but enough to slow us down a little.  The only other issue I had on the hike was the terrible black flies.  I must have been bitten over 50 times on my legs, arms, neck, and hands.  If it weren't for the black flies, this would have been a perfect hike.  Even so, it was a very nice hike.  If you're planning on hiking this, wear pants and take bug spray to keep the flies away.
Directions from Bangor to the trailhead in Baxter State Park

View Larger Map
GPS Track
Panorama