We didn't actually have very far to drive this day, since we were just headed across Michigan to meet up with one of Debi's friends.  So, we took our time in the morning.  We went down to the swimming pool and played for a while, then we all took a bubble bath together in our room's bathtub that had jets (Toren loves jets).  Originally it was just supposed to be a bath, but when the jets came on, they created such a huge pile of bubbles, that it turned into a mega bubble bath: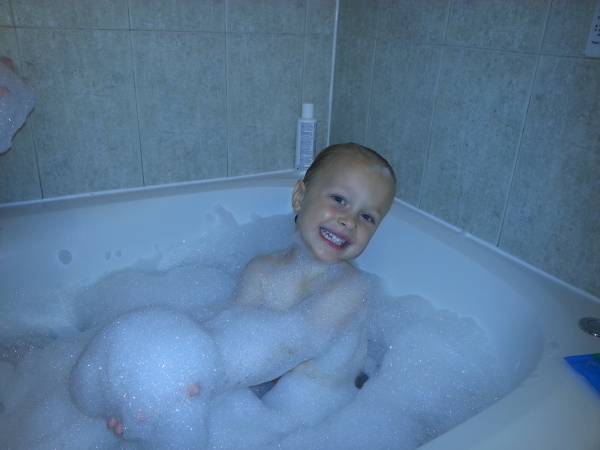 From Niagara Falls, we headed across a small sliver of Canada, then into Michigan and on to Holland, MI, where we met up with Debi's friend.  She was very nice and brought us dinner that we enjoyed with her, her son, and her husband, on Lake Macatawa.  Debi and Toren even went for a dinosaur ride:
We chatted for a couple of hours, then headed to a nearby campground – Lake Macatawa Campground – where we spent the night.  The second time setting up the tent went even smoother and we had another great night camping.
Oh, and Toren put on a karate move show for me at the campground that night:
daily mileage: 390; total mileage: 3,555
states visited: Michigan; total state count: 15 (plus 1 district and 1 other country)