We got up early this morning and began getting everything ready to go.  Our timing for Lake Powell was off a bit and we ended right at the end of the week.  This was the day everyone was leaving, and that means a lot of work.  We were ready to help get everything cleaned up, and we helped for a while.  But the decision was eventually made after the houseboat was ready to take back to the dock, that the next best thing to do to get the boat cleaned up was to get people off.  Since we were a small group and on the other side of the bay, we were the optimal choice.  So, we were dropped off at Hall's Crossing around 10:00, which meant we ended up not having to do all the work of getting the houseboat cleaned up.  I'm not sad about that, but feel kind of guilty that we got a lot of the pleasure of Lake Powell with miminal work.
But, it did mean we could get an early start to our next destination: Grand Canyon (south rim).  The drive from Hall's Crossing to the South rim is about 5 1/2 hours, but it sill meant we got there in the early afternoon with time to see some of the canyon. Toren was funny.  We tried to get him excited about seeing this amazing natural scenery but he wasn't impressed.  He was more interested in playing angry birds, his legos, and running around then in appreciating the grandeur of the Grand Canyon.  We stopped at several vista points and took a few pictures, but didn't do any hiking.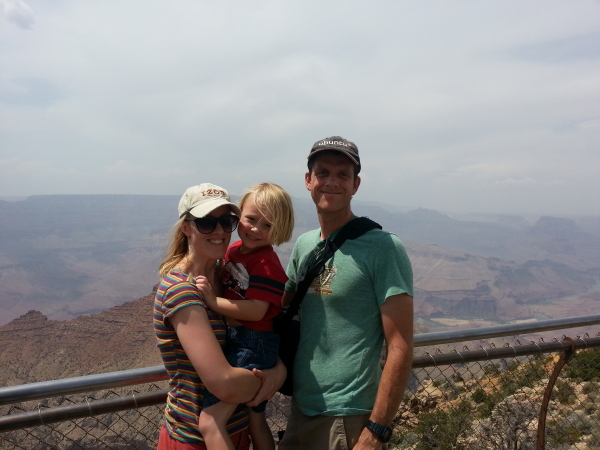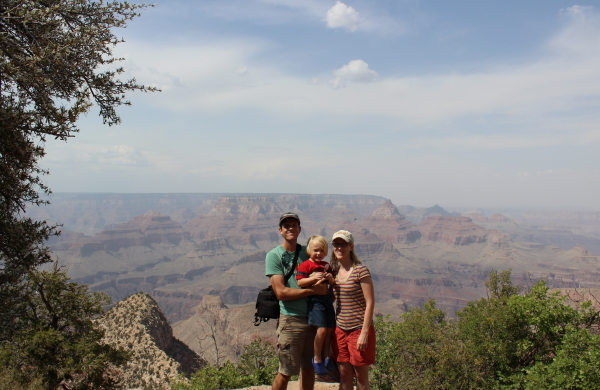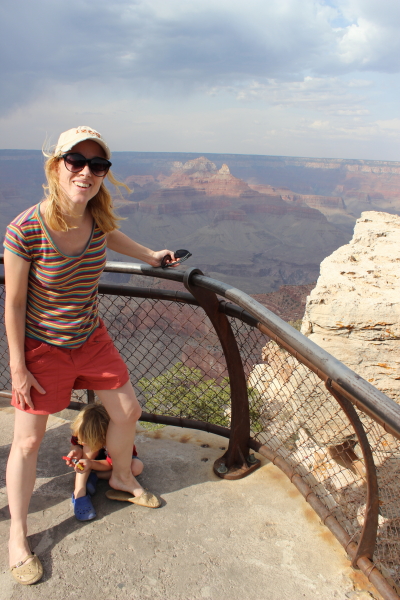 I'm thinking a week-long hiking/rafting trip here when Toren is in his teens will probably be better received.
I had originally thought we'd spent the night at the Grand Canyon, but the hotels there are booked months in advance and I wasn't willing to fork out about $250 for one night, so we pressed on and ended up in Flagstaff that night.  Oh, and for the first time in my life I accidentally stiffed a waitress.  We had dinner in a Chinese restaurant and our waitress was great, but we were required to pay at the front and the hostess started chatting with me, which made me lose track of what I was doing.  I ended up not leaving a tip.  I still feel bad. 🙁
daily mileage: 380; total mileage: 6,252
states visited: Arizona; total state count: 23 (plus 1 district and 1 other country)