There isn't much to report for the last day of our nearly month-long vacation. We left Dallas around 8:30 and drove almost straight through to our house (we stopped for food and gas).  We could have broken this up as we had time, but there wasn't anything we wanted to see more than we wanted to get home, so we made it one last push home and arrived around 3:00 am on July 4th.
Without much to report on the day's activities, I figured I could give a run down on the trip statistics.  The total miles for the trip (as you can see below), was about 8,500 miles.  We spent about $600 on gas.  We visited 28 states, plus DC and Canada.  We visited 5 state highpoints. We took over 1,300 photos.  I also listened to 4 or 5 audio books; I lost track after a while.  We visited almost all of the members of both our families (all of Debi's family; most of mine) and made some new friends along the way.  Here's a map showing the general outline of the trip: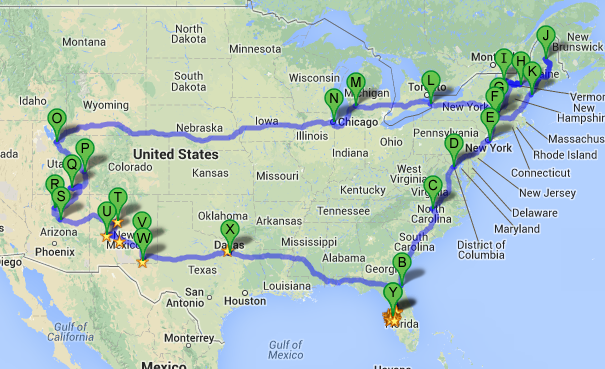 And that wraps up our month-long road trip.
daily mileage: 1,106; total mileage: 8,573
states visited: Louisiana, Mississippi, Alabama; total state count: 28 (plus 1 territory and 1 other country)