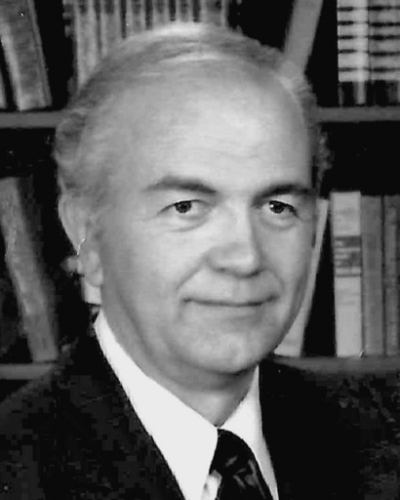 My Uncle Leon recently passed away.  He was a very kind and insightful person.  He was also very influential in shaping my career.  I spoke with him several times about academia and graduate school because he was a Professor at BYU.  At the request of my father, I recently wrote up a specific memory of my Uncle Leon:
I don't remember whose farewell it was, Josh's or Katie's, but I know that I had just been accepted to graduate school at the University of Cincinnati, so this would have been in the Spring or Summer of 2001. My Aunt Janet and Uncle Leon came to the farewell, and at the lunch afterward I made my way to Uncle Leon to ask him about what I should expect in graduate school. I remember precisely where we were. We were standing in what used to be my parents' garden – at the bottom of their yard, overlooking the valley, and we both had drinks in our hands.
As we talked, he gave me some really amazing advice, advice that I have since passed on to many of my students. He told me that I needed to find an adviser in graduate school with whom I could get along. While it is important that your research interests align, he told me that it was more important that advisees be on good terms with their advisers. He also compared the adviser/advisee relationship to the master/apprentice relationship that was once common in learning a trade. As he explained it, "Your adviser will make or break not only your graduate school experience, but your career. You need to pick the right person to be your adviser." He told me about a student he knew when he was in graduate school who had been working on his PhD for close to ten years who was eventually told to leave because he was never going to get his degree, in large part because he and his adviser did not get along and did not agree on the projects required to complete the degree.
That advice proved invaluable. I found an amazing adviser in graduate school. Our personal interests didn't align perfectly (he loves baseball and Jazz, neither of which hold much appeal for me), but we got along very well and he has been incredibly influential in shaping my career in academia. In all likelihood, I would not have made most of the professional contacts I currently have – which have helped me publish most of my research – nor would I have the job that I have without my adviser's guidance and help. And that is all due to the sage advice of my Uncle Leon. In very tangible ways, Uncle Leon has helped shape my career.
Here's his obituary from the Deseret News:
After a life filled with love, joy, and many miracles, Leon Warren Woodfield returned to his loving Heavenly Father on October 2, 2013. Leon was born on January 13, 1934 in Ogden, Utah to Ray Weldon and Vera Jane Campbell Woodfield. He had three brothers and one sister: Norman, Keith, Arlo, and Mary Lou. He was raised in North Ogden where he learned the importance of family and hard work as the family worked together herding cows, riding horses, and harvesting crops. Leon's love of horses, dogs, and a "well-groomed field" continued throughout his life.
Leon met the love of his life, Janet Cragun, on the first day of 1st grade. The childhood crush turned into a true love that was solemnized when they were married in the Salt Lake LDS Temple on September 10, 1953. Leon always considered Janet his greatest blessing and loved her with all of his heart. They recently celebrated their 60th wedding anniversary.
Leon put his family first and foremost. He showered much love and attention on his five children and their spouses: Janalee and Steven Hallmark, Heidi and Bill Woahn, Melia and Steve Fidel, Craig and Marilee Whiting Woodfield, and Chris and Lesley Ponder Woodfield, 22 grandchildren, and 10 great grandchildren.
Education played a vital role in Leon's life. He received an associate degree from Weber College, Bachelor of Science and Master of Business Administration degrees from the University of Utah, and a Doctor of Business Administration from Michigan State University. Leon worked as a certified public accountant at the Arthur Young Accounting Firm in Los Angeles. He then taught as a professor in the Accounting Department at Brigham Young University for 40 years, where he served as department chair and received various awards and recognitions. Leon is esteemed by his colleagues and loved by his students to this day. He considered himself blessed to have a job that he loved.
Leon had an unwavering testimony of our Savior. His life is his witness. Leon served The Church of Jesus Christ of Latter-day Saints as a bishop, high councilor, councilor in a stake presidency, teacher, temple worker, and dedicated home teacher. He and Janet served as full-time missionaries in Oklahoma.
Leon was an avid fan of BYU and the U of U (except when their teams played each other). He enjoyed worldwide travels with his wife and family, maintaining his beautiful yard, and time with family and friends at the Fairview cabin. He would beam with pride as he attended his grandchildren's sporting, school, and performing events. Leon had a deep respect for his ancestors and loved to share their stories. He was a member of the Sons of Utah Pioneers and active in community affairs.
Leon understood what was important in life: he loved his wife, nurtured his children, and played with his grandchildren. As his family, our hearts are broken because we will miss his gentle, wise influence, yet we rejoice because we were able to know and love this humble, great man. We take comfort in the fact that he always told each of us he loved us, that we were his "favorite," and that we all look just like him! He said he was "a man of adequate ability," but we know better: we are what we are as a family because of Daddy.
Leon endured his years of declining health with dignity and patience. He always tried to be cheerful, helpful, and loving to those around him. We thank friends and neighbors, the Springville 3rd Ward, medical staffs, DaVita Dialysis and iCare for their loving service to Leon and his family.
A celebration of Leon's life will be held on Monday, October 7 at 11:00 a.m. at the Springville 3rd Ward LDS chapel, 355 E. Center Street, Springville, Utah. Well-wishers may greet the family on Sunday evening, October 6, from 6:00 to 8:00 p.m. at Wheeler Mortuary, 211 E. 200 South, in Springville and before the service from 9:30 a.m. to 10:30 a.m. on Monday at the church. A graveside service will be held at the Ben Lomond Cemetery, 526 E. 2850 North, North Ogden, Utah at 5:00 p.m. that evening.