After a good night's sleep, I packed up, cleaned up the apartment, and headed out.  There were just a few things I really, really wanted to do in Ireland, and Newgrange was at the top of the list.  If you're not familiar with it, it's a pre-historic monument similar to Stonehenge, but of a different sort.  It included a ring of large rocks, but also a stone cavern in the center, and was then covered as a mound with rocks and dirt.  It's both bigger and older than Stonehenge.
It's only about a 40 minute drive north of Dublin.  As I walked into the visitor's center at Brú na Bóinne, one of the staff asked me if I was interested in just Newgrange or also the tour of Knowth.  I didn't know about Knowth, but she quickly convinced me it was worth it as it has more artwork than does Newgrange.  Since I really didn't have anything else I had to do that day other than drive to Killarney for my plans the next day, I decided to go ahead with both tours.  It was worth it.
Knowth is a mound similar to Newgrange, but larger.  It hasn't been restored the same way as Newgrange, but was fully excavated and restored to some degree.  However, what really sets Knowth apart from Newgrange is the extensive artwork on the stones around the mound.  Here's the mound:

And an example of the artwork on the stones: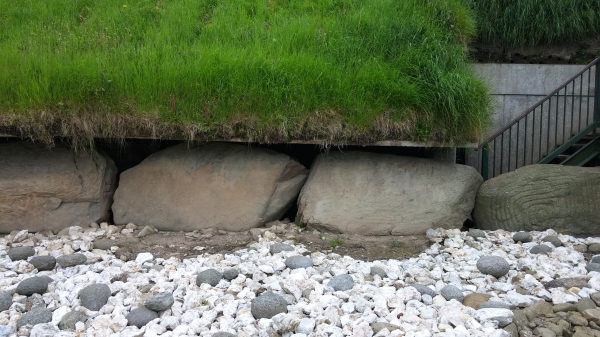 Each tour is about an hour and a half.  After the Knowth tour, I went back to the visitor's center, got another coat (it was a little chilly), then got ready for my tour of Newgrange.
Newgrange has some artwork on the stones, but has a different feature that Knowth does not – you get to go all the way inside the stone chamber.  It's quite large (you can't take photos inside), perhaps 15 feet in diameter, and about 24 feet tall.  Once inside, the tour guide shuts off the lights and then turns on an electric light that imitates what the sun looks like on the winter solstice when it shines through the light box (see photo below), through the passageway, and into the center of the mound.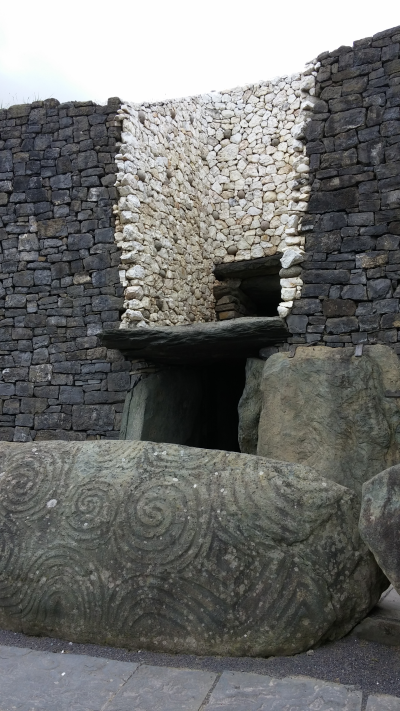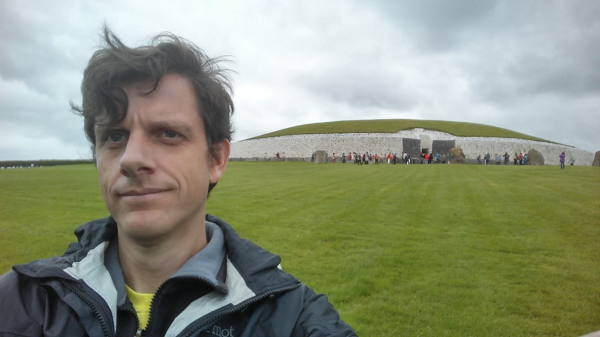 These are remarkable mounds and well worth a visit if you're in Ireland.
After my visit to Newgrange, I drove to Killarney.  I stayed in a bed and breakfast I booked through airBNB again.  This one was a more traditional B&B.  I went to bed fairly early as the weather looked pretty good for an attempt to climb Ireland's highest point the next day.