I'm always up for a good hike, and it often turns out to be a great way to see places most people don't see.  One of the places people recommended I visit in Ireland was the Ring of Kerry.  As luck would have it, the tallest mountain in Ireland, Carrauntoohil, is within the Ring of Kerry.  I did a bit of searching and learned about an alternate route, the Coomloughra Horseshoe, which starts from a different place than most people who hike Carrauntoohil and makes a loop that tops the three tallest mountains in Ireland, Carrauntoohil, Caher, and Beenkeragh.  I was hoping to do the complete Horseshoe, but was also paying very close attention to the weather.  The route between Carrauntoohil and Beenkeragh involves a climb over a razor back ridge that seemed like a bad idea if it was raining or cloud covered.
I got up early, had a hearty breakfast of sausage and eggs at my B&B, then headed to the trailhead.  No one else was parked at the trailhead, but I assumed some others would be coming along later.
I had okay directions from several websites, but knew I had to do some route finding along the way.  Alas, the clouds were still hanging quite low when I started the hike and, by the time I reached Cottoners River dam, I was in the clouds and could only see about 50 feet in front of me.  I knew roughly which way I was supposed to go, so I headed that way and tried my best to track my route on my GPS.  Here's a short video of what it was like hiking on the lower part of Caher before I crossed the vegetation line and was hiking just on rocks:
I eventually made it to the top of the first mountain, Caher, and was quite impressed with the elevation gain and ruggedness of the mountain.  It was turning out to be a fairly challenging hike. Plus, the humidity in the clouds led to condensation all over me: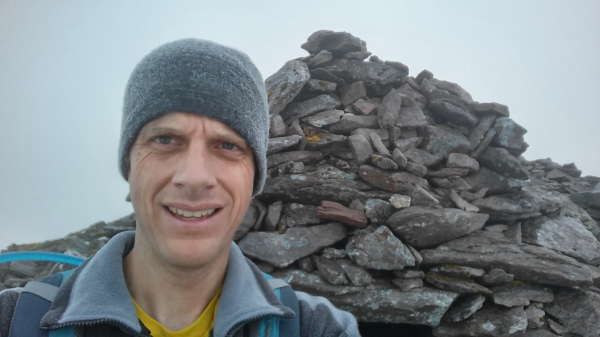 Unfortunately, at this point, I had the crazy notion that the trail turned slightly on its way to Carrauntoohil.  Not sure why I thought that, but I got off the actual trail and spent about 30 minutes wandering off the horseshoe before I realized I was off the trail.  Thanks to Google Maps and my GPS, I got back on track and headed toward Carrauntoohil.
Just as I reached the summit of Carrauntoohil, about 30 minutes after I regained the trail, I noticed two individuals on the summit – two Russian-speaking priests in full priestly garb performing a ceremony that included chanting, praying, reciting, reading from books, and so on.  No one else was on the summit, and I've never experienced that on the top of a summit.  It went on for about 10 minutes after I arrived and I didn't really know what to do, so I just kind of sat there, waiting:
After they finished up, I confirmed that they were priests, then took a few pictures as the sun had finally broken through the clouds.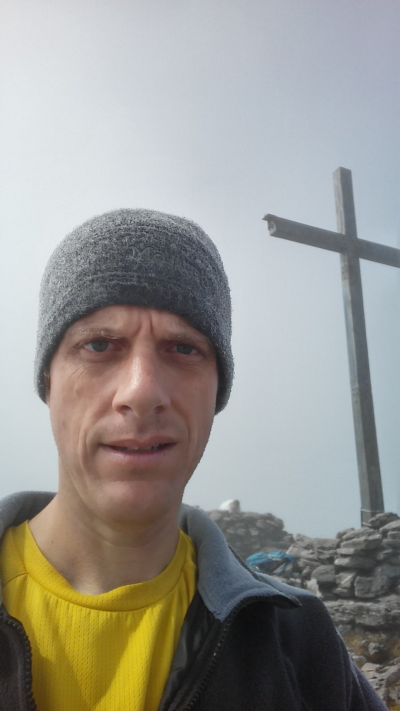 I spent about 20 minutes on the summit, then, because it was still very cloudy, I opted to go back the way I came rather than try the razorback.  It was so cloudy I immediately took a slightly wrong turn and headed down the standard route.  I hiked for about 30 minutes before I realized my error and had to hike back to the route I had taken, which added another 30 minutes or so to my hike.  Once I made it back to the trail, the clouds started to break and I finally started to get some nice views of the area.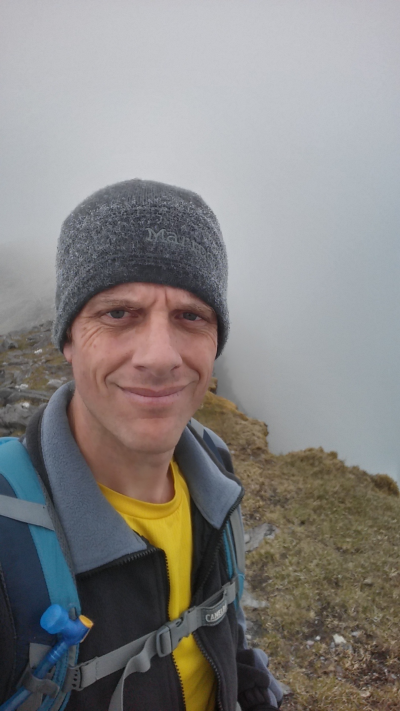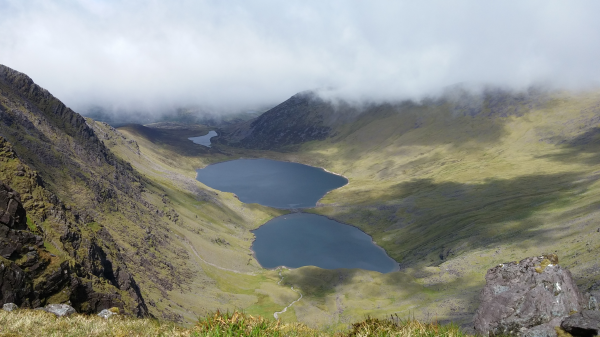 The rest of the hike was quite pleasant and I finally passed a few other people on the trail.
After the hike, I headed back to the B&B, showered, rested a bit, then went to the Killarney Golf and Fishing Club for a delightful dinner of fish and chips: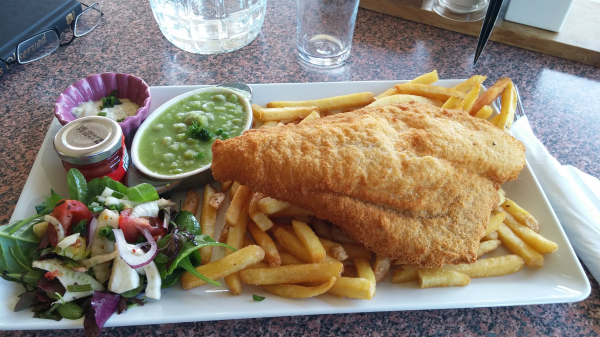 Here's my route from the hike: