On my last day of touring before the conference, I decided to visit the Cliffs of Moher.  I had seen pictures, but it's hard to really comprehend how amazing the cliffs actually are.
It took a few hours to get there.  When I arrived, it was raining and cold.  I decided to put on my full wet weather gear – waterproof jacket and coat, with my waterproof hiking boots.  The only part of me that got wet was my gloves, which were still warm, but wet.
As I walked into the visitor area of the Cliffs of Moher, I immediately noticed a map that detailed a lengthy hike along the cliffs (about 20 km total).  I didn't realize there was a hike.  That got me excited, though I was really thinking, "I'm going to have to come back here and do the entire hike on a nice day."  Despite the weather, I decided I'd do at least a little hiking. I started my hike by walking up toward O'Brien's Tower near the visitor's center.  I then walked about a kilometer past there along the cliffs.
As I walked back toward the other side of the visitor's area, I saw another tower far in the distance.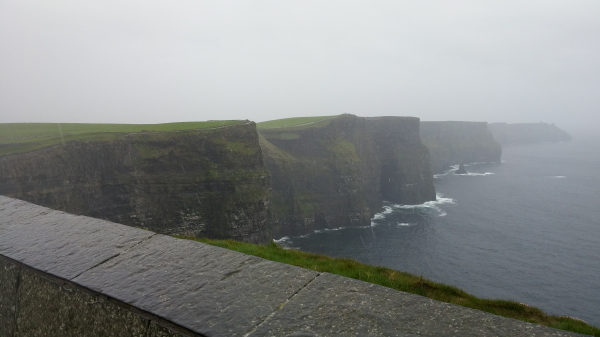 Since I was warm and feeling pretty good, I decided to hike to the other tower, not really knowing how far it was or even what it was.
I started hiking and didn't pass many people, just a few who were also crazy enough to be hiking in that weather.  None of them were bundled up like I was, though, so most were just trying to get back to comfort.  One group of hikers stopped and took a photo for me: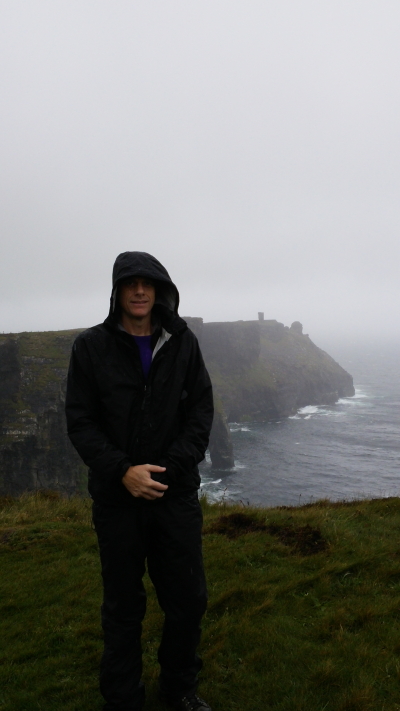 It took about an hour, but I finally made it to the tower.  It turns out it is an old signal tower, Moher Tower, built a couple hundred years ago that has been left to ruin.  It's on a cliff called the Hag's Head.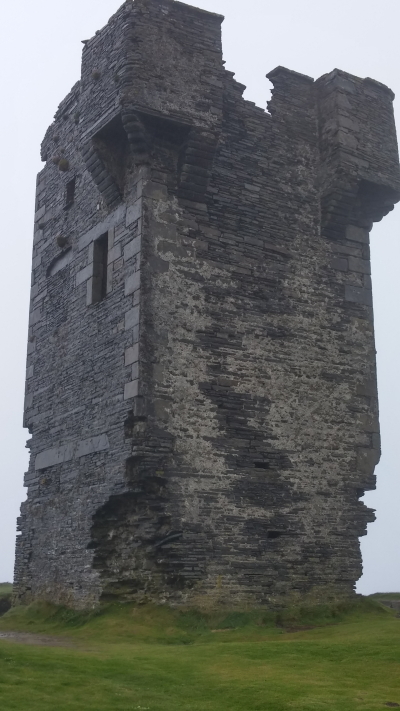 Just as I arrived at the tower, the storm got much worse, leading to a white out.  I couldn't see more than about 15 feet in front of me.  With a tower at hand, and no one around, I made use of it and went inside, sheltering from the wind for about 15 minutes while I ate a few Starbursts and waited for the wind to die down.
After that, I headed back to the visitor's center.  It took about an hour and ended up being 2.84 miles one way (so, 5.6 miles round trip).
I was still warm and dry (aside from my hands) when I got back.  I stopped in the visitor's center for a few minutes, then headed out.
I stopped in Ennistimon for soup on the way to Limerick, which is where the conference was and where the next house where I would be staying was.  As I was passing through Ennistimon, I saw the coolest cemetery and had to stop to take some photos:
On the way to Limerick I saw a sign on the freeway that said "Craughaun Cemetery."  Thinking it might some how be related to "Cragun," I pulled off to check it out.  Turns out it is a cemetery with an ancient passage tomb in the cemetery (but no noticeable Craughaun's buried there; I looked for a while):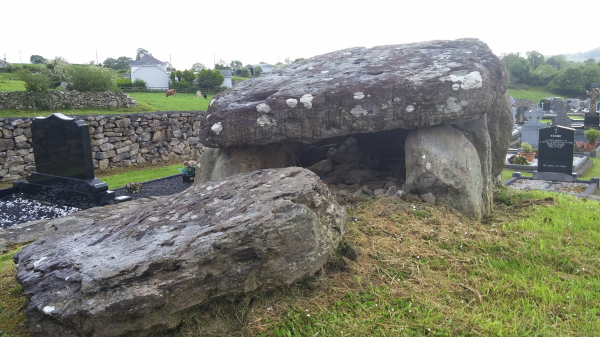 I arrived in Limerick in the evening. Limerick turned out to be quite nice.  I saw a little bit of it here and there when I wasn't in the conference.  The conference was great.  It was at Mary Immaculate College, was very professionally run, and is likely going to result in a book chapter for me.  I also met a number of great people, some of whom I may work with in the future.  I spent a couple of days in Limerick, then flew home, just in time for Toren's birthday party.