My in-laws are kind enough* to take the whole family on vacation every few years.  This time the destination was an Alaskan cruise, disembarking from and returning to Seattle, with stops in Skagway, Juneau, Ketchikan, and a very brief stop in Victoria, BC.
We flew into Seattle on the 8th, arriving late in the evening, and headed straight to our hotel where almost everyone else was asleep.  Since we all arrived the day before the ship disembarked (the 9th), we had all morning to do stuff.  My mother-in-law rented a mini-bus to take us around Seattle.  We started with a visit to the Space Needle, which I had seen before (in 1995), but I had never been to the top.  We actually had a nice view of our cruise ship from the top.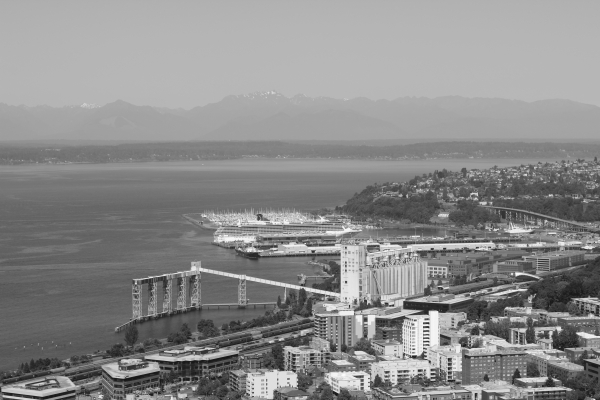 Toren was loving playing with his cousins:
We spent about an hour at the Space Needle, then headed to Pike Place Market to just wander around until we had to head to the cruise ship.  While there, we all split up to wander around.  I considered trying to get a coffee at the original Starbucks, but the line was crazy-long the whole time we were there.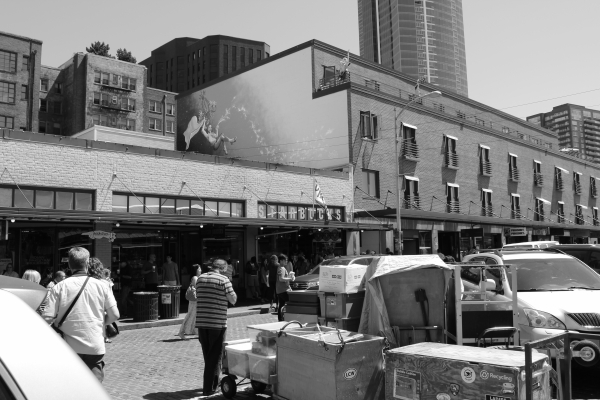 Toren, for some reason, was fixated on buying a ring and really wanted a hand made ring that cost about $30.  Knowing that he was unlikely to continue wearing it, we convinced him to buy a $3 (mood) ring instead, which he loved for about a day.  He did almost lose his finger to a frozen crab, though: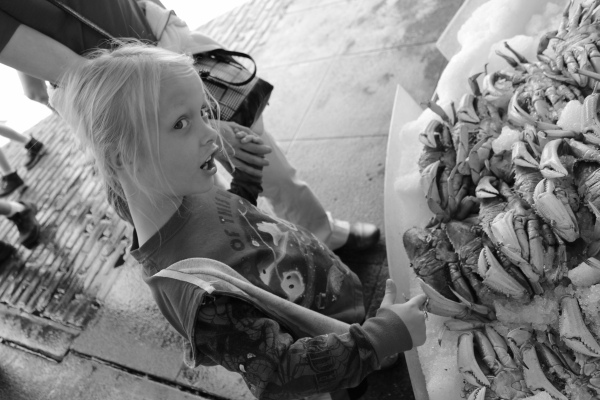 After Pike Place Market, we got back on the mini-bus and headed to the cruise ship.  Check-in was relatively painless despite having 15 people in our party (if you include Debi's sister-in-law's parents, it was actually 17).  We grabbed a quick bite to eat for lunch on the cruise, and it didn't take the kids long to find the swimming pools.
Just before we disembarked from Seattle, everyone had to go to their muster station.  As we were waiting in line to get to ours, Toren said he wanted to practice his mixed martial arts moves.  I got down on my knees and let him throw a 1-2 punch combination with a kick.  The punches went to my hands and I let him kick my side for the kick.  A woman nearby was astonished, but in a good way.  She finally said, "If I ever need a little girl to protect me, I want her to do it."  Because of Toren's long hair, the woman thought he was a girl (which happens all the time).  We didn't say anything (we usually don't these days), but we saw that same woman two more times on the cruise.  The first time, she said, "There's the awesome little girl who can fight."  The second time we got on an elevator with her.  She then said, "You're the toughest little girl I've ever met."  At that point, Toren said, "I'm actually a boy with long hair."  After that, the woman didn't comment on his MMA skills anymore.  Gender…
—————————————————————————–
(*NOTE: Of course, they are also affluent enough to afford this, though really it is a reflection of their philosophy that they would rather spend the money they have saved up doing things with the grandkids now instead of giving them money when they die.)