Just after my mother-in-law booked the cruise to Alaska, she then emailed all of her children and their spouses and asked what excursions they wanted to go on.  My general approach to excursions these days, since I'm starting to get older, but am still active enough to do lots of things, is to try to do the most extreme, active things I can.  When I'm 90, maybe I'll slow down.  But, for now, I ask, "What's the most physically extreme excursion available?"
In Skagway, the most physically demanding one I found was a 5 mile round trip hike to the Laughton Glacier.  I convinced Debi to do it with me and the rest of the family would watch Toren as they went on a train ride.  The description of the hike sounded cool, but the part I loved was in the Notes concerning the hike:
Guests should be in good physical condition, able to walk over uneven and sometimes challenging terrain including rocks and tree roots, and hike in all weather conditions. The hike typically covers 5 to 7 miles.
I read this to mean that it was going to be physically demanding.  Um, yeah.  Not so much.
We met in one of the theaters for the excursion and I tried to size up those who were going on the hike with us.  It was only about 8 of us, and they mostly seemed to be active adults, though most were clearly not serious athletes.  As we got off the boat, we found a guide for our hike, who walked us about 3/4 of a mile to where we got on the train.  Everyone seemed to make that walk fine.  😉
At the train, we met up with some passengers on another cruise ship, increasing our party to about 15 total, with 3 guides.  On the train ride up to the trailhead, they had us make our lunches and provided everyone with tons of snacks, water, and fanny packs.  Since I had my own backpack and bladder, we opted not to take the fanny packs or water, but we did take the snacks (multiple candy bars, trail mix, nuts, etc.)
The train stopped about half way up the track and we got off, then geared up.  It was at this point that I started to feel a little bad for the guides.  There were three guides, all women who were a lot smaller than I am (though they were all very tough and solid hikers; no doubt about that).  All of the guests on the hike had tiny packs that weighed maybe 5 to 10 pounds, at most.  Each of the guides had monstrous packs that weighed 40+ pounds.  I felt bad for them because I knew they were carrying those packs for me, not for them (I felt that way even though I knew they were getting paid to do it). I was tempted to offer to carry one.  I was sure they wouldn't let me, but I would not have minded.
Once we were all geared up, we headed out.  The trail was very well-maintained.  The elevation gain was minimal.  And the pace was… very… slow.  Plus, we stopped every twenty minutes or so for the guides to ask if anyone needed anything, another candy bar, water, bug spray, sunscreen, to be carried, etc.  The pace was so slow, I couldn't help but hike right on the heels of the guide leading the group.
We stopped about half way up (1 1/4 miles) at an outhouse for a bathroom break.  At that point, the guides realized that there were some faster and some slower hikers, so they suggested we split into two groups and the faster hikers could take the more "rugged" trail.  I was all over that!  Debi was too.  She's not as into hiking as I am, and she was wearing borrowed shoes that were rubbing her heels a bit, but she still felt the pace was too slow.  The group split up and Debi and I stayed right on the heels of the guide as she took us up the rugged path.  It was a bit more rugged, but it was definitely not 3 hours of boulder hopping on Granite Mountain.  We did go faster, which was nice.
We stopped once on the rugged path just as we were able to make out the top of the glacier: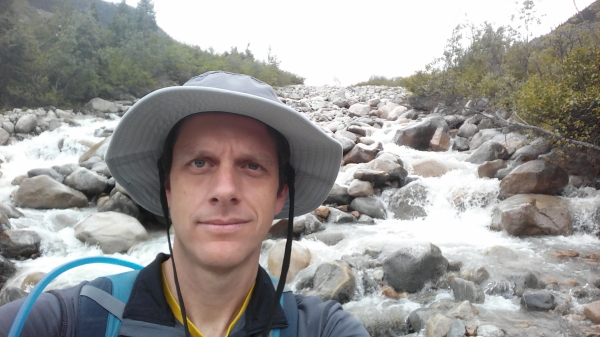 Then we hit the glacier.  Since this one doesn't end in the ocean, you get a very different perspective.  The bottom part of the glacier is largely covered with rocks and sand, though you can see ice through the rocks and sand.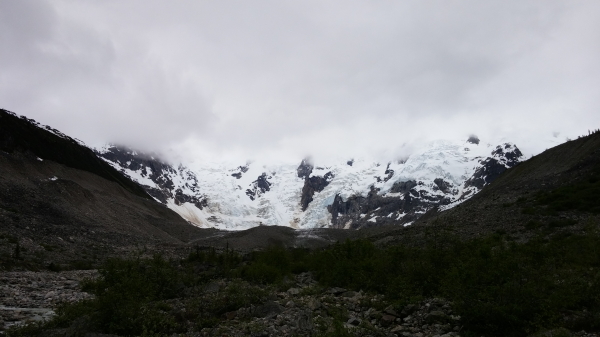 We carefully hiked up onto the glacier a few hundred feet, found a nice scenic place to sit, and broke out our lunch.  Here was our view: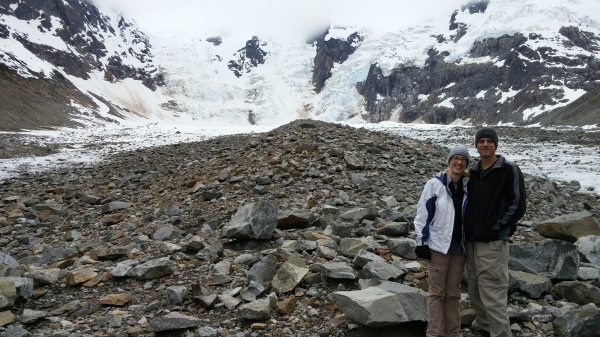 And if you want the immersive experience, here's the view as a photosphere:
The guides, in their massive packs, carried up huge thermoses of hot water, so we could have apple cider or hot chocolate for lunch.  As bad as I felt that they had to carry those packs, the hot drink did taste great on the cold glacier.
We spent about 45 minutes on the glacier, then headed back out.  We continued to stop every 20 minutes or so, and made another bathroom stop on the way down, until the last 1/4 mile or so.  Then the guides got word that our train was coming and suddenly we were moving!
We made it out to the railroad track with about 2 minutes to spare:
We hopped back on the train, rode it back to Skagway, then walked through Skagway, and headed back to the cruise ship, where we met back up with the rest of the family.
Here's the hiking route:
Knowing what I know now, I wouldn't pay to do that hike again.  I'd pay for the train ride to get up to the trailhead, then do the hike without guides, as a few people did when we were there.  It's an awesome hike, but if you are at all fit and a competent hiker, there is no reason to have a guide on this hike.