As with my adventure with Debi in Skagway, when my mother-in-law asked what excursion I wanted to go on, I looked for the one that seemed the most physically demanding in Juneau as well. That one turned out to be a helicopter ride to a glacier followed by ice climbing and hiking on the glacier (see here; it's called the Extended Helicopter Glacier Trek).  With this excursion, I was supposed to get an hour ice climbing with axes and ropes, followed by a couple hours hiking around a glacier, into caves, tunnels, etc.
Well… There was a hiccup.  The day before my glacier adventure I got a call in my room on the ship from the people who manage the excursions.  They said that there were not enough people who signed up for my excursion.  However, they then said that there were enough people signed up for the same excursion about 30 minutes after mine, so I'd still get to go on the excursion, just 30 minutes later.  That was fine with me.
The next day I got off the cruise ship with the rest of the family (they were going on a seaplane ride) and found the people who run the excursions.  That's when they broke the real news to me.  Of all the people who were on the three ships in Juneau that day, I was the only one who signed up for that excursion.  No one else wanted to go ice climbing.  However, there were enough individuals signed up to do the glacier trek (not the extended glacier trek), that I could do that.  Basically what that meant is that I wouldn't get to do any ice climbing with ropes and axes, but would get to hike around on the glacier for a couple of hours.  And they would refund the difference (it's an expensive excursion).  I didn't really have an option, so I agreed and waited around until the van from the tour company showed up.
The van drove me to the Juneau airport and into a commercial area where the tours were based. There I met the other people who were going on the trek with me: two men from Belgium who were not on one of the cruise ships and a guy from California who was working as a tour guide on one of the whale watching boats.  In other words, of the ~7,500 people in port that day on cruise ships, none of them wanted to do the extended glacier trek but me.  Their loss!
At the tour headquarters, they geared us up for the hike – red or orange waterproof jackets, waterproof pants, hard shell boots, gaiters, gloves, harnesses, and helmets.  Then they loaded us into a helicopter to fly up to Mendenhall Glacier.  Here's a view of the glacier from the airport (just after we took off):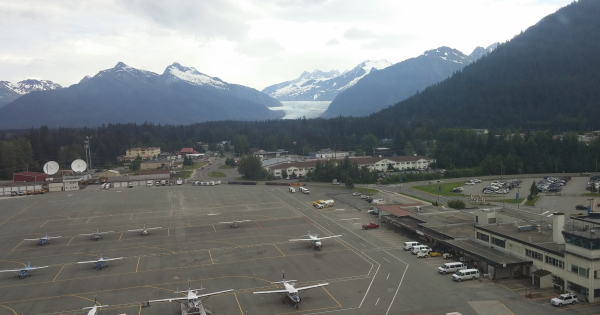 This was part of the flight up to the glacier:
And here was our helicopter leaving after it dropped us off:
Once on the glacier, we met up with our guide who helped us get crampons on and then outfitted us with ice axes.  She then proceeded to walk us around on the glacier and teach us about glacier hiking at the same time.  It was actually really, really informative.  I learned that crevasses can only be 150 feet deep (still plenty deep) because there are two types of ice in glaciers.  The top 150 feet are brittle; whatever is below that flows like molten glass or plastic.  I also realized that crevasses are really only dangerous when you can't see them (e.g., after a fresh snowfall).  If you can see them, you can easily avoid them.  The other danger on a glacier is a moulin, or hole carved by water that can go all the way to the bottom of the glacier.  Where we were hiking, the glacier was 1,000 feet thick.  So, a moulin at that point could be 1,000 feet deep.  Moulins are far more dangerous, though we walked by some that were full of water, since those were plugged at some point and you wouldn't fall to the bottom – you'd just get wet if you fell into one of those.  Finally, just getting around can be a little dangerous, but once you get the hang of the crampons and how to maneuver with them and the ice ax, it was pretty straightforward and not at all dangerous IMO.
We saw some waterfalls:
And hiked into some canyons: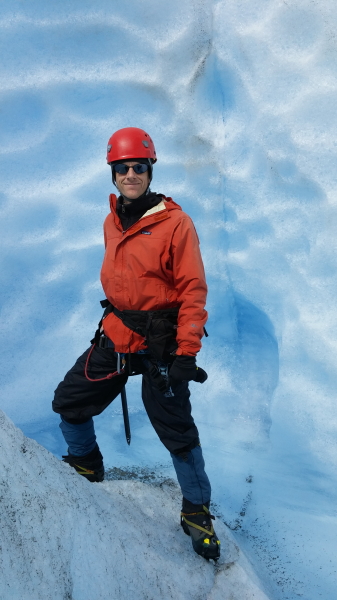 Climbed into an ice overhang (not exactly a cave):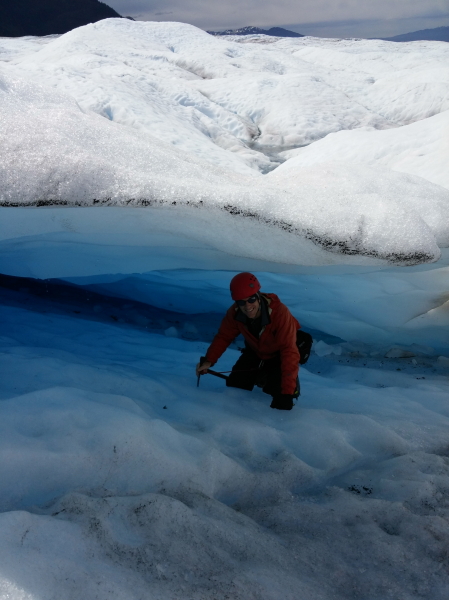 And stood abreast of a crevasse (that opened into a big crevasse, but was pretty small here):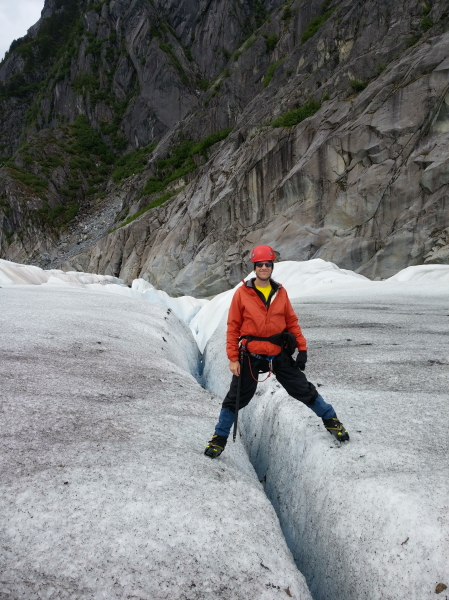 Here's a panosphere of what the glacier looked like:
We probably spent about an hour and a half walking and climbing around.  I would have enjoyed the ice climbing, too, but even what I got to do was awesome.  And having done it, I would definitely recommend that anyone in mediocre shape consider doing it.  It wasn't strenuous and was an amazing experience.  I felt very comfortable after about 30 minutes and was ready to try something more extreme after that point.  I didn't, but I would have!
Anyway, here's a clip of us flying back off the glacier:
After I got back, I headed back into town.  There was a hike near the cruise ship, that sounded fun, but the distance of the hike meant I would get back just as the ship was supposed to leave, so I ended up just getting back on the ship.
Later that day in the hot tub I ran into a family from Tampa who had gone on a similar helicopter ride, but they didn't get to do the "extreme" hiking.  They just walked in a big circle around the base camp on the glacier.  But they really enjoyed that, too.
The seaplane ride was, according to the rest of the family, pretty fun.  However, most of the kids fell asleep (too much fun I guess).