I submitted a paper to a conference in Switzerland in November 2016 and it was accepted. When I started looking for flights, Icelandair was actually the cheapest and that led me to remember that they have a free stopover program – you can fly into Reykjavik, stay for up to a week, then continue your flight to your destination for no extra charge. Since my brother-in-law, Brent, who is a pilot for Delta, visited Iceland a couple of years ago and said it was amazing, I've really wanted to visit. This seemed like the perfect opportunity. So, we booked our flights to Switzerland with a week stopover in Iceland.
We made this our family vacation for the summer and my mother-in-law, Rosemary, indicated she'd like to join us. So, it was four of us – me, Debi, Toren, and Rosemary, for two weeks – one week in Switzerland and one week in Iceland.
Our trip began on the 24th of June when we flew from Tampa to Boston then from Boston to Reykjavik. We didn't realize just how short the flight was from Boston to Reykjavik – 4 hours and 20 minutes. We were hoping we'd be able to get a good six hours of sleep in so we'd be okay walking around Reykjavik the next day, but no such luck. Toren probably got the most sleep, but only he managed about 3 1/2 hours. The rest of us probably got just 2 hours of sleep. That definitely was not enough.
I had planned ahead a little bit. I ordered SIM cards for Debi's and my phones through Icelandair and they delivered them on the flight. That meant we would be up and running with internet access and phone service as soon as we landed. Turns out, it was a bit more complicated than that.
We landed around 6:00 am. I had already switched the SIM card in my phone and my phone indicated the SIM was invalid. I tried it in Debi's and it worked fine. My carrier had told me my phone was unlocked for international travel, but it was not (I even checked with them again and they insist the phone is unlocked, but it definitely is not). Long story short, I ended up putting the SIM in Toren's phone and it worked great, giving us two phones with internet and phone service.
Arrival in Reykjavik went okay, short of the phone situation. We got all our bags, found our way to the rental car place, and got in line. And that's when I realized that I had left my driver's license in Florida! Our entire vacation was based on us having a rental car to drive the ring road (an entire loop around the island). I genuinely started to freak out at this point, but the staff at Thrifty were cool. They asked if we had a photocopy of my license and, luckily, I did have one on my laptop. I pulled it out, emailed it to them, and we were good to go. Phew! Major crisis averted!
Our car was a little smaller than I thought it would be, but our Mazda wagon was sufficient for our needs. With the car loaded, we headed toward Reykjavik.
Our first stop was the iconic church in Reykjavik, Hallgrimskirkja. We arrived just as it was opening, at 9:00 am on Sunday morning. There were not too many people there at that time and we paid the small fee to go up to the top of the tower. The view from the top really is quite nice, especially when the weather is cooperating. You can walk around the tower and see views from all four sides.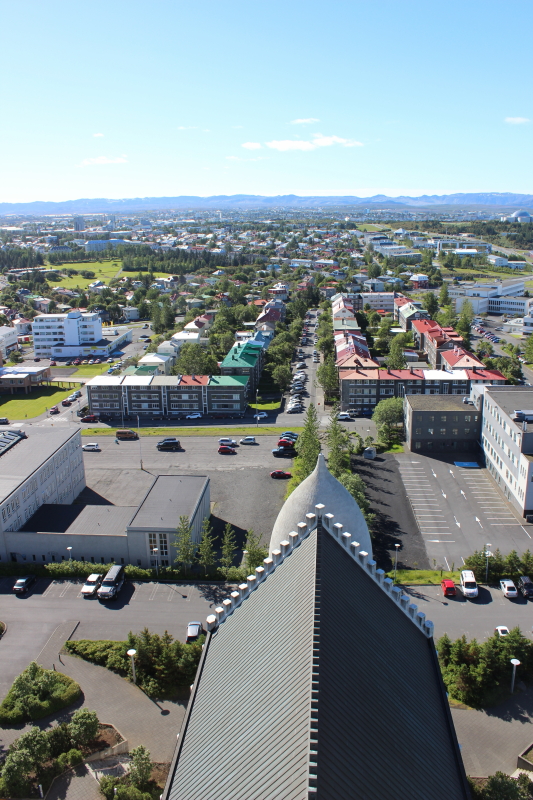 We snapped a bunch of photos here, including a couple of photospheres: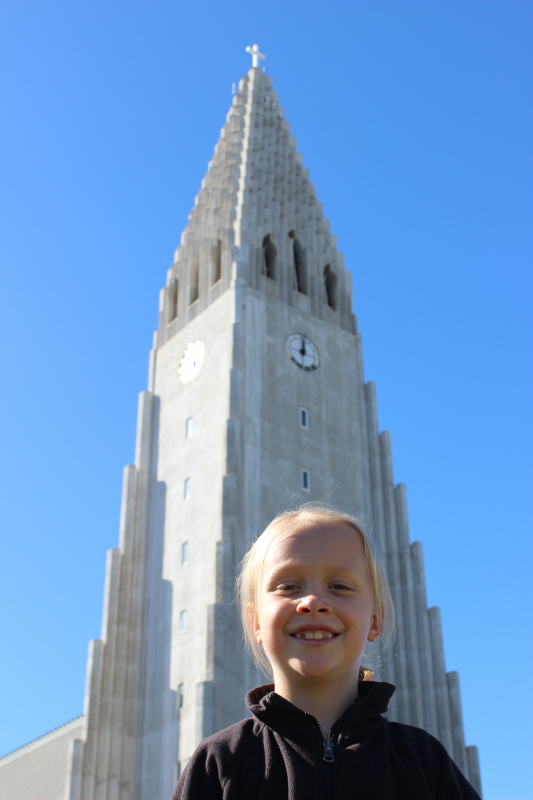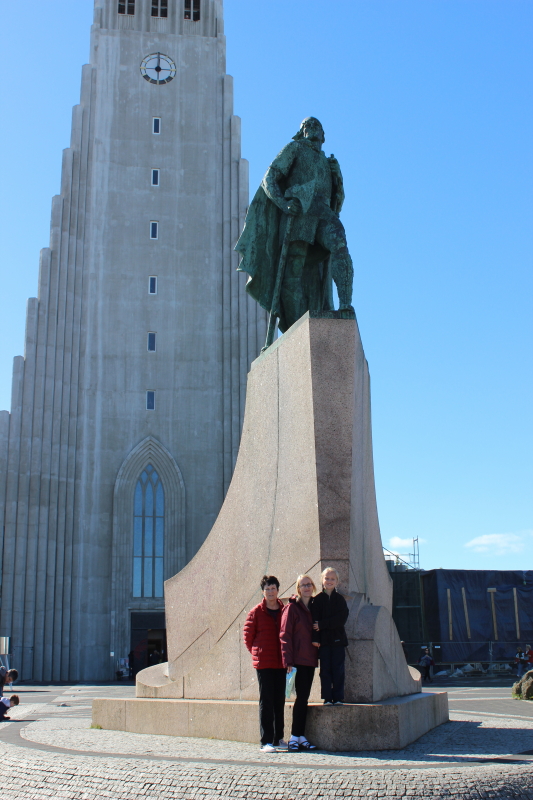 From the Hallgrimskirkja, we drove down to the waterside and walked to the statue Sólfarið or Sun Voyager, which is a really magnificent piece of art right on the water:
From there, we walked down the coast to the new Harpa Concert Hall and Conference Center. We explored this really beautiful building for a bit, let Toren build a few rock cairns, which became something of a passion for him this trip, then headed back to the car.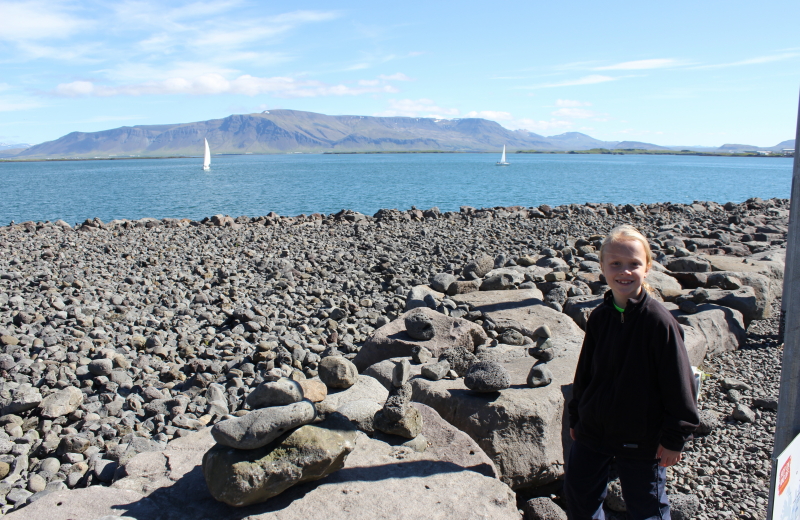 With so little sleep, we were all feeling exhausted. We ate a snack, but that did very little to help with our exhaustion. It was still early, but we were hoping our hotel might let us check in and take a nap. We drove up to our hotel and, luckily, our room was ready. We checked in and then we all crashed for about an hour and a half. We didn't want to sleep too long as we would then have a hard time sleeping that night and we wanted to try to adjust to the time change (just 4 hours different from EST).
After our nap, Toren, Debi and I decided to walk down to a park we saw nearby while Rosemary rested. We walked for quite a while and saw a bunch of fun parks, the zoo, Laugardalshöll Athletic Center, and some botanical gardens. We were still exhausted, but we needed some exercise and we wanted to explore a bit.
We returned to our hotel around 5:00, walked down the street to a grocery store to pick up some supplies and, because our hotel had a communal kitchen, we also picked up dinner and ate it at the hotel. After dinner, we did our best to block out the light leaking into our hotel room through the blackout shades but didn't have much luck. During the summer, it doesn't ever get dark in Iceland. Toren and I woke up around 11:00 PM and couldn't sleep for a while, so he watched a video while I read. An hour and a half later it was still bright as day outside and I was feeling tired again, so I took Toren's phone away and we both tried to get some sleep so we were ready for our adventures the next day.