Our goal for day 4 of our Iceland trip was to make it from the east coast of Iceland to Akuyreri, the largest city in the north of the country, which is quite a drive. However, along the way, we also wanted to stop and see lots of cool stuff. We had to cut down the stuff we wanted to see to a reasonable number but still managed to fit in a fair amount this day.
The drive out of Djúpivogur, while on unpaved, gravel roads, was still very scenic. I should have stopped at least once to get some photos, but was so focused on driving that I didn't. Our first real stop of the day was at Dettifoss, a very powerful waterfall in Northern Iceland.
There is a bit of a walk from where you park to the overlook of Dettifoss – perhaps 1 kilometer or so. The terrain is a bit rugged but largely flat. Toren loved the hike, but it was a bit more challenging for Rosemary. Regardless, the hike is worth the view:
Here's a shot of us there: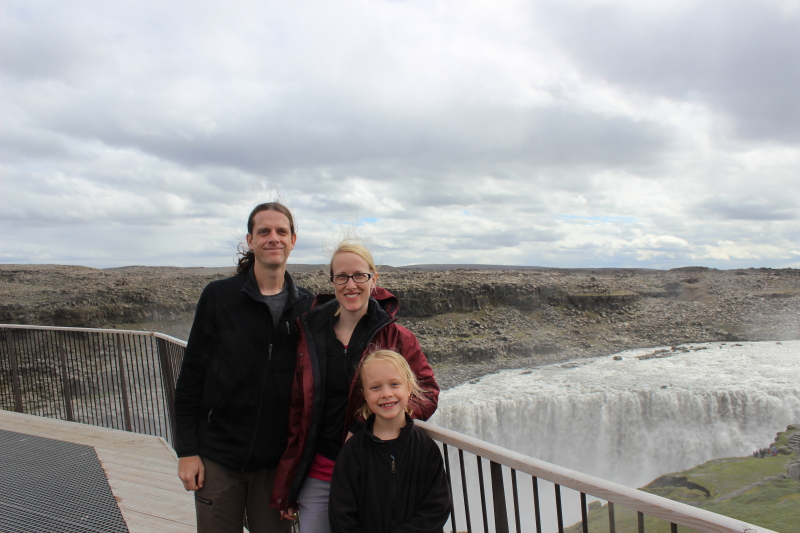 There's another, smaller waterfall just up the river from Dettifoss called Selfoss.
Toren and I ran up to that waterfall while Debi and Rosemary made their way back to the car: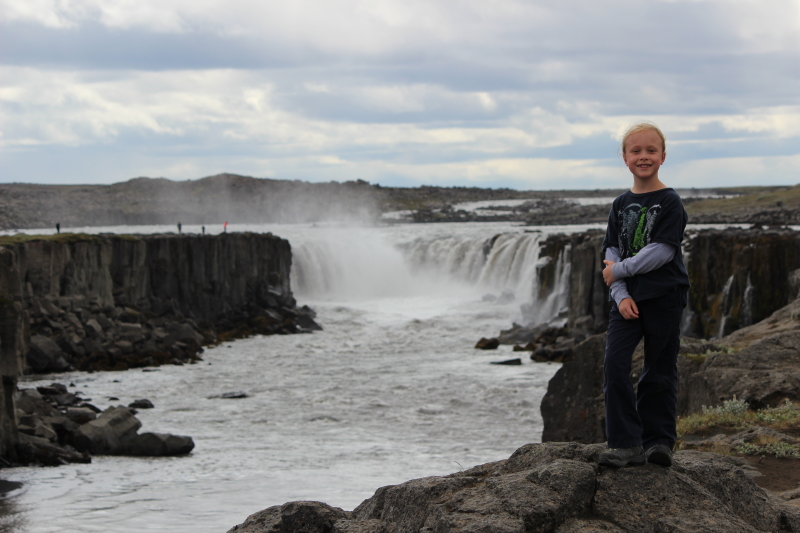 After Dettifoss, we headed to a spot with volcanic activity called Namajfell Hverir. There are steam vents and hot pots. The sulfur smell is a bit overwhelming, as this photo indicates: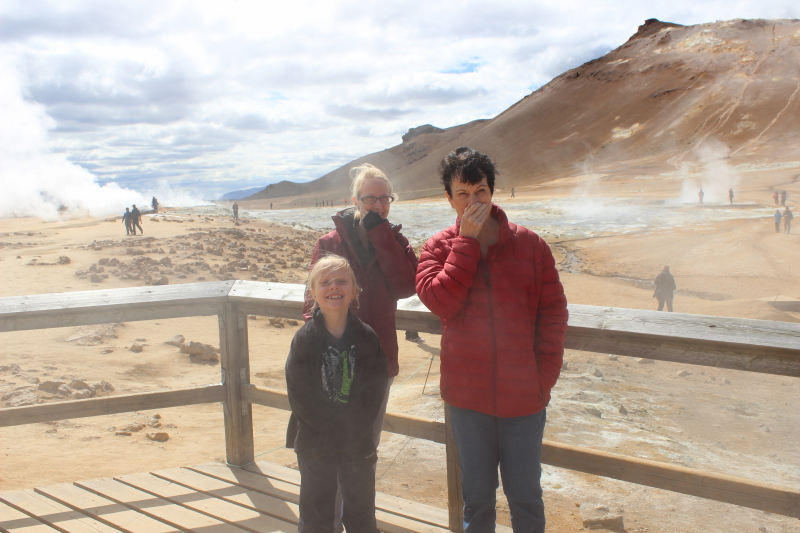 I shot a few videos here to illustrate the activity:
I also put together a photosphere:
We didn't spend very long here but did walk around a bit. We still had two more stops this day. The next was to some nature baths. The Blue Lagoon, near Reykjavik, is a pretty typical visit for many people visiting Iceland. To avoid the long lines, we opted, instead, to visit the Myvatn Nature Baths in Northern Iceland, which are right next to Namajfell Hverir. There was some trepidation in our group about the baths as you're required to shower before entering the baths. At some nature baths, you have to shower in open showers, but here they do have some showers with curtains for privacy. The curtains won over the skeptics and we enjoyed a very nice, warm bath for about an hour and a half.
It is very much a mineral bath. The water is so filled with minerals that you can't see the bottom of the bath and it feels a little like there is a residue left on you after you get in. Even so, the temperature is wonderful. It was like swimming in a giant hot tub.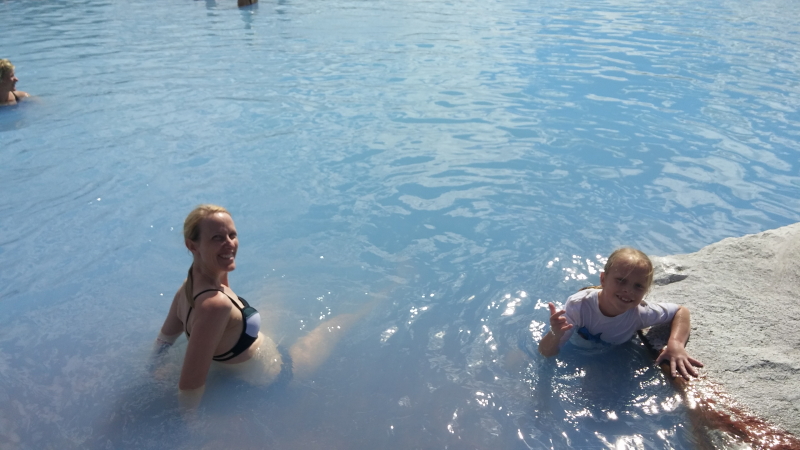 From the Myvatn Nature Baths, we had two more stops for the day. First was a cave that has scalding hot water in the bottom, Grjotagja cave. This cave has become particularly famous as it was the setting for a famous love scene in Game of Thrones. The cave isn't huge, but it's pretty cool and the water inside really is too hot to swim in, so the scene from the show wasn't actually shot in here, but it was fun to visit:
Our last stop was another waterfall – Godafoss. This is one of those waterfalls that happens to be right next to the ring road and is visible from quite a distance. We stopped for a quick visit: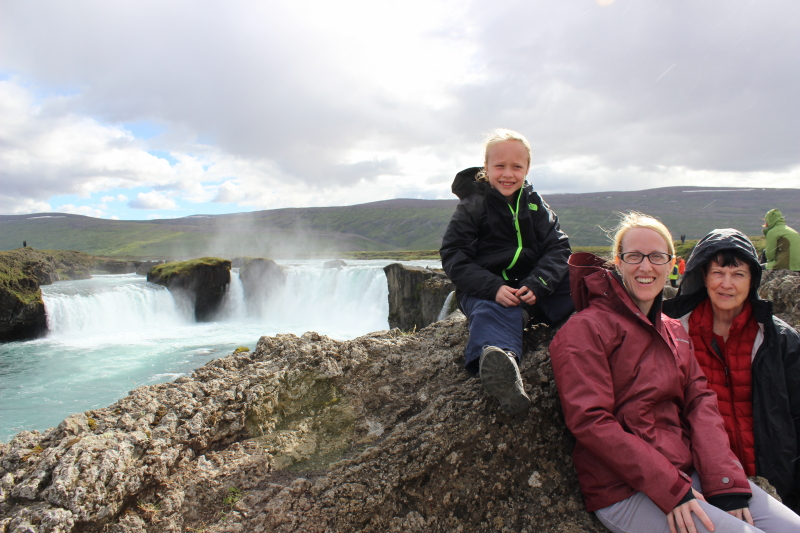 Godafoss isn't the biggest waterfall, but it's very scenic, as it is split into a few falls by rocks.
We made it to our apartment earlier than we planned, which was good as it took a little bit to get inside (this was more like an AirBnB place than a hotel). It turned out to be a nice apartment with plenty of room, a kitchen, and a washer and dryer, which allowed us to do some laundry before settling in for the night.