Our goal on day 6 was to make it from Akureyri back to Reykjavik, while doing a little sightseeing along the way. I found three things that looked cool in Western Iceland (that we could do on the way), but we only managed to visit two of them. One location I wanted to visit, Grábrók, we couldn't find. Google maps sent us off on a really sketchy, dirt road that we should never have taken. It was a single lane road with big pot holes, cliff edges, rocks, and all the fun stuff that would be great in a large SUV, but not so much in a small, close to the road, wagon.
With that side adventure out of the way, our first stop was Deildartunguhver, which is another spot with volcanic activity. This location was pretty cool as it had lots of boiling water and sulphur vents, but was also a location where the country had tapped into the geothermal energy and was using it to heat water.
After Deildartunguhver, we headed to Hraunfossar and Barnafossar, which is another set of two waterfalls. The first set of waterfalls, Hraunfossar, kind of drizzle out of the side of a cliff, which you can see in the background of this photo.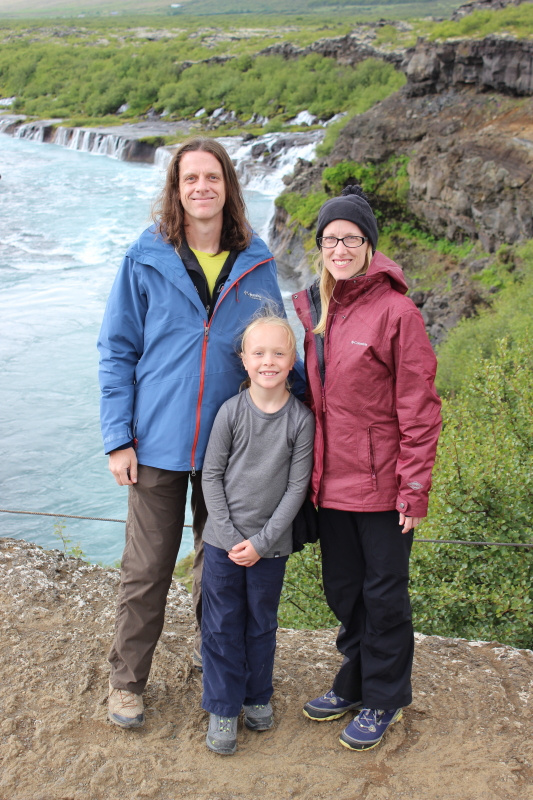 The second set of waterfalls, Barnafossar, which are about 100 meters up the river, have carved through rock and formed an arch, as seen in this video:
Both were quite beautiful.
From Hraunfossar and Barnafossar, we opted to take the new Hvalfjörður Tunnel, which drops under a channel by going under the seabed (541 feet below sea level).  This cuts about 45 minutes off the time to get to Reykjavik and costs about $10.00. It's deep enough that your ears pop as you drive underneath the sea. Pretty cool to say we have now driven under the ocean!
We had two nights scheduled in a bed and breakfast in Seltjarnarnes, which is the tail end of the peninsula where Reykjavik lies. That wrapped up day 6.