Summit Date
July 31st, around 6:30 am
Party
Ryan Cragun & Tom Triplett
(plus our guides – Travis and Matt – and two other clients – Drew Herdener and Olivier Colle)
Trip Report
While I do a fair amount of hiking, mountains like Mt. Rainier are really at the upper end of the types of hikes that interest me. Given that it is snow-capped and covered with glaciers and I have only climbed one such mountain before (Mt. Hood in 2016), the most logical approach to climbing this mountain was to hire guides.
For anyone interested in hiring guides, there are three main companies that guide on the mountain: RMI, IMG, and Alpine Ascents. Since I used Alpine Ascents on my previous climb like this and had a good experience, I decided to use Alpine Ascents again. I think that was the right call as will be made clear in this trip report. I'll note one other thing for others considering climbing Mt. Rainier with guides. Most of these companies list their hikes almost a year in advance and the hikes sell out quickly. If you're interested in climbing Mt. Rainier, I'd strongly encourage you to sign up for the newsletter for the company you want to go with almost two years before you plan to hike Mt. Rainier. You'll then get a notification when the hikes are listed on their website so you can book your hike. If you wait until even 6 months before the hike date, it's likely the hikes will all be sold out.
Pre-Hike Day
My trip began with a flight to Seattle on July 28th. With flight delays and such, I ended up arriving the same time as my hiking buddy, Tom. We then hopped on the train from the airport into Seattle and finally caught a bus to get us to our hotel, the Marqueen Hotel, which is just a block or so from the headquarters of Alpine Ascents. Our hotel room wasn't ready so we grabbed a bite to eat then headed to the Alpine Ascents office with all our gear.
We had a gear check at 2:00 pm. The gear check involved going through all the equipment we brought based on their gear list and then renting any remaining equipment we needed. Given the technical aspects of the climb, crampons, harnesses, ice axes, helmets, and avalanche beacons were all required gear (along with standard cold weather clothing and such). The gear check included some instructional videos about climbing on Mt. Rainier. By the time we had our packs largely ready, the gear check took us at least 2 hours.
We still needed to pick up some food for the next few days – mostly snacks, but also some more substantial food as Alpine Ascents provided breakfasts and dinners but not lunches on the mountain. (As one of the guides said at one point, "There are no lunches on the mountain, just constant snacking between breakfast and dinner.") We found a nearby grocery store, stocked up, then headed back to the Marqueen Hotel where we had dinner and finished getting everything ready.
Day One
We met back at the Alpine Ascents office the next day at 4:45 am. We left our suitcases with anything we didn't need to take on the hike at the office, put our packs into a trailer, then hopped on a van. We had 8 clients to begin with, two of whom drove themselves from Seattle to the trailhead. The rest of us rode in the van. We stopped at a bakery on the way to grab breakfast. Then, just outside of the Mount Rainier National Park we stopped to pick up our three main guides – Robin, Matt, and Travis. (Our fourth guide, Towner, was already on the mountain at Camp Muir.) For this climb, Alpine Ascents likes a 2 to 1 ratio of clients to guides.
The Paradise parking area was where our hike began and our car ride ended. Here, our guides took over (previously, other staff from Alpine Ascents had been providing us with instructions). They went over our plan for the day. We then geared up, splitting up the food from Alpine Ascents among our packs. We had one issue with a backpack (a missing buckle) that the guides were able to solve with a buckle hack. Otherwise, we seemed to be ready to go.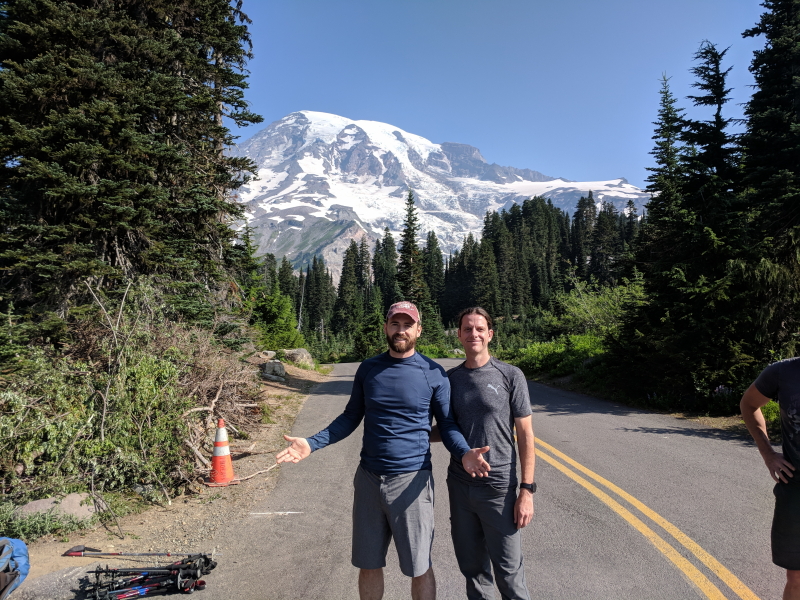 I will note at this point that I had some issues with the big backpack. I do a lot of hiking, but most of my hiking is day hikes with, at most, a 20 to 30-pound pack (if I'm with others, I usually carry their water as that amount of weight doesn't affect me). The big backpack I have is a 65+10 liter pack. It's a bit on the small end for hikes like this. I also have a sleeping bag that is a bit older and therefore a bit bigger than most and didn't have a compression bag for it. Finally, I probably over-packed slightly on gear and food. All told, I'm guessing my pack weighed closer to 50 to 60 pounds. I had not trained with a pack that heavy and it was a bit of an issue for me.
The hike started on the paved trails at Paradise and followed those trails up until the paving disappeared.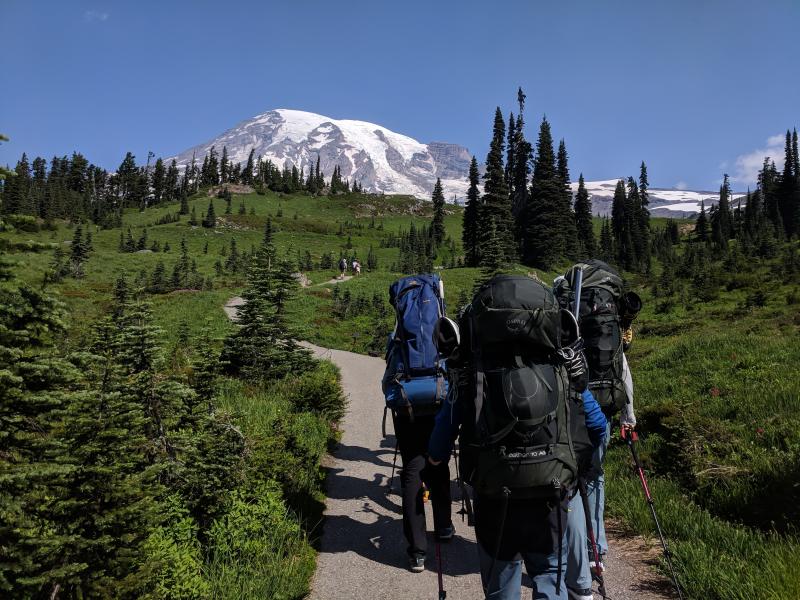 It then continued on unpaved trails until we hit the Muir snowfield. Just before we hit the Muir snowfield, we lost our first hiker. One of the people on our hike had broken his ankle a couple of years before and he wasn't sure whether he was going to be able to do the hike but wanted to try. Turns out, he hadn't completely healed. The pain was too much given the weight of our packs and the pace at which we were hiking. He pulled off to the side and told a guide. He was led back down to the trailhead where he waited for the Alpine Ascents group that was coming down the mountain so he could get a ride back to Seattle. (Sidenote: When he called his wife to let her know, she reportedly – according to one of the guides – said, "I told you so. You're a pussy.")
Once we reached the Muir snowfield, we stopped and switched from our hiking boots or shoes into our mountaineering boots with a hard shell (that we'd be using with crampons) since we'd be hiking the rest of the way to Camp Muir in snow. The views of the glaciers at this point were pretty cool.
Returning to my pack issue… I was doing fine on the paved and dirt trails with the heavier pack. It was a bit uncomfortable, but not a serious issue. However, once we switched to hiking on snow, the weight really started to get to me.
We hiked for several hours up the snowfield, which, once you are on it, really doesn't seem like it is ever going to end. We started hiking around 10:30, covered just under 5 miles (4.79 per my watch), and it took about 5 hours and 15 minutes.
With my heavy pack and the trudging in soft snow, I struggled. Don't get me wrong. I'm a pretty strong hiker and I was one of the first to make it to Camp Muir right behind the guides. But, when I arrived, I was exhausted and, mentally, was wondering whether I was going to be able to complete this hike. Without the very heavy pack, I would have been fine. But those extra 20 or so pounds really got to me.
We arrived at Camp Muir around 4:00. We had a couple of hours to get settled into the shelter that would be our home for the night. Camp Muir is an interesting place. It's clear that it is an established camp that serves as the launching point for most attempts to summit Mt. Rainier (in fact, RMI makes their summit attempts from Camp Muir, not the Ingraham Flats, adding an extra mile to the summit attempt). The camp sits largely on a rock outcropping that separates the Muir snowfield from a glacier, though a number of people actually camp on the glacier. There were a number of wood and rock buildings used by the forest service and the professional guide companies. There are also several toilets and a few other buildings. (I use toilets here in the sense that they are actual toilets, but, they are not the most sanitary toilets you'll ever see or use. There are a lot of people at Camp Muir, toilet paper and wipes are at a premium, and where the human waste goes is, well, a bit of a mystery. Don't expect 5-star accommodations and toilets at Camp Muir, but be glad you have something to sit on.)
I took a photosphere at Camp Muir that helps illustrate what it is like:
After what I thought was a fairly grueling hike up the Muir snowfield, I was happy to take a couple of hours to organize my gear inside our hut. Alpine Ascents provided some basic air pads and we were able to put our pads on top of those then lay out our sleeping bags. Given our numbers, we all basically had room to spread out a bit. Here's a look at the inside of the hut: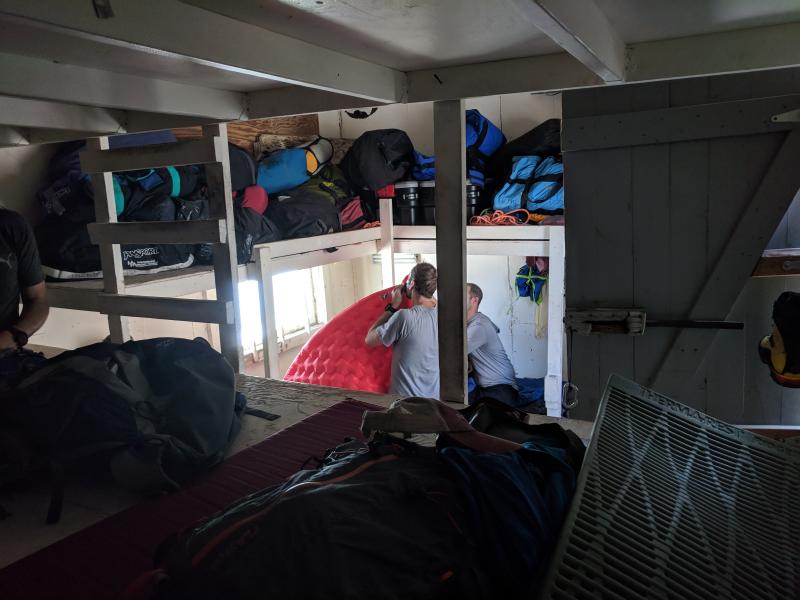 My buddy, Tom, really can't sit still. He somehow managed to get connected with the forest service people and was helping them install some new solar cells and wiring in a building they were working on by the time we were supposed to go to dinner.
We had really amazing burritos for dinner. At dinner, our guides went over the plan for the next day and rounded out the evening with advice on getting as much sleep as we could and trying not to wake up our fellow climbers by going to the bathroom in the middle of the night. After dinner, we all headed back to the hut and went to bed. Given the challenging hike that day, I slept pretty well.
Day Two
Alpine Ascents' approach to climbing Mt. Rainier (in this 3-day package) is different from RMI's approach (but the same as IMG's, with whom they share the hut and some other equipment). On day two, after a hearty breakfast, we spent the morning in snow school, learning how to walk in crampons, how to walk roped together, how to use ice axes, and how to do self-arrests on glaciers. Tom and I had done all of this before on Hood but it was a good refresher course.
Before snow school, we made sure we had all the stuff we were taking up to our high camp on the Ingraham Flats. If we wanted to leave some stuff at Camp Muir, we could. I had already pulled out the food for the entire group, which dropped my pack weight by 6 to 10 pounds. I also left my hiking shoes and my inflatable pad at Camp Muir in order to cut some more weight from my backpack (about another 5 to 8 pounds). With that weight gone, my backpack was probably closer to 40 pounds and was a much more comfortable weight for me.
After a quick lunch, we geared up and hiked the about one mile to the upper camp at Ingraham Flats. It didn't take very long – close to an hour. However, it did involve crossing some areas with fairly active rockfall, which was when most of us realized that this hike was pretty serious.
This was also a chance to get a sense – both by Tom and me but also the guides – who the stronger hikers on a rope line were. It turns out, there were several strong hikers in our group, but perhaps the strongest (even stronger than Tom and I), was a Microsoft employee from France, Olivier. He was less experienced than Tom and I but, physically, he was moving well and seemed quite comfortable on the mountain. We didn't know how many people we'd have on a rope team the next day when we attempted to summit the mountain but we wanted to make sure we'd have a solid team and Olivier seemed like he'd be a strong team member.
We were also dealing with another issue. The previous two teams from Alpine Ascents had made it to Ingraham Flats but had not summitted Mt. Rainier because the route that had been established was too dangerous. Basically, a massive ice fall had collapsed onto the trail up above the Disappointment Cleaver and more ice was hanging over the trail. Teams from RMI had pushed right over the fallen ice, which really wasn't being held up by anything and could collapse at any time. They were also walking under the ice that was hanging over the trail as well. For Alpine Ascents, that level of risk was unacceptable as it basically put clients and guides into a very dangerous area not for a minute or two (like the rockfall we crossed this day) but for about 20 to 40 minutes. That was too dangerous.
Our guides were constantly talking with other guides about the trail. We didn't overhear all the conversations but could tell that our odds of making it to the summit were pretty low. In fact, after dinner on the first night, I asked our head guide, Travis, what our odds were of going up to the summit. He didn't answer at first, but when I gave him some numbers, he finally nodded at around 10% to 20%. That was a bit of a downer for most of our team, but we were still going to get to go up to Ingraham Flats and potentially to the top of Disappointment Cleaver (which is a rock outcropping you climb on the way up). 
Our guides split up in the morning. Two – Robin and Towner – stayed with us for snow school training while the other two – Matt and Travis – headed up the mountain to see how dangerous the current trail was for themselves and to see if there was a way around the dangerous ice fall.
After we arrived at Ingraham Flats, we had a couple of hours to just kind of hang out. I had a book on my phone and a backup charger for my phone, so I sat and relaxed, reading and resting. Some of the other clients tried to get some sleep. I also took this photosphere of the camp, which shows just how amazing the views were there.
Around 6:00 or so, Robin and Towner called us to the mess tent for dinner. We enjoyed some turkey burgers (again, we ate pretty well on the mountain) and talked. We could actually hear Matt and Travis coming down Disappointment Cleaver but couldn't see them. We finished dinner and were all wondering whether we were going to go up the mountain the next day. About 20 minutes after we finished dinner, Matt and Travis returned to camp and we headed out of the mess tent to hear the news.
They actually did a very good job of leading us on. Travis started at the beginning of their adventure that day, explaining that they found the dangerous section of the trail and it really was an accident waiting to happen. He wouldn't want to cross it himself let alone with clients. He and Matt then tried to find a route around that section. They had several false starts, found an okay route, then ran into an almost vertical wall that they were able to cut some steps into, had to walk along the edge of several crevasses, and did a lot of searching, but… By the end, they had carved out a trail that bypassed the ice fall and would allow us to go the summit. It took Travis a good five minutes to get to the part we all wanted to hear – we had a safe route up the mountain. We all cheered – at least, as much cheering as you can do when you're standing on a glacier and it's really cold outside.
Our guides gave us the last advice of the night. Try to sleep and don't set an alarm. They would wake us up when they thought it was the right time to start up the mountain – somewhere between 11:00 pm and 1:00 am. The idea is to make it up in the dark while the ice is solid so you reduce the risk of ice melting and falling. We all headed to our tents and tried to sleep – most of us to little avail. I know I managed to get in a few hours because the time passed pretty quickly.
Day Three
Our guides ended up waking us up around 1:00 am. We had a quick breakfast of hot drinks and oatmeal. We also found out at breakfast that one member of our group, Ford, had decided he didn't want to continue. He was feeling okay but was realizing that this kind of hiking was really not for him. He opted, instead, to stay at Ingraham Flats and wait for us to return. One of the guides, Towner, would stay with him.
That left us with three teams – Tom and I with Matt, Olivier and Drew with Travis, and Leli and Thomas with Robin. Leli also noted that she wasn't feeling all that well and suggested that she may not be able to make it all the way but she was going to try.
After our quick breakfast, we geared up and headed out around 1:45. We made decent time crossing the Ingraham Flats to Disappointment Cleaver then worked our way up the Cleaver. Our first break was at the top of the Cleaver at the spot where our guides had forged a new trail. We stopped there and Leli indicated that she was going to keep going but was feeling worse.
After that first break, we were off the trail all the other hikers were on, forging a new trail. Luckily, Matt and Travis have great mountain sense and had a clear sense of the trail they had blazed the day before. We could tell that there wasn't much of a trail, so we tried to help make one as we went and Matt dropped flags to help guide us on the way back. Once we reached the very steep section that involved connecting ourselves with a carabiner to a fixed line, Leli indicated she had enough and didn't think she could make it back down that section. Her team turned around while the rest of us continued.
The new section was a bit rugged but the more exciting aspect was that we could tell we were climbing on some pretty crazy stuff as there were several spots where our headlamps disappeared into darkness and other spots where we knew we were hiking along a knife's edge or ridge with steep drops on either side. But, in the dark, we really couldn't tell what we were climbing. That may have been best, since it was pretty crazy terrain, as we realized on the way down. Here's a photo from the new section showing me on a ridge with a crevasse on the right on a steep drop on the left: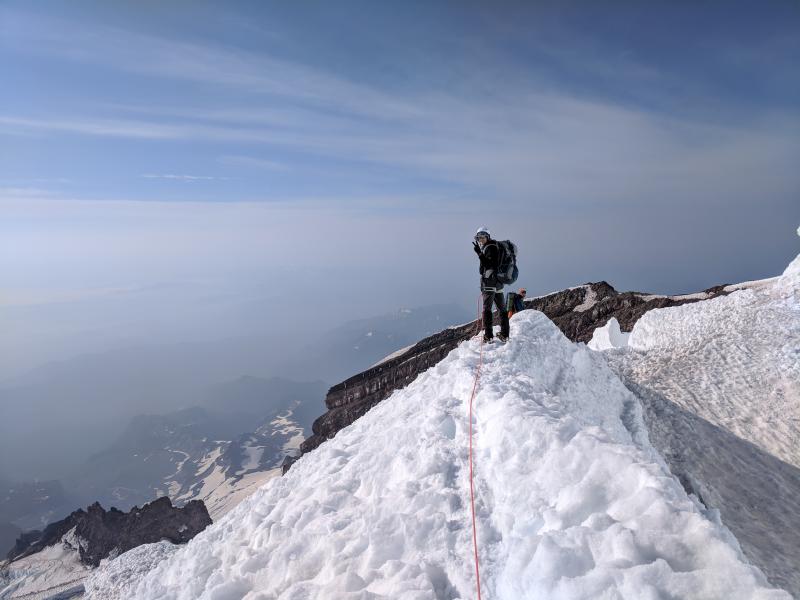 The two teams continued through the new section, then reconnected with the standard route and took one more break fairly high on the mountain. After that last break, the guides said we were going to push from there to the crater. Not knowing how far that was, we all agreed.
Just below the crater was a particularly steep section. I was just behind our guide, Matt, on my rope team, with Tom behind me. Our guides had said that we had to be able to push at a certain speed and, if we couldn't, then they were likely to turn us around as we had to be off the mountain at a certain point. With my much lighter pack, I was able to move pretty fast. However, that last really steep section was brutal. There were three or four times on that section that I was struggling to catch my breath and it was all I could do to put one foot in front of the other to keep up with Matt. Turns out, I wasn't the only one who was struggling to keep the pace – Tom said he did as well. But, I wasn't going to say anything about a quick break because we were so close to the summit and I didn't want our guides to turn us around.
It was only about 20 to 30 minutes of the grueling pace on that steep section before Matt called out that he could see the crater. Another 5 minutes or so and we dropped into the southeast side of the crater where we took a solid 10-minute break. From there, all we had to do was walk across the crater, climb up a small section of loose rock, and we'd be at the summit. Here's a photosphere from inside the crater where we took our break:
After a 10-minute break or so, we left our heavy packs on the far side of the crater and walked to the summit (a 20 minute walk). Given the forest fires in the area, the view wasn't amazing. And the summit really just looks flat, as you can see in the media below. It was also very windy and very cold. We stayed long enough to snap some photos then headed back to the shelter of the crater. Here's the summit in a photosphere: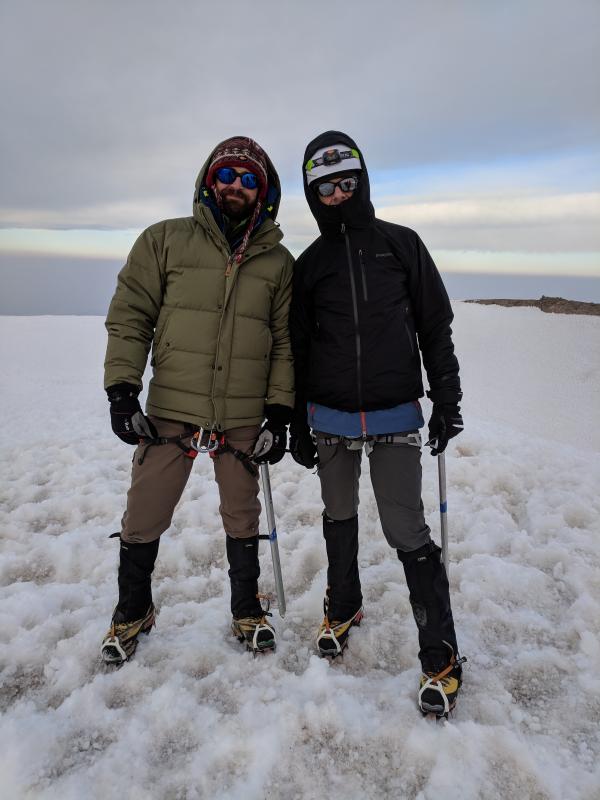 Just as we dropped into the crater, I started to notice that I felt a little… funny. It was as if about 10% to 20% of my brain had shut down. I was also having a hard time focusing on anything except what was directly in front of me (e.g., tunnel vision). Given what was happening to me, it took me until we got to the summit before I realized that I was actually suffering from altitude sickness. It was very mild and I was still able to function, but not as well as normal. This was the first time I had ever experienced this. I wonder to what extent it was related to the quick rate of our ascent. We had started the day at just over 11,000 feet and had climbed to almost 14,400 feet in 5 hours. Those 3,000 feet made a difference for me. I had been to higher elevations (e.g., Mount Whitney in California) without similar symptoms. I'm not entirely sure if it was the pace or something else, but I did let the guides know that I was feeling some of the symptoms of altitude sickness as we were walking back across the crater. They both agreed with my assessment and smartly said, "Well, there's only one way to treat that – we've got to go down."
I felt like I was moving a little slower gearing back up, but once we got back on our ropes and started walking, I was able to keep up. About 20 minutes from the summit, my symptoms cleared and I was fine again.
We pushed a good pace down from the summit until we reached the new section of trail. On the new section, our guides asked us to help "kick in" the new trail so the next group from Alpine Ascents would know where to go. We spent a good 45 minutes along the new section with the guides shoveling and the clients kicking in steps and trails with our crampons and cutting what we could with our ice axes.
We stopped one more time just above the cleaver for a quick break. On a typical hike of this distance and this elevation gain (but at a much lower elevation when it less technical), I would probably consume fewer than 500 calories (I don't need a lot of calories). To this point on our summit attempt, I had consumed 3 Snickers bars, among other snacks, which was over 750 calories (probably over 1,000 with everything else I had eaten). We were moving fast enough that I knew I needed energy. We made one final push down Disappointment Cleaver and then to our camp. Here's our route from Ingraham Flats to the summit and back:
At the camp, the other two guides had been busy. They had dug out a new location for the mess tent as they have to move it every few weeks. It is on a glacier which is moving down the mountain, which opens a new crevasse regularly. So, they have to move the tent or it will go into the "REI crevasse" with all the other gear people have lost in there. However, we used the new tent location for something else first. Leli and Thomas were engaged and had hoped to get married on the summit. Since they had turned around, they opted, instead, to get married at our high camp. Honestly, the high camp marriage with Mt. Rainier in the background was a better location. The top of the mountain was kind of flat and, because of wildfires, didn't have a great view. Plus, it was super windy and you couldn't hear well. At our high camp, there was no wind.
Travis, the lead guide, had gotten registered as a Universal Life Church minister just for this. He performed a really sweet, mountain themed wedding ceremony for Leli and Thomas with the rest of us looking on as the guests. I even got to be the ring-bearer. The wedding was a great way to cap off our time on the mountain.
After the ceremony, we took about 20 minutes to get all of our gear loaded up into our packs again so we could head down. I also wrapped up my toes, which were getting blisters going down the mountain. We moved quickly from Ingraham Flats to Camp Muir where we took another break to eat some snacks, get a drink, and load up the gear we had left at Camp Muir. Most of us also took advantage of having a toilet again (above Camp Muir, you are issued waste bags; you carry your solid waste off the mountain). Here's our route:
Our stop at Camp Muir was pretty quick. With all of our equipment, we then started the descent on the Muir snowfield. My pack was lighter than on the way up as most of my food was gone, but I was also going down the snow, not up, which was much, much easier. I did my best to boot ski with Robin as much as I could and we made very quick time down the snowfield. There are spots on the snowfield where you can even sit and slide, as Tom did:
We stopped at the bottom of the snowfield to change out of our mountaineering boots (which was nice, since I developed two blisters under each of my big toes coming off the summit). We then pushed down to the lodge and parking area where Alpine Ascents had a van with a trailer waiting for us. We also had some fresh clothes there (we had largely been wearing the same clothes for the last three days). We changed and then grabbed one of the complimentary drinks Alpine Ascents had waiting for us. Here's the route from Camp Muir to Paradise:
From there, we stopped at a restaurant just outside of the National Park for a late lunch/early dinner with our crew and the guides. It was nice to celebrate with all of them what we had done. After our meal, Alpine Ascents took us back to Seattle to their headquarters where we returned our rental equipment and said our goodbyes. Tom and I had another hotel lined up for that evening. We checked into the hotel, took much-needed showers, and did our best to clean up before collapsing into our beds for a deep (but short) sleep before our early flights home the next morning.
I'll end with some brief thoughts on the hike. This was a tough hike. Without those extra 20 to 30 pounds in my backpack, I think I would have been fine on this hike. But hauling a 60 pound pack up the Muir Snowfield did come close to breaking me and I'll admit that. Better packing and training with a heavier pack would have helped with this. I spent about an hour in the tent the second night meditating and using positive psychology and affirmations to convince myself that I could climb Mt. Rainier with the lighter pack. This is also a pretty technical climb with some really dangerous parts of the mountain. If the route was laid out and not at all dangerous, this would be doable with crampons, axes, and helmets. But, not knowing the condition of the route, the best way to do this hike is with good, reliable, and cautious guides, like those of Alpine Ascents. RMI was willing to take too many risks. I like climbing mountains, but see no reason to take such extreme risks. What's the point of climbing these mountains if you don't live to tell about the adventure? 
This is definitely a hike that requires the right gear and solid preparation. It's a beautiful, invigorating hike, but not for everyone.