My in-laws took the whole family on a trip to Europe again (see the previous trip). This time, we flew into Barcelona, spent two days there, then embarked on a 7 day Royal Caribbean cruise with 5 ports of call: Mallorca, Marseilles, La Spezia, Rome, and Naples.
The trip started off with some "excitement." Most of us were supposed to meet at JFK airport in NYC (on the evening of the 13th) and fly to Barcelona together. However, due to weather issues, there were big delays into and out of JFK. The family flying in from SLC weren't sure if they were going to make the Barcelona flight, so they got re-routed through Paris. We ended up meeting Steve (Debi's brother) in NYC and we all flew together to Barcelona, landing around 10:30 am the next day. We arrived just a little before another part of the family, so we waited for them in the baggage claim. Once they arrived, Rosemary (Debi's mom) had arranged for a transfer to our hotel. Those who got re-routed, unfortunately, ended up getting really delayed in Paris and didn't get in until about 10:00 pm that night (almost 12 hours later).
After we got settled in the hotel, we went for a walk. Our hotel was just a few blocks from Placa de Catalunya, so we stopped there first. Here's a photosphere I took there:
We were all pretty hungry, so we found a nearby restaurant and tried the famed Spanish paella. It was, meh.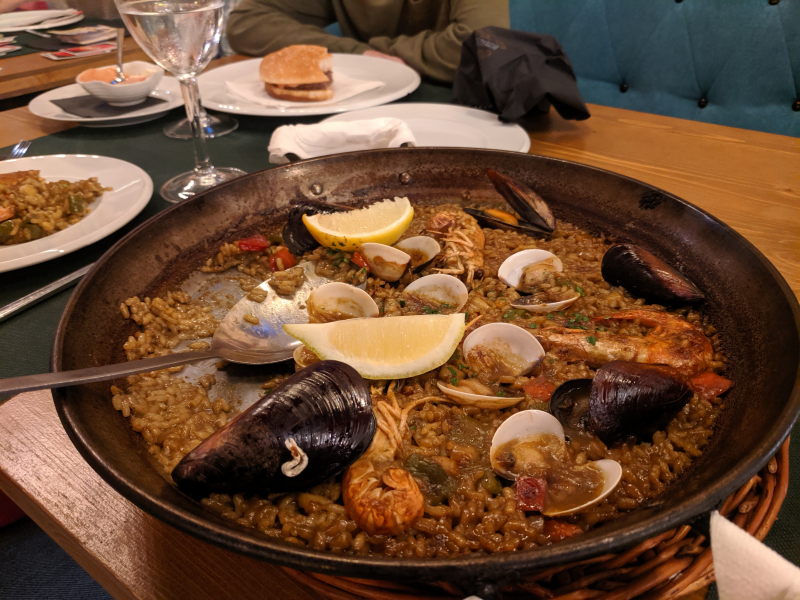 From there, we headed for a walk down La Rambla, which was quite nice. We stopped for some treats along the way, walking all the way down to the Christopher Columbus statue and the port. We took a different route back, heading through Barri Gotic (the Gothic neighborhood) to our hotel. Given the limited sleep most had gotten on the plane, pretty much everyone was keen to get to bed early. Toren, Steve, and I went out for food, finding a nice little Italian place that was cheap but had good pizza.
A couple of quick reflections on Barcelona…
Perhaps it was the areas we were in, but we didn't see a lot of parks and places for kids to play. There are plazas in front of churches, but most were paved and did not have areas for kids to play.
The wide, clean streets and fascinating architecture made walking in Barcelona quite pleasant.