This was the last day of our Europe trip. We enjoyed one last breakfast on the cruise ship before disembarking. We went straight from the cruise ship to a guided tour of Barcelona, visiting two sites we had not visited at the beginning of the trip: Park Güell and La Sagrada Familia.
Our guide drove us to Park Güell where we spent a little over an hour exploring the park. Debi was particularly impressed by the Modernist architecture and design of Gaudí that incorporated so many elements of nature and tried to blend in with nature, like this tunnel designed to look like a wave: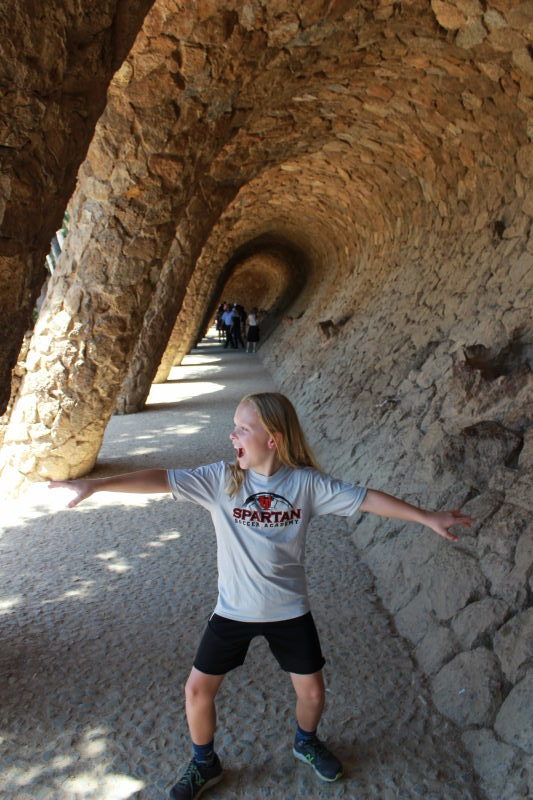 Pretty much everywhere you looked there was something amazing to see with stunning attention to detail.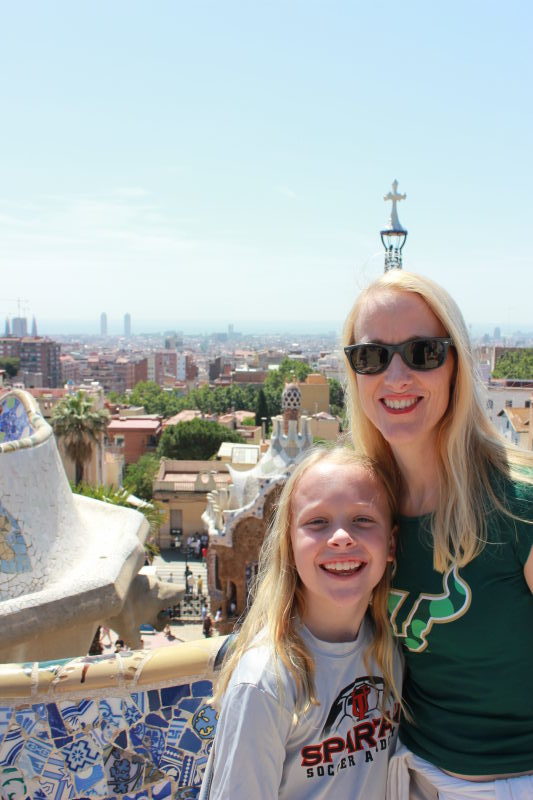 I shot a photosphere in Park Güell but it doesn't really do the park justice:
After Park Güell, we headed to La Sagrada Familia, the famed, unfinished, Modernist church of Antoni Gaudí. A friend had recently visited Barcelona and told me that she was overwhelmed by La Sagrada Familia when she first saw it. Having visited lots of churches, mosques, and synagogues, I was skeptical that I would have the same experience, but rounding the corner the first time I was close to it, I was genuinely impressed. The soaring towers and the contrast with the surrounding city are stunning:
The two finished facades were both fascinating to explore. I could have spent a lot more time just taking in all of the architectural details: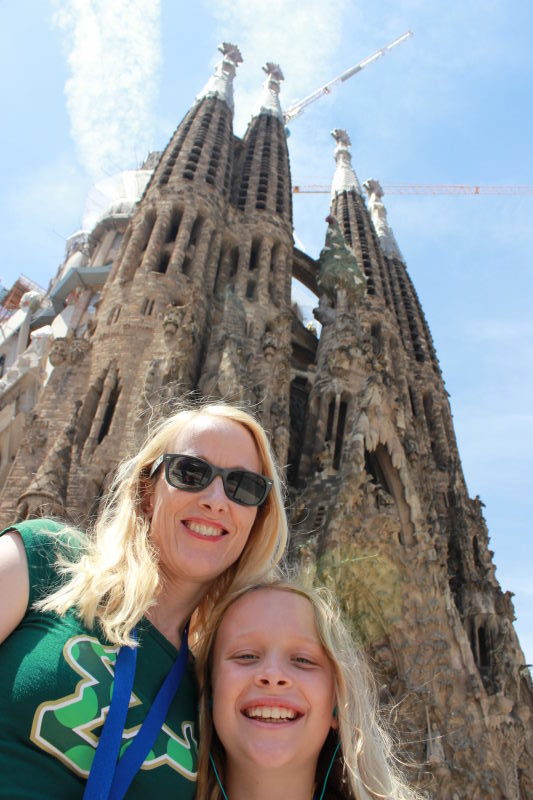 But the exterior facades were nothing compared to the interior. Walking inside for the first time and seeing the soaring, vaulted ceilings with the amazing pillars and supports was breathtaking. Perhaps the most beautiful building I had seen previously, the Sheikh Zayed Mosque in Abu Dhabi, paled in comparison to the brilliance of La Sagrada Familia. Everywhere you looked there was something fascinating to see. The colors, the shapes, the design, all were truly marvelous. I'd love to spend an entire day inside the building watching the colors shift and exploring every detail.
Alas, we didn't have all day, just about 30 minutes inside the church. Even so, I did my best to capture some of the amazing views: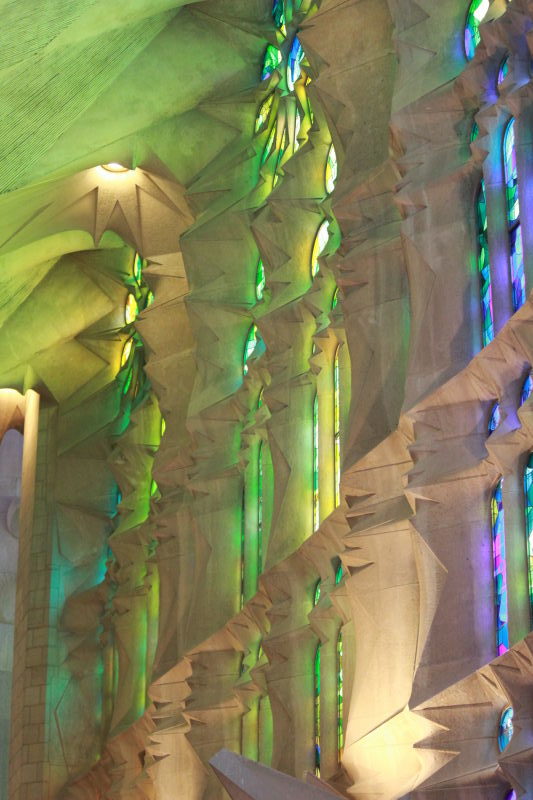 I'd really need years of additional photography training, hours of time, and probably better camera equipment to do this place justice. It was a moving experience to see this masterpiece of design.
After La Sagrada Familia, our guide drove us to the AirBnB we were staying in and helped us get checked in (some minor complications, but it worked out). We were outside of the main tourist area in some very nice apartments. As a result, we got off the beaten path a little and found a nice restaurant that served tapas: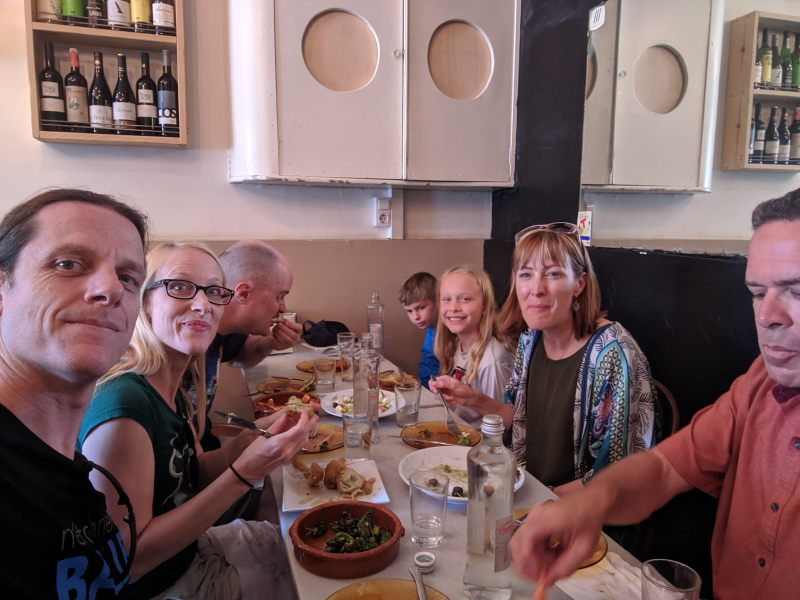 Since we had skipped lunch, our tapas meal was like an early dinner. Some of the family had a very early departure the next morning to catch their flights home. Others had a somewhat later departure. Even so, we decided to walk down to the Gaudí buildings we had missed and spend a little more time enjoying Barcelona. We ended up stopping for smoothies and a hot chocolate that was like drinking chocolate sauce you'd put on ice cream it was so thick and rich. On our way back to the apartments, people were starting to set off fireworks as it was the night of a major festival in Barcelona, the festival of Sant Joan (Bonfires of Saint John) that celebrates the summer solstice. We also happened by a churro shop and stopped to enjoy Nutella-filled churros as our last meal in Barcelona: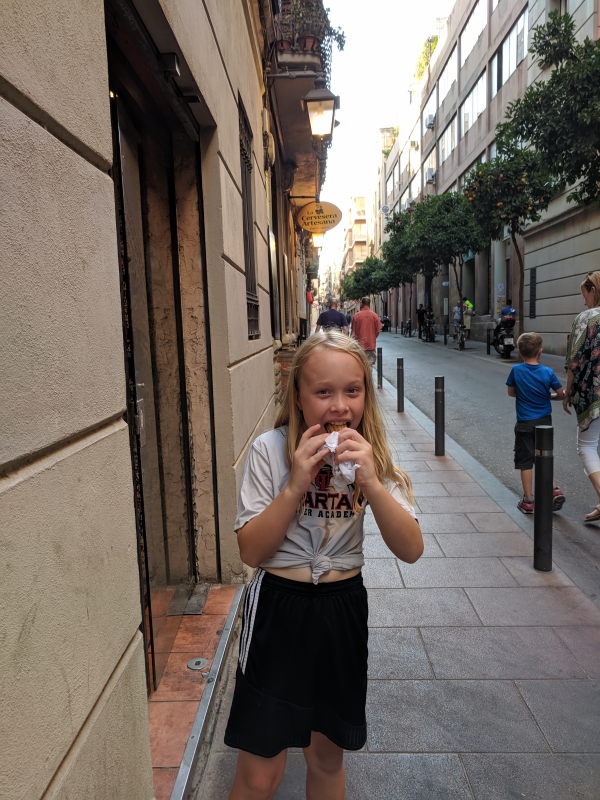 Finally, on our way back to our apartment, Toren was jumping posts, something he loved doing all over Barcelona.
Wrapping up: I would definitely like to travel to Rome, Cinque Terre, and the Amalfi Coast again with more time in each location to really appreciate them. I could also see myself vacationing in Barcelona when I just want a place to get away and relax. It was a busy vacation but we got to see and do quite a bit and we thoroughly enjoyed it.