Whenever I head to a new country, one of the first things I look up is the highest point in elevation. I'm weird. I know. In Czechia, that is Snezka, a mountain that is on the border with Poland. While some might find my interest in climbing highpoints obsessive or strange, it actually has a couple of fun benefits. First, it's good exercise and perhaps my favorite kind; I really like hiking. Second, it usually gets me away from people. As an introvert, that's a huge win. It also gets me to parts of countries that are typically less well-traveled. Sure, I could have spent the whole time exploring Prague but there is a lot of Czechia that is not Prague.
I rented a car to get me to Pec Pod Snezkou, which is where the trailhead is. It took about 2 1/2 hours to get there from Prague (leaving around 8:00 am and arriving around 10:20 to 10:30). Once I arrived, I had to figure out the parking situation. There is a fair amount of parking by the trailhead, but it is also gated and requires you to get a parking ticket that you need to pay before you can exit the parking area. Once I figured out the parking, I geared up, stretched a bit (I'm getting old), and headed out.
Trip reports made it clear there was a loop route I could take, which is always nice as you get to see more of a mountain. I worked my way up to the bottom of the gondola (lots of people go to the top of Snezka via gondola) and found where the loop trail splits (there's a sign by a bridge). I opted to head left first but it seems like you could go either way. All the way up to this point I was on a paved road, but I did notice that there was a trail on the other side of the river that you could follow (which I did on the way down). I headed to the left and the paved road continued. It actually made sense that it was paved as there are several restaurants and chalets where you can stay along the road and, presumably, people drive there with supplies and such.
The paved road continued for almost two miles before hitting a small chapel and then turning into a dirt trail that is well-maintained. Sometimes the trail is natural; other times it has been completely structured using rock and even steel at times. It was mostly level to this point, but started to climb shortly after the small chapel. There were a fair number of people on the trail, not all of whom were aware of trail etiquette (make way for faster hikers behind you).
I made pretty good time on the way up (I like uphill better than down) and reached the ridge line where there is a restaurant and post office after about 1 1/2 hours. It was another 30 minutes or so from there to the summit via a switchback on the northern side of the mountain. The summit has a number of buildings on it, including some restaurants (not all of them were open) and the gondola station. The wind that was whipping across the summit was so cold that any moisture was turning to frost almost instantly. The buildings and signs all had frost on them. Here's a photosphere of the summit:
There were a lot of people up there, it was very cold, and there wasn't a nice place to sit and relax. I knew it could be cold, so I had brought plenty of layers. I was fine, but taking my gloves off in the wind meant instant cold. So, I took a few photos and decided to drop off the summit and find a place out of the wind where I could take a break, eat an orange, and put some moleskin on one of my heels that was rubbing a bit too much. About 20 minutes off the summit, I was back into low shrubs, the wind was gone, and the sun was out. It was a perfect place to stop. I peeled my orange and devoured it (they always taste amazing on mountains) then wrapped up my foot and headed down the mountain.
Everything was going well for about another mile when my right hip started acting up. I'm not sure what the issue is but this started about a month ago. It almost feels like my hip is misaligned at times, but I think it is really an overuse issue with a tendon becoming inflamed. I'm not sure. I probably need to get it looked at. Luckily, it doesn't do it most of the time even if I keep walking/hiking. And putting pressure on it seems to reduce the likelihood of the stabbing pain. So, for about a 1/3 of the time walking down the mountain, I was pressing my fingers into the spot where it hurts, which seemed to help.
About midway down and midway up, the forests are really quite beautiful and the trail was at its most rugged, so I enjoyed those spots the most.
There is a gondola station about half way as well. At that point, the trail turns to pavement for about 1/2 a mile before cutting off by another restaurant. I actually missed the cutoff but my map program warned me I was off trail, so I didn't go too far before returning to the trail.
I continued down the trail making good time and eventually dropped out of the woods and back to the pavement which quickly reconnected to the place where the loop splits, which is right by the gondola station. I opted to take the trail on the far side of the river from there down to the car, which was nicer than walking on the road.
My total moving time was right around 3 hours for the roughly 9 miles of the loop. Here's the map from my watch:
And here are some of the other stats from my watch: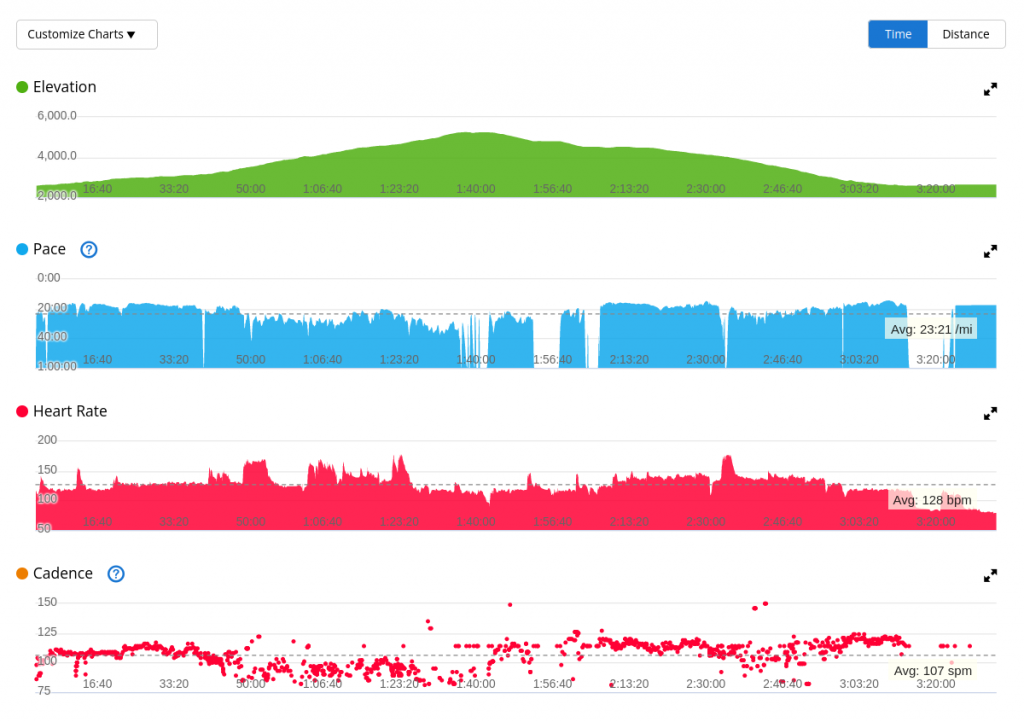 Overall, not my favorite hike but it was worth doing. A big part of why I hike is to get away from human-made objects (and humans). The paved trails and really highly maintained trails take me out of the feeling of being in nature. The trail maintenance will certainly help to minimize damage from water runoff and keep the trail nice for years to come but I also didn't really feel like I was hiking when I was on those parts of the trail. Even so, it was fun.