I know I've only posted about Sarah Palin of late and not talked about what's going on in our lives. But I figure talking about Palin is far more interesting than telling everyone we are working long hours and not doing anything exciting.  I do have a couple of papers that should be coming out soon, but I'll post more about those when they are available.  Until then, here's another shot at Palin…
Palin gave a talk this morning in Clearwater, which is just over the bay from us.  We didn't go (I didn't know she was coming), but the news coverage was pretty funny.  First up is this article that said they expected 10,000 to 12,000 people to show up.  Turns out the number was closer to 4,500, small enough that a random Obama supporter riding his bike near the event decided to attend because there were no lines to get in (he didn't convert as a result of attending).  The Palin campaign also controlled the event to the smallest detail.  Take, for instance, the pro-American signs taken away from this group of eighth-graders because they were not supportive enough of Palin.  Or the fact that the press was unable to actually talk to any of the people who showed up at the rally but instead were kept in a press tent and forced to stay there in order to avoid any "bad press" that may result from interviewing Palin's supporters.
But my favorite story about the Rally was this description of a 10-year-old fan named Reagan.  Reagan said her two favorite people are Sarah Palin and Hannah Montana.  Certainly I'm biased, but maybe the basis of the appeal of Sarah Palin to Reagan is the same as the basis of the appeal of Hannah Montana to Reagan: she's cute, speaks at a level 10-year olds can understand, and she's popular with the press.  What I'd like to see is a Sarah Palin vs. Hannah Montana debate.  Ten-year-olds could ask all the questions.  They could then vote at the end for who won based on the following characteristics: (1) most understandable, (2) cutest, and (3) best suited for President of the US.  I figure they could host it on the Disney channel…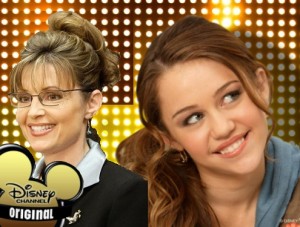 Who would you like to see Sarah Palin debate?  Here's a .png of Palin with an invisible background that you can use to drop her into photos with potential debate partners.